Here at OnTheGoSystems, team members are always trying to keep a good work-life balance. Want to find out how our scholarship program helps with this?
Maybe you will find some inspiration to take on something you have been postponing for some time or haven't even thought about doing. Who knows!
We all work hard and want our people to be happy, just as our motto says: "Happy people make great products". Doing enjoyable, healthy things in our free time makes us happy, and healthier. This has a positive impact on our daily work too.
What our scholarship program is all about
This program allows each company member to spend a certain amount of money each year on something they enjoy doing. It can be used to take on a free-time activity or hobby, to take a course or even to buy something that will help them do the thing they really like.
Find out how our Company Members are using this program
Some people choose the same activity year after year, while others choose different activities for a change. Let's read what some of our Company Members say:
Taking on a Motorboat Helmsman course
Kasia loves spending time near the water, see what she chose for her scholarship program last year.
Kasia Janoska: "Jakub and I chose a Motorboat Helmsman course for our scholarship.

I already had some experience when it comes to sailing boats with actual sails and I am a real fan of spending time near the water. Jakub on the other hand loves amassing achievements! We cannot simply "go for a walk"; we always have to have a major goal at the end of that walk. Same thing about boats…When you go sailing, you either more or less sail in circles on a lake (no goal at all!) or take to the high seas (which might be super dangerous).
But! If your boat has a motor you can do both: be on the water and accomplish certain goals: "We will go from Kraków to Gdańsk (so almost the entire length of Poland) by boat!". That's why we decided to get "a driving license for boats". Our first real mission is planned for this May :D
"to sail around the waterways of Żuławy Wiślane near the Baltic coast" http://zeglugawislana.pl/en/choose-your-route/zulawy-ring-ostroda-elblag-canal-lower-vistula
Getting a camera lens for a better photography experience
Vincenzo loves photography and his choices are always related to his hobby.
Vincenzo Carrubba: "I discovered that photography helps me to relax and enjoy the world around me. It really makes me want to travel and visit new places. Furthermore, I am able to give something to others -things like precious memories and new ways to see themselves.
Usually, I prefer to shoot portraits so to push myself out of my comfort zone, last year I chose a wide-angle lens (Zeiss 35 mm f/2.8). A wide-angle lens, especially when used for street photography, throws you in the middle of the action. I used this lens to take photos during last year's company meeting in Cyprus and one of them was the winning shot of our company's photo contest.
This year, with the help of the OTGS scholarship, I may get a new camera with improved low-light capability."

Climbing and Meditation, nice combination
Ana chose rock climbing last year, and this year she went for Headspace meditation.
Ana Couto: "I have used the Scholarship program for Rock Climbing and this year took out a subscription for Headspace meditation. The first of these activities has always been a favorite activity of mine and also of my partner. We used to do it before having kids and even when they were still little. In more recent times due to, well I can't really pinpoint a reason, let's say lack of time and some inertia on our part, we stopped doing it.
The scholarship program worked for me in this case as an incentive to get back to what we liked to do as a family. It was also an opportunity to get the kids, now at a different age, involved in something we all could enjoy, as well as allowing us to spend time together out in the open doing a joint activity.
This helped me in balancing work hours with family time and essentially it motivated us as a family to spend more time together.
As for the subscription for Headspace, well I'm a bit of a stressed person and having to deal with lots of different requests on a daily basis, I was in need of something that would allow me to relax and recharge my batteries. That was where Headspace came into play. Doing 10 minutes of guided meditation each day before starting to work, really helps me focus and it's healthy for the mind."
Indoor and outdoor activities in one go
Ornela really squeezed her scholarship program into different kind of activities throughout the year.
Ornela Flores: "A year after having bought my car, I finally learned to drive thanks to my driving lessons. Now I can say I'm a fully independent woman :)
I also enjoy relaxing indoor activities, things that I can do at home without the need of dressing up or using makeup, like watching movies or gardening. I'm a huge movie fan! I collect Bluray movies and TV series. I think there is nothing better than a good conversation about movies with people who share your same hobbies. Movies, music and books are very expensive in my country so it was the best choice!
On the other hand, as I have some health issues, I can't do any sports and sometimes it's a bit frustrating to live such a sedentary life. The only activity my doctor recommended is biking, so I enjoy it every time I can. It's one of my ways of disconnecting from my indoor environment and keeping healthy.
Summing up, I covered both my indoor and outdoor likes with my scholarship and it was extremely fun and fulfilling. Thanks OTGS!
This year I'm also thinking about mixing things to get a little bit of everything. Maybe something related to cooking? :)"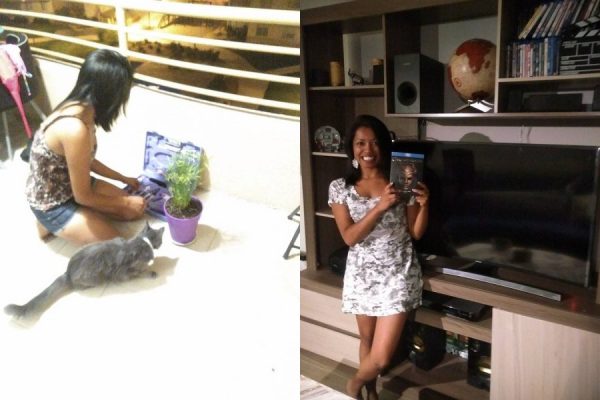 Joining a Tennis Club
Andreas chose something that allowed him to disconnect, do exercise and make new friends. He is really into tennis now.
Andreas Panagiotopoulos: "Last year I was looking for an activity to benefit from the scholarship program. A new Tennis Club opened nearby and some friends began lessons.In the beginning, I wasn't interested in it. Not because I didn't like it, but I had other ideas in my mind. To be honest, I always liked the sound of the ball hitting the racket. So after a couple of months, I took the decision to begin lessons too.
I think I took the correct decision and I enjoyed it very very much. I regret not taking up this hobby earlier, but as the saying goes "Better late than never."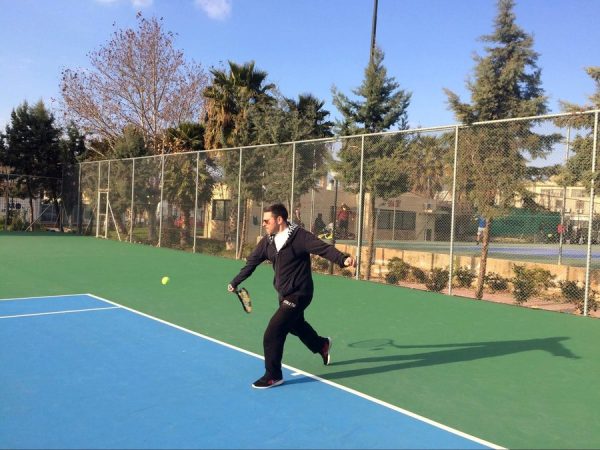 After one year, the list of the positive things I gain is growing day by day. Tennis is good exercise for your body. Now I can complete 1 hour of personal training without running out of breath! I've even forgotten the reasons why I had been feeling stressed all day and I've made new friends. Maybe this is the reason we are calling it a Club. We can meet people, discuss tennis with them, play against them or we can sit down for a drink after the training or game.
I will continue this year with the tennis lessons and hope I will continue doing this for many years. Thank you very much OTGS for this opportunity. I am sure that without the Scholarship program I would never have begun this activity."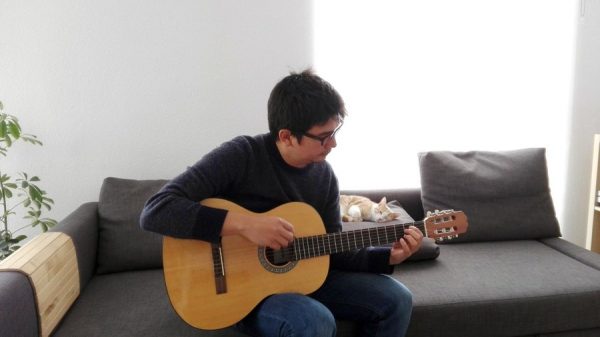 Taking Portuguese and Guitar Lessons
Andrés chose Portuguese and Guitar lessons last year and continues with the same choices for this year too.
Andrés Cifuentes: "I love learning new languages. In the past, I have tried to learn Italian and German, but was more successful with French and English (I think). Now, living in Spain, only a couple of hours from Portugal, I decided to give myself a change with learning Portuguese. My plan is to spend some weeks, or even to move, to Portugal in 2017. About the guitar, I used to study the bass guitar but for practical/cost issues it is easier to tackle the guitar, so I'm back to it again.
I try choosing activities that take me away from the computer and give me some social contact. It is good to get up from my chair, walk or ride my bike and look for some other humans! It is a way to get some balance in my life."
More musical choices
For Dario, it's all about music.
Dario Jazbec Hrvatin "Even though I have been playing mostly pop/alternative music, I have been long fascinated with the ethno, world music as well. I always played either string instruments or keyboards. So, when I got a chance to attend workshops for frame-drum percussions, I jumped at the opportunity.
Attending the workshops was very interesting because frame-drums are very different from other types of percussion. They are very hard to grasp and it takes a lot of practicing to train your hands and fingers to follow the rhythms that are very different to what we are used to in popular music – they are much more convulsed and feature many "irregular" patterns.
My biggest pleasure with frame drums actually came after my daughter (1.5 years old) started to show profound interest and a promising talent for them. So now we jam almost on a daily basis! True story!

However, after 2 years of percussions, I feel like it's time to try something new again. This is why I am looking for a nice classical guitar. Playing a classical (nylon-stringed) guitar is quite different than playing an acoustic (metal-stringed) one, which I played all my life. So, I am again looking forward to learning something new regarding music.
I chose different activities for my scholarship and I'm very happy with my selection."
Want to be part of our company? Look for open positions here.