Here at OnTheGoSystems, we like to think of ourselves as a group of people working towards a shared mission and goal. As we've grown, we haven't lost sight of the importance of providing only the highest quality of support.
Over the years, we've worked hard to create a strong set of values that not only binds us together, but also challenges us to continuously improve:
Quality first
Excellent support
Open mindedness and creativity
Positive attitude
Honesty
For our support team, putting these core values into practice on a daily basis is second nature. Our technical supporters serve our users, embrace innovation, and deliver on commitments – all while upholding exceptionally high standards of integrity.
So, what does a technical supporter at OnTheGoSystems do, and what makes it different from other WordPress support roles?
What to Expect: Providing Support for the WPML Plugin
Challenge
Our flagship product, WPML, is a complex and evolving multilingual plugin. As WordPress grows and develops, so do we. For us, it's important that WPML always remains easy to use and compatible with other plugins and themes in the WordPress ecosystem. This way, anyone can use WPML to create a multilingual site, even with zero coding and programming skills.
Variety
Our supporters perform a mix of two roles – customer service and technical support. WPML users contact us with a variety of questions. Some are simple and can be resolved by directing clients to our step-by-step FAQ and documentation pages. Others are complex and may require extra effort and a combination of out-of-the-box thinking, testing, and debugging. It's fair to say no two days are the same, and there's no one way to solve a problem.
Continuous Learning
Although we're a remote workplace, you don't have to worry about being left on your own. Training doesn't start and end with onboarding. We don't expect you to know everything, and we always communicate and collaborate with one another. Teams have daily virtual meetings to discuss tasks and raise issues. You can also use one of the many channels on Mattermost to ask your colleagues for advice.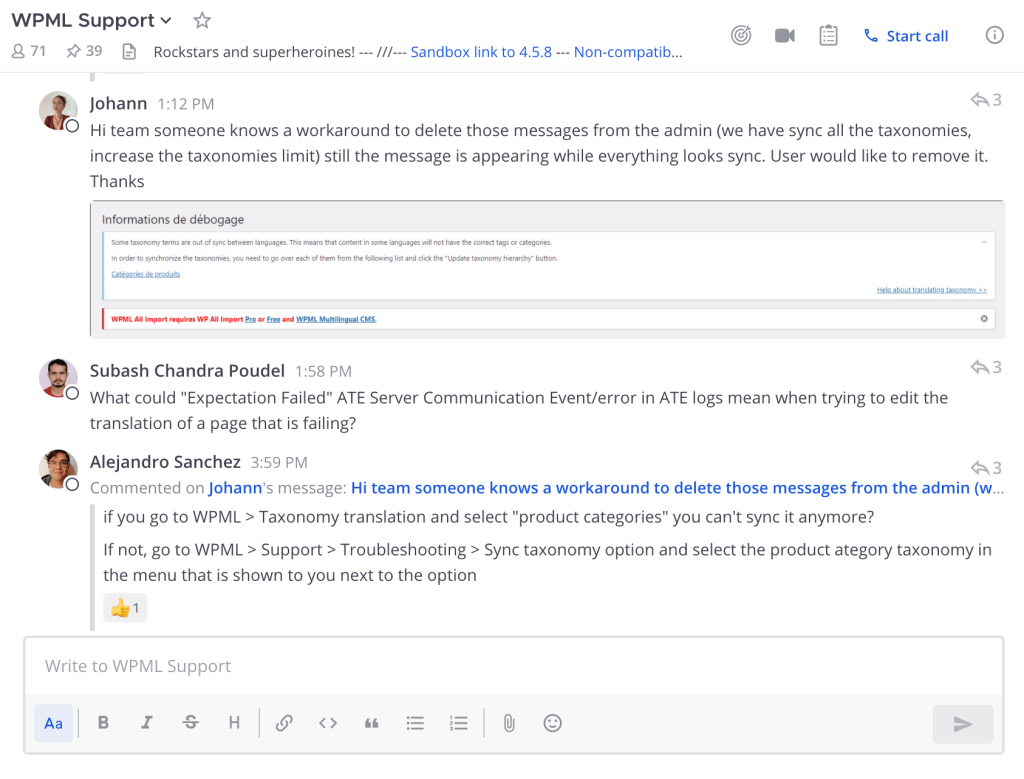 Interesting Teammates
Because we're a remote company, we have the privilege of being a global and diverse team. Our colleagues may have the same role, but they come from different cultures and professional backgrounds.
Firsthand Account: Being a Technical Supporter
A job ad can give you a general understanding of the position and day-to-day responsibilities, but there's nothing like first-hand information. That's why we asked some of our technical supporters to share their experiences with us.
Become a Member of the OTGS Team
At OnTheGoSystems, support isn't an afterthought. We believe our support team is at the heart of what we do.
Our technical supporters do more than just offer exceptional customer support. They're also dedicated to making sure our plugin works as expected – and nothing slips through the cracks.
As a supporter, you'll guide people to the fullest use of our products. You'll also have to roll your sleeves up and handle debugging, testing, and compatibility issues.
You don't have to be a developer, have years of WordPress support experience, or know WPML inside out to join the team. There's more than one way of working with WordPress-related content, and you can always count on the team to help you develop your skills and knowledge.