The biggest WordCamp in the world did it again with perfect organization, atmosphere and a true community spirit. Here are our team's impressions from this WordPress event!
This year, the event took us to the enchanting city of Athens, Greece. WPML, as has become our tradition, was a proud participant and exhibitor, reinforcing our commitment to this vibrant community.
And as anyone familiar with WordPress knows, WordCamp Europe is more than just a conference. It's a gathering of enthusiasts, professionals, and advocates, all bound by a common interest. It's an experience where we celebrate the past, present, and future of WordPress, exchanging ideas, discussing new possibilities, and strengthening the community.
WPML Booth: The Melting Pot of WordPress Minds
Our WPML booth was once again a buzzing hub of interaction, allowing us to meet and engage with the diverse members of the WordPress universe.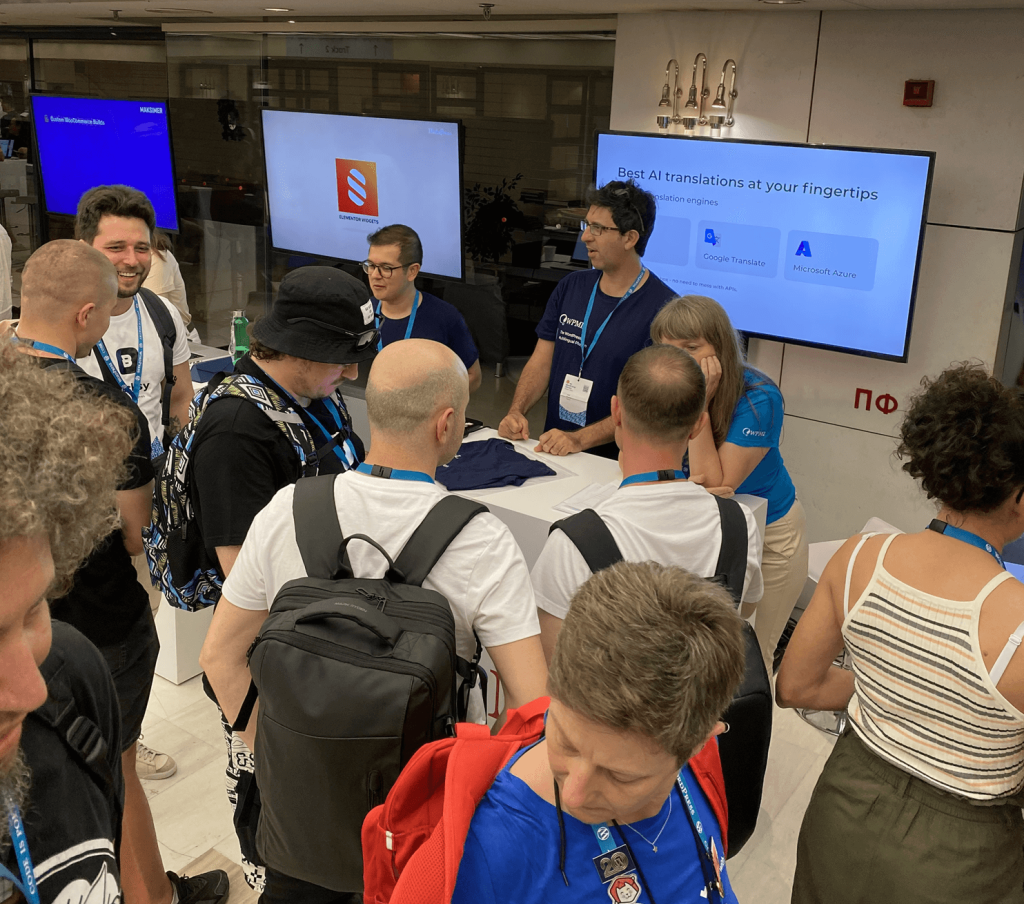 Agnes Bury, our Client Advocate, perfectly encapsulated the energy of the event:
"Great people, all passionate about WordPress, delicious Greek food, a modern venue and the beautiful city of Athens – what better mix for a successful WordCamp?"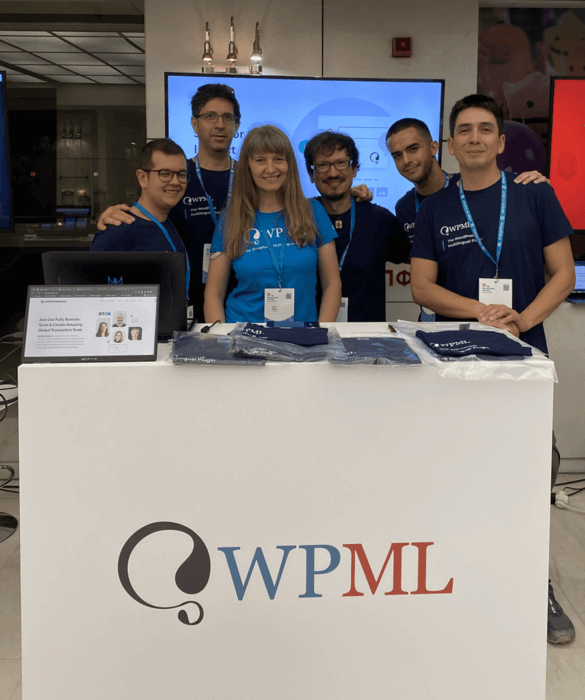 Personal Perspectives and Unforgettable Memories
Our team members all came back from this event filled with inspiration and shared their unique perspectives of this WordCamp.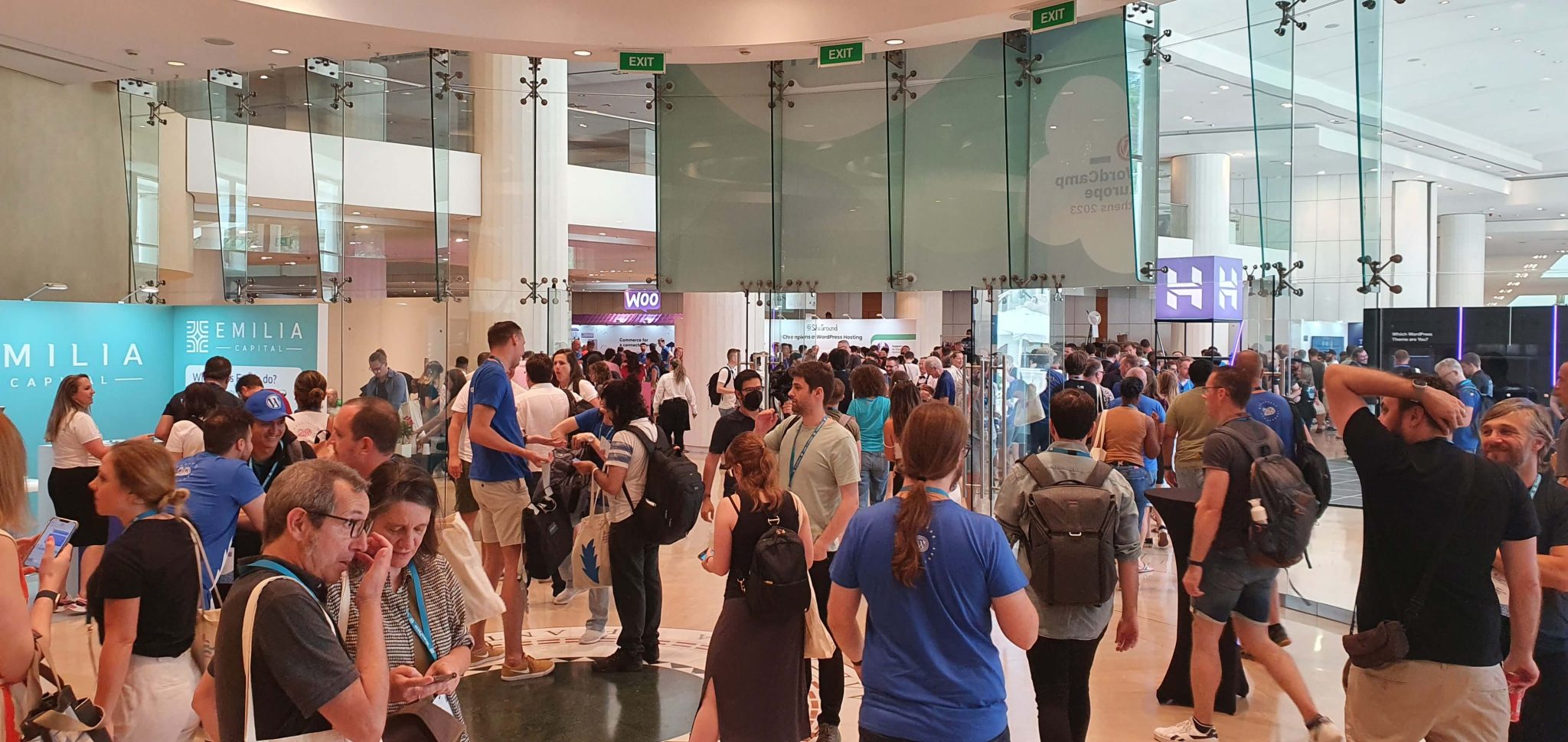 Andrés Cifuentes, our Compatibility Advocate, treasured the opportunity to interact with WPML users in person:
"One of the things I always enjoy the most is the opportunity to interact with WPML users in person. Engaging in direct conversations provides us with valuable information about what we are doing well and areas where we can improve, as well as insights into features that we should consider for the future."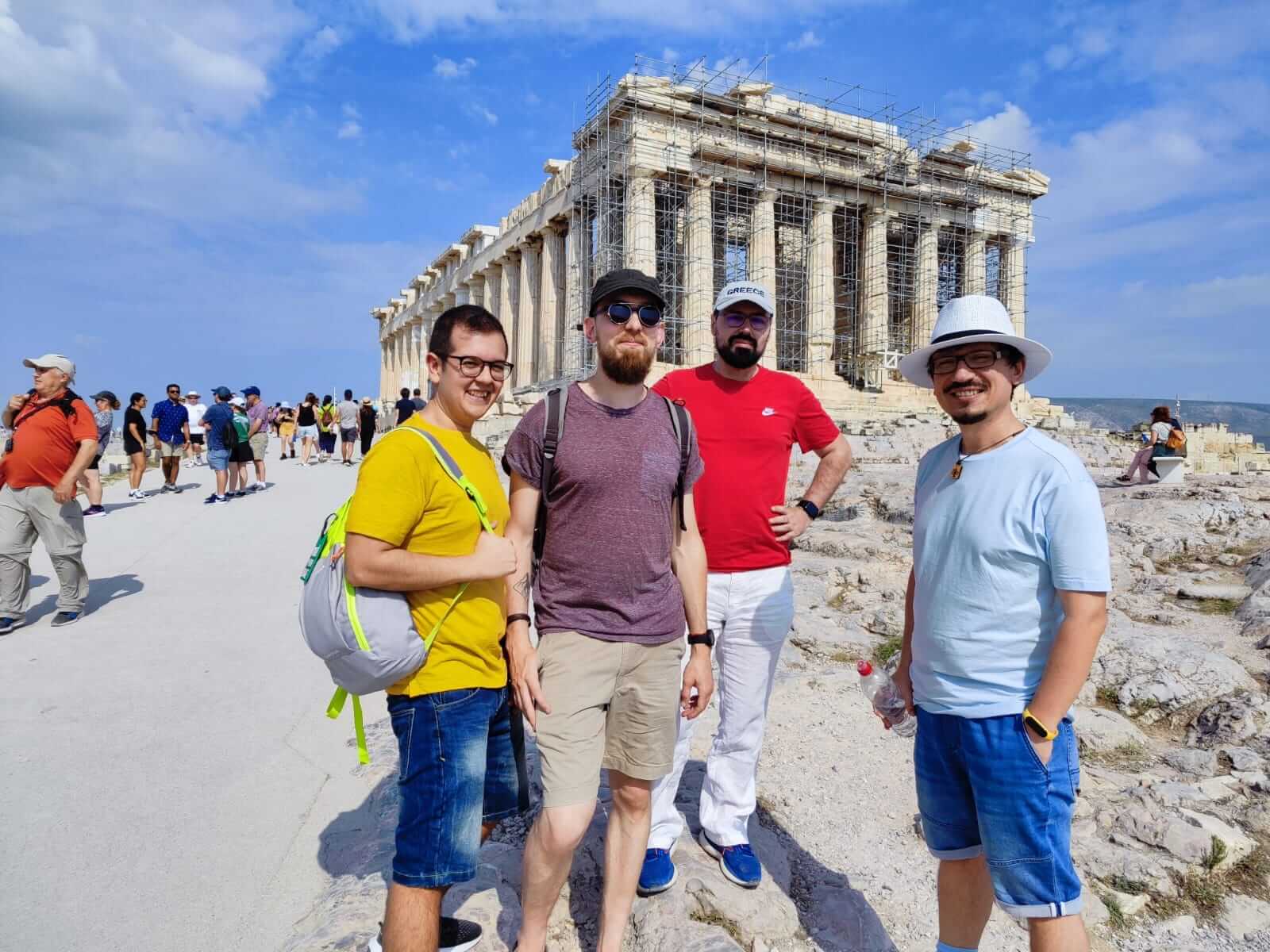 Besides meeting our clients and other members of the community, WordCamp Europe is always an exceptional opportunity to meet our partners.
Our Partnerships Manager, Dean Jones, reflected on the bustling activity of the conference:
"Right from Day One, the conference centre was packed with attendees all of whom seemed very eager to get the most out of the experience. There was a really good buzz about the event this year! We had some nice meetings with our valued partners such as Elementor, ACF (WP Engine), Indystack (Visual Composer), Google, WPExperts.io and more!"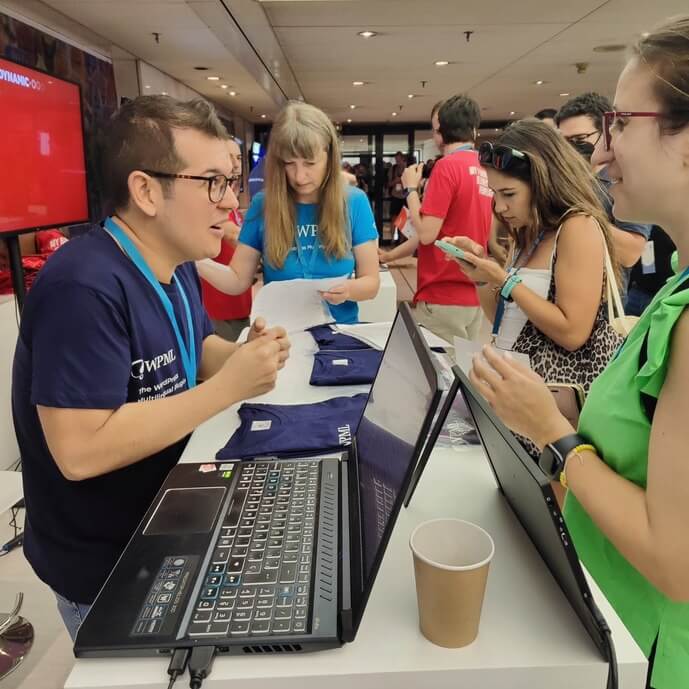 Enjoying the Team and Building Friendships
Of course, our team also took the opportunity to also enjoy themselves in Athens. Besides some great laughs, we had the pleasure of diving into spontaneous discussions and brainstorming about technology, WordPress, and our own place within them.
Alejandro Sanchez from our Support Team enthused:
"We also had mini brainstorming sessions during awesome dinners where we discussed what we learned during the WCEU rounds. Now I have to workout to burn all the extra weight that I took with me from all the tasty Greek food (which was definitely worth the while!)."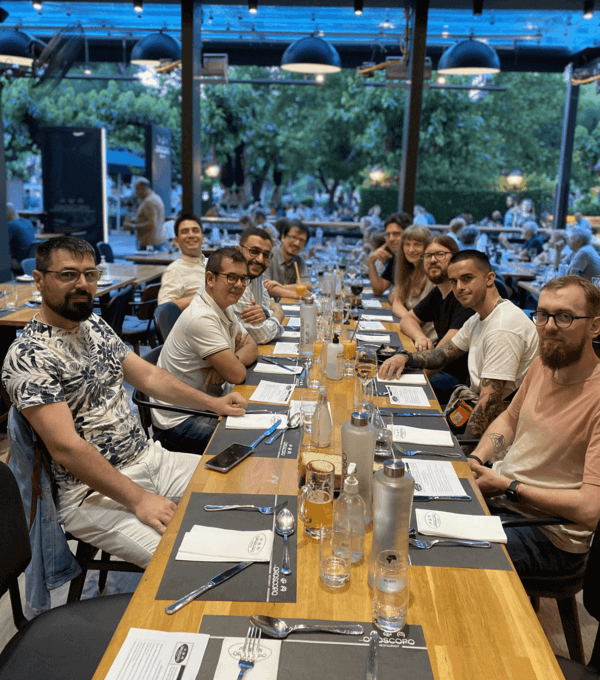 WPML Takes the Lead
Marcel Tannich from our Support Team stepped into a leading role this year, playing a key part in the organization of WordCamp Europe Athens. He co-lead the event's Content Team together with Laura Sacco.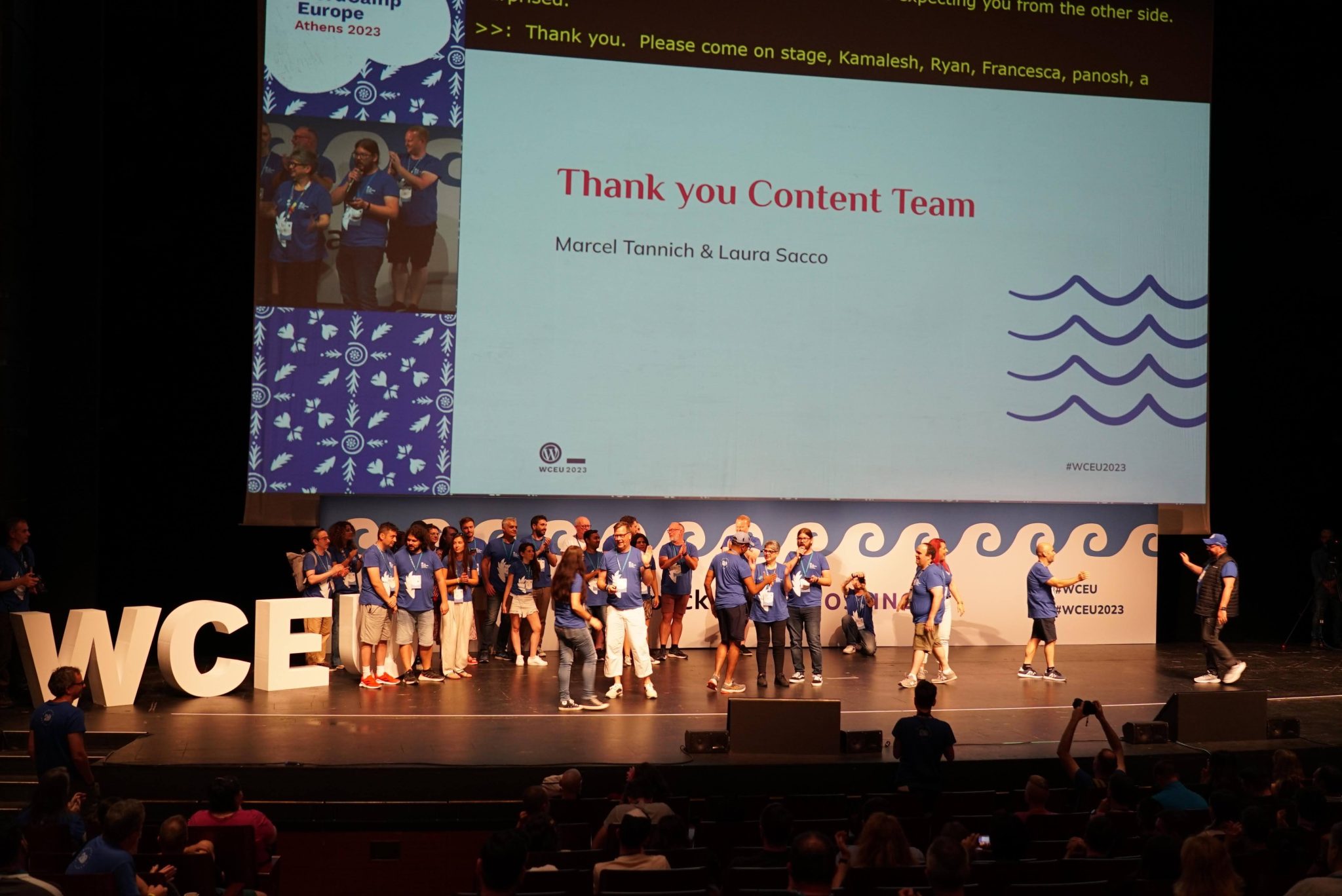 In Marcel's own words, it was both an honor and a challenge:
"As I stepped into the vibrant WordCamp Europe 2023 conference in Athens as a first-time co-team lead, I was filled with a mix of excitement and nervousness. Alongside my dedicated team and volunteers, we worked tirelessly to create an unforgettable experience for the attendees. From managing the stages to addressing inquiries, we tackled challenges together, supported by each other's unwavering dedication. I also cherished the opportunity to forge connections with my co-workers, adding extra warmth to the event. The conference's end left me feeling deeply fulfilled and thankful, knowing our efforts enriched the WordPress community and fostered my growth as a leader."
We couldn't be more proud of Marcel's great work for this WordCamp Europe!
Inspiring Talks
One of the top features of every WordCamp Europe is the great selection of talks from a diverse range of top speakers. This is why we were especially proud that our company's Content Manager, Dario Jazbec Hrvatin had the honor of being selected as a speaker.
His talk, titled "Take Your WordPress Site To Another Level Using AI Translation" was met with high praise. Dario reflected on this saying:
"This was my 13th talk at WordCamps and 3rd at WordCamp Europes and the experience is still incredible, just like this whole event was. It was especially humbling to have people come to me and to our booth with praises about my talk and how it inspired them to start using AI translations."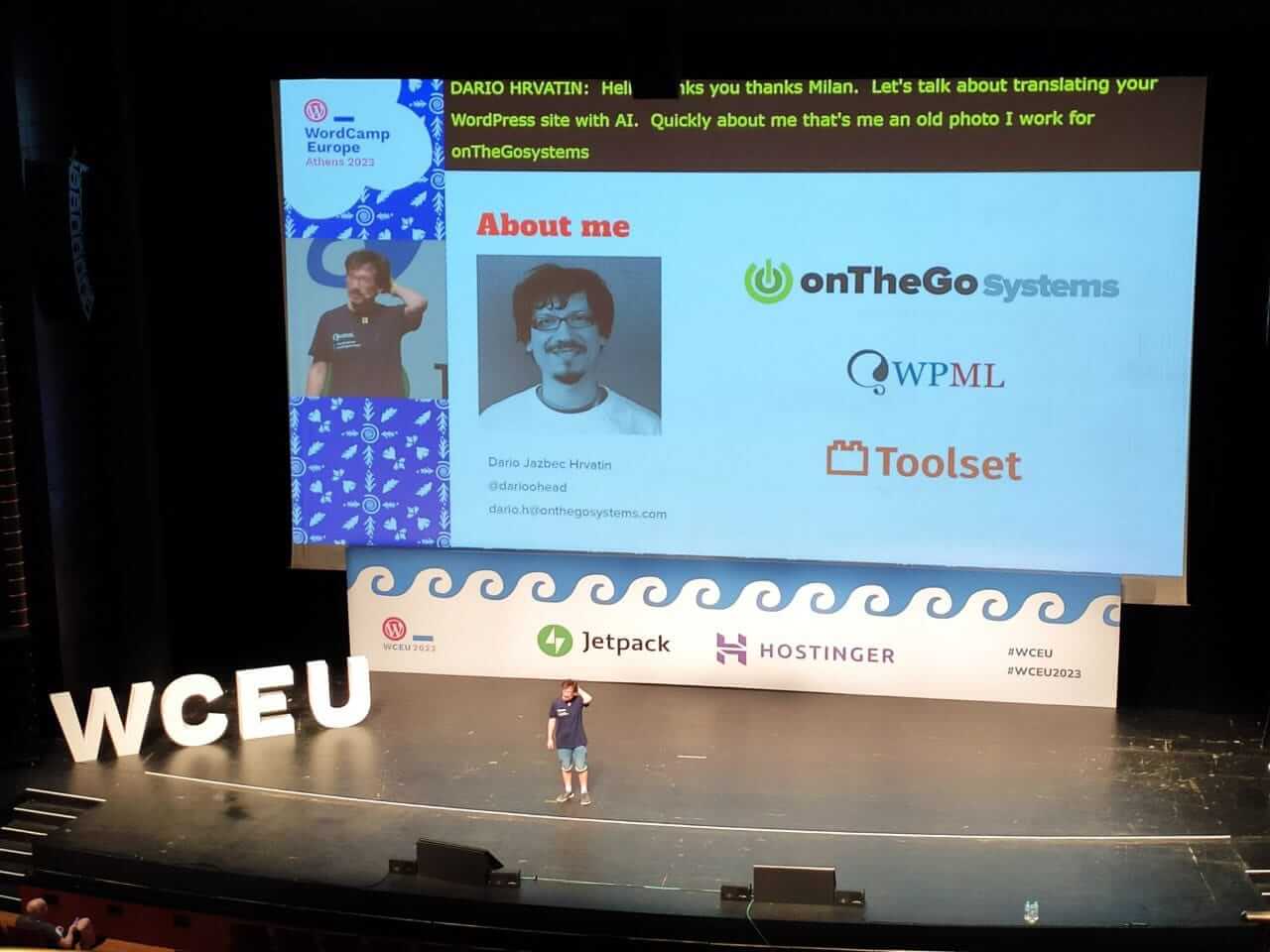 Looking Ahead
WordCamp Europe 2023 was an affirmation of our unity as a community, an exploration of what's new, and a glimpse into a promising future. And as always, WPML remains an integral part of this vibrant WordPress community.
Until next year, keep exploring and keep innovating.