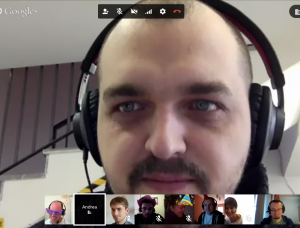 If you tell your friends, uncles, and aunts that you work remotely from home, the first questions they will probably ask you will be: "Don't you feel alone? Don't you miss contacting people?"
No, we don't feel alone at all. We are in contact with our co-workers every day, and we even celebrate birthday parties online! Stay with us to see some unique pictures you won't see anywhere else.
Today was our WPML team leader's birthday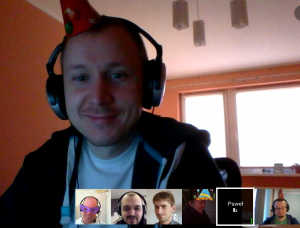 Our plugin developers often hold Google Hangouts meetings to discuss the current status of the development work. Today, Andrea, the WPML Team Leader was surprised to discover a small difference after joining the meeting. His workmates were wearing colorful birthday hats! Even Amir, the project manager and company CEO, looked mysterious, hidden under a funny mask.
"It won't be easy to keep this meeting serious, looking at your faces." Andrea greeted his team with these words, surprised and amused. He has just turned … (OK, let's keep Andrea's age a secret). It was probably the most unusual birthday party he has ever had at work.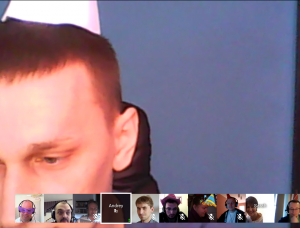 Andrea adds that he also appreciated the effort of Andrey, the leader of our WPML Support Team, who joined the meeting after him and managed to quickly find a paper cup lying around and put it on his head.
Isn't this evidence that you can have fun when working online? And you definitely don't feel alone. If you like the way we work and you like WordPress, why not consider joining us? We are still hiring.