It's already been sixteen days since we all split from Split! (I promise it's the only "split" joke of the article.) Let me take you back to Croatia for a little while…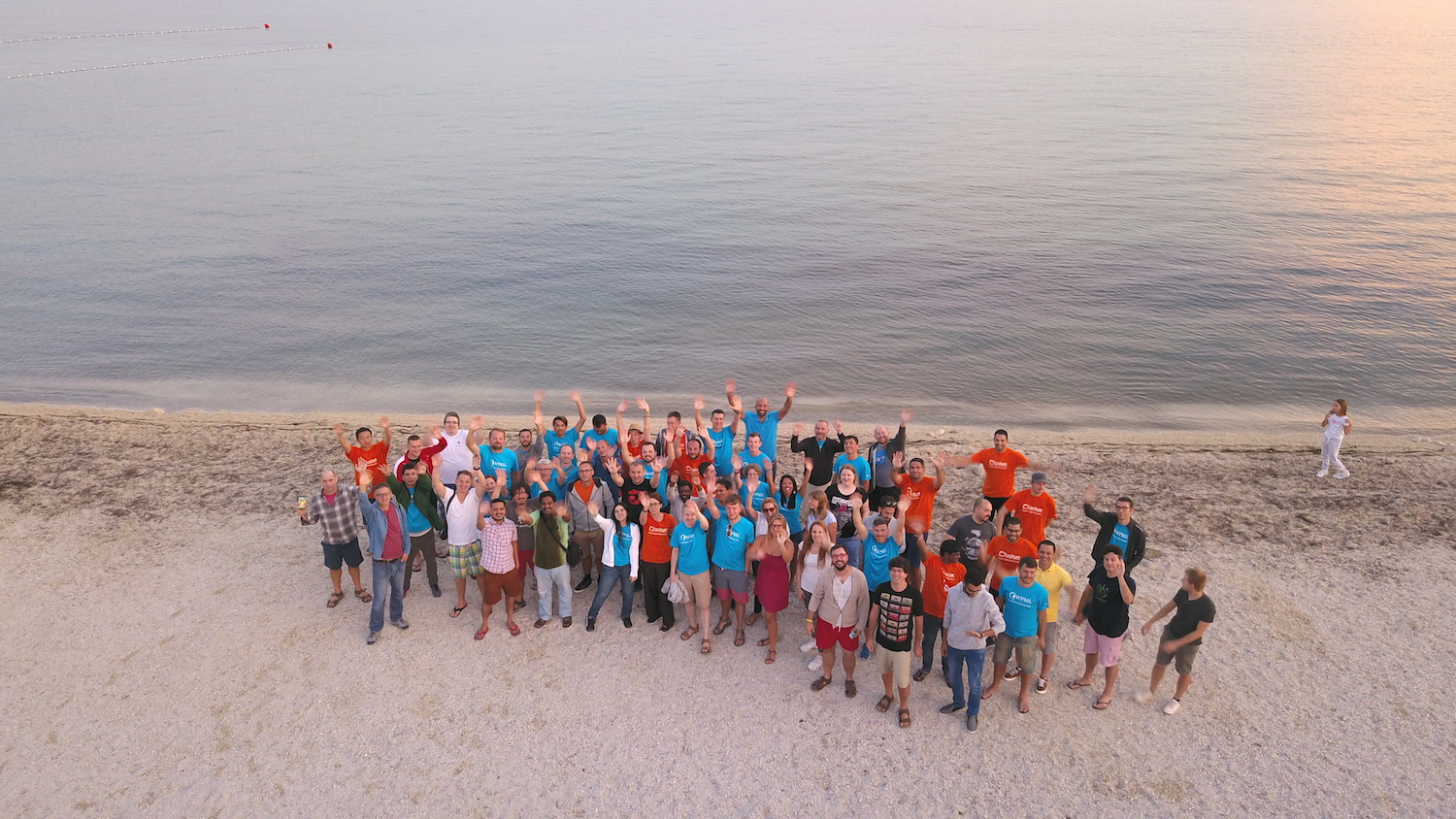 This year, we were 62 people from 28 different countries coming together in one single place: Stobreč Camping near Split, Croatia. The campsite was fringed by the sea on two sides. How beautiful is that? Each team was sharing accommodation with a matching number of attractive cabins with cozy wooden porches. Everyone was mixing with one another, enjoying coffees, tasting Croatian wine (only after work), and even some mate (directly brought from Argentina, please!).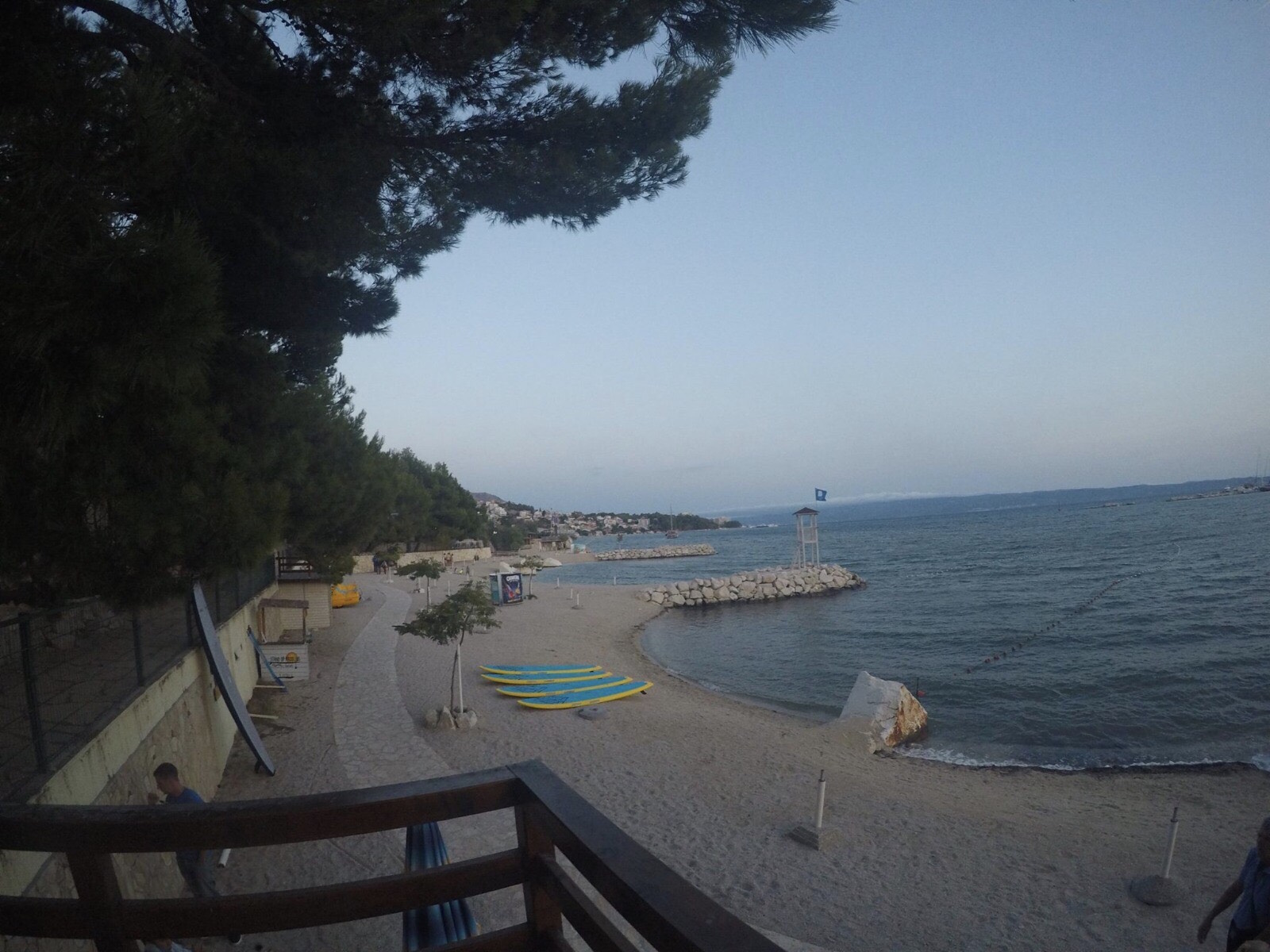 Work Smart Not Hard
According to recent research, living by the seaside boosts mental health and makes people happier and more relaxed. I'd like to quote Dario whose comment perfectly illustrates the result of the research: "I loved that Split was quite different than our previous meetings, because of the camping setting and all of us staying together in the bungalows. I felt more relaxed and talked to many more different people than I usually do at our yearly meetings. It was also nice being flexible with the agenda, moving things a bit, canceling some minor plans, and so on…"
Friendship and Team Building
What's more, we played some team-building games and activities. It always amazes me how these games boost powerful team experiences by enabling everyone to work as true team players. In the heat of the moment, we don't think that we are interacting with a developer, a supporter, or a team leader anymore.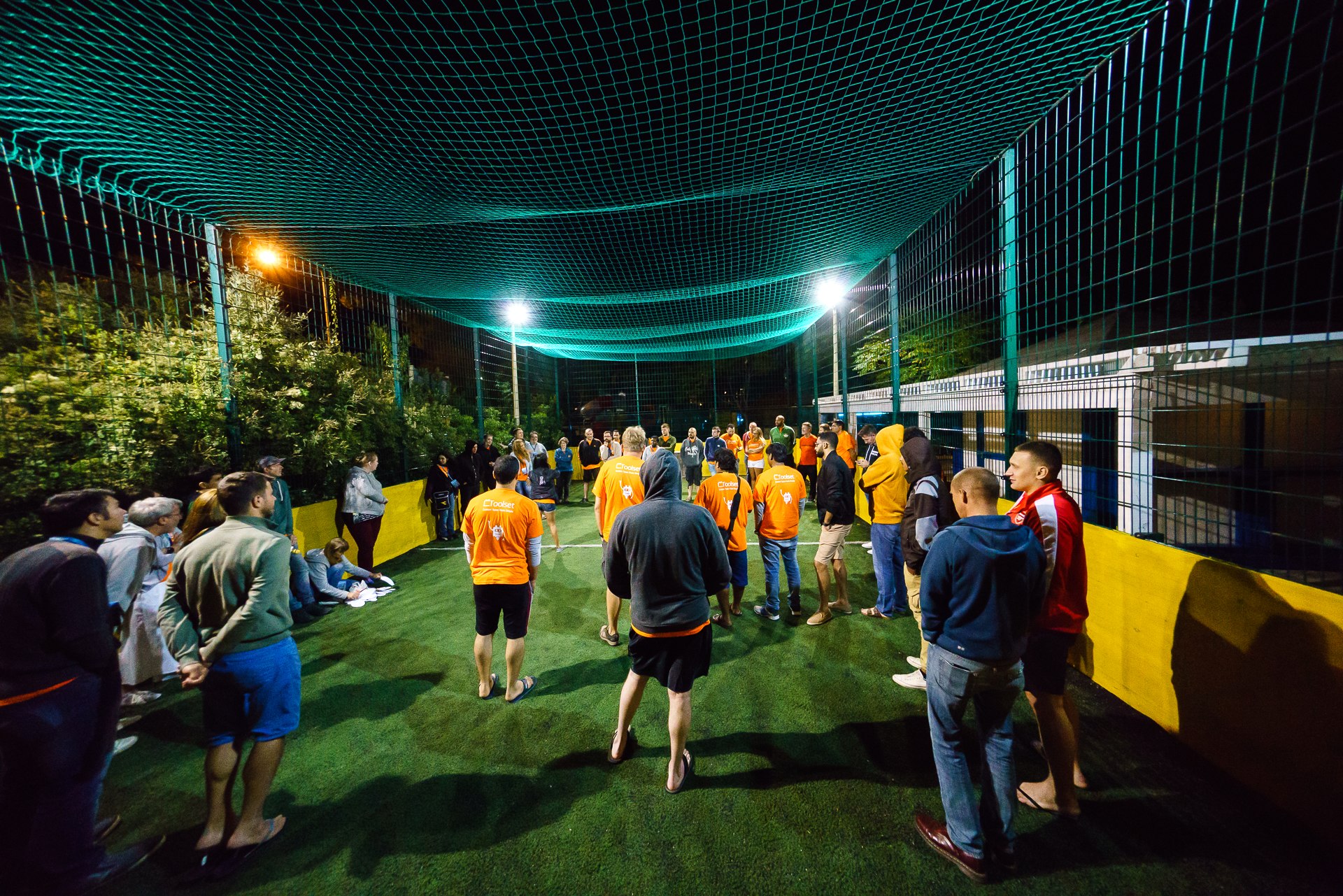 We played a game called the "human train" where only one person was guiding the team, all the others had to close their eyes. Trust is definitely our greatest asset and the "human train" demonstrated that cooperation and effective communication are indispensable keys to a team's success. This is interesting because these are also part of our OnTheGoSystems values.
And on the beach, we also had fun playing the classic "tug of war" game.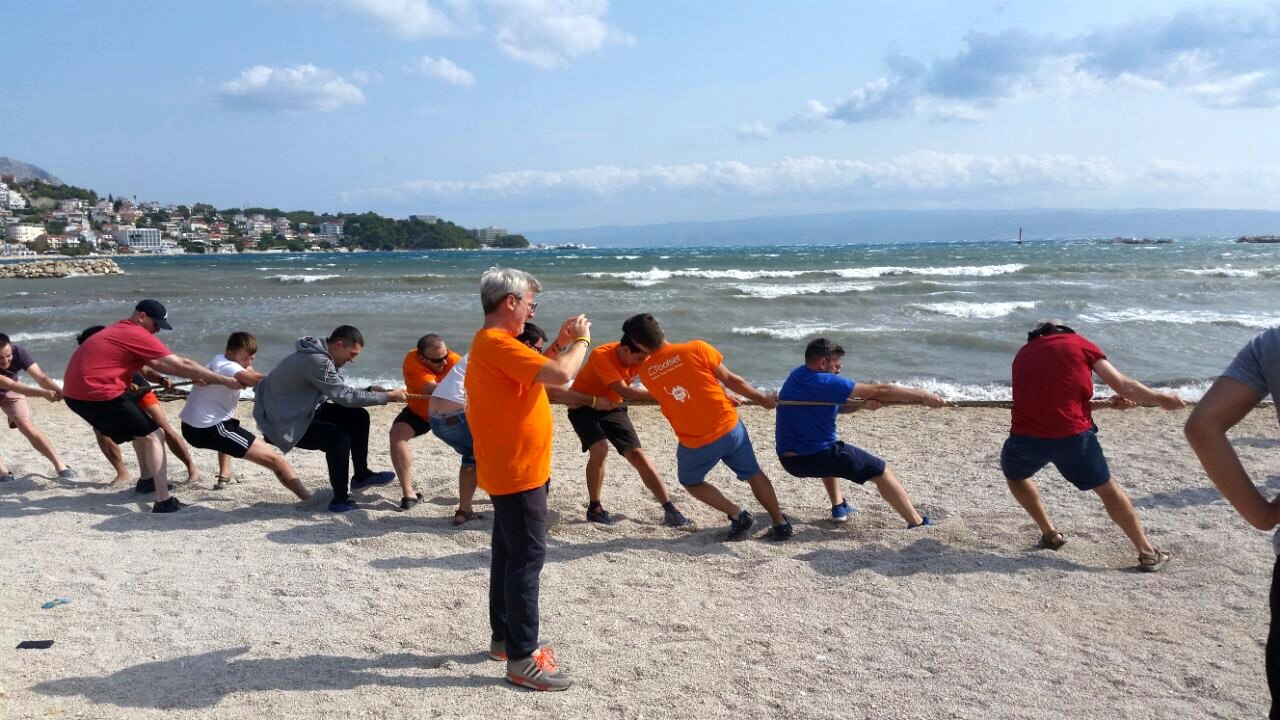 Sea Sport and Fun
It wasn't all work.  We also had some free time.  The weather was not always at its best,  but we managed to organize our days around it. Some of us tried Yoga, Jet-Skiing, Stand-up paddling (well, maybe some were not standing up all the time!), Scuba-diving, Rafting, and Hiking.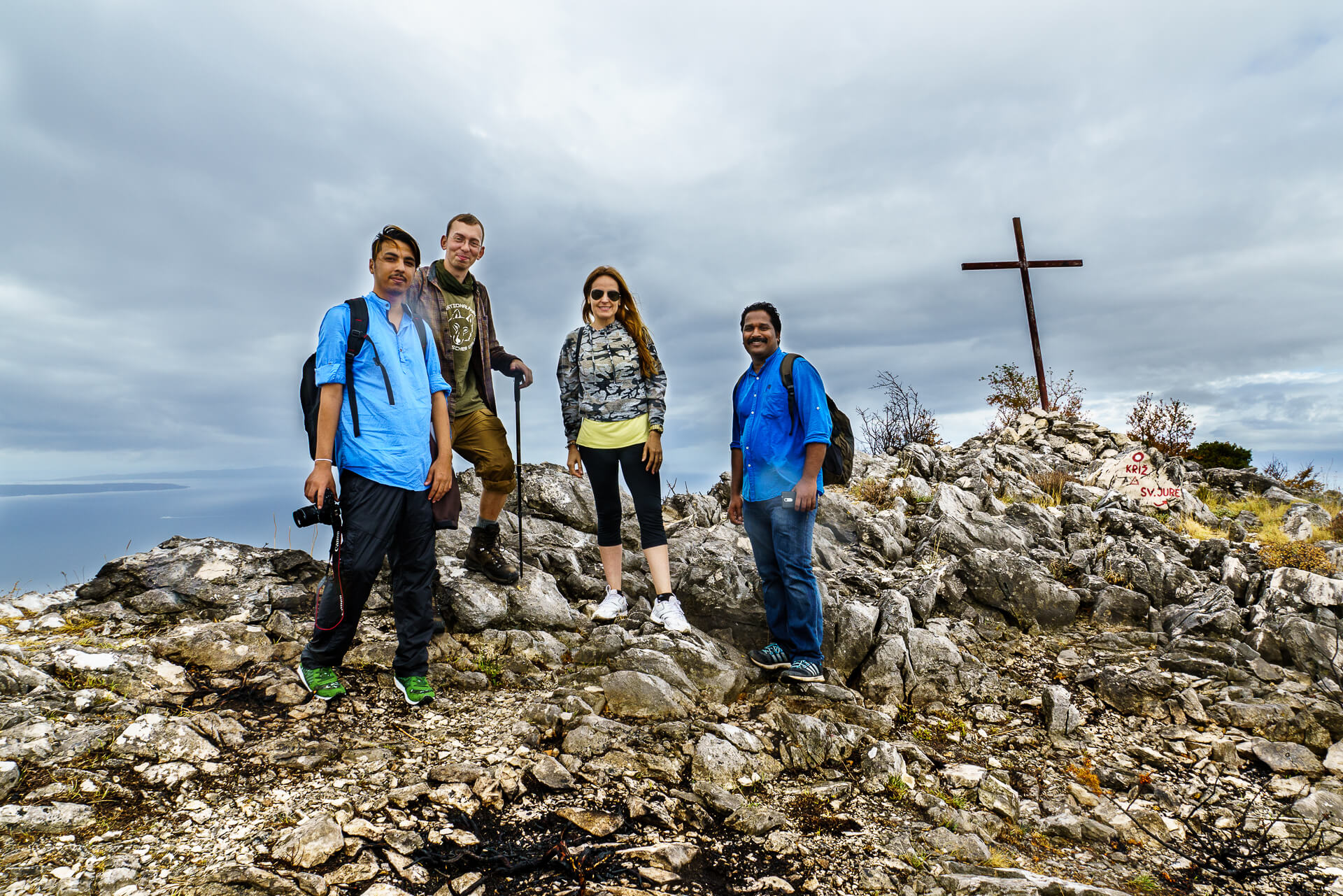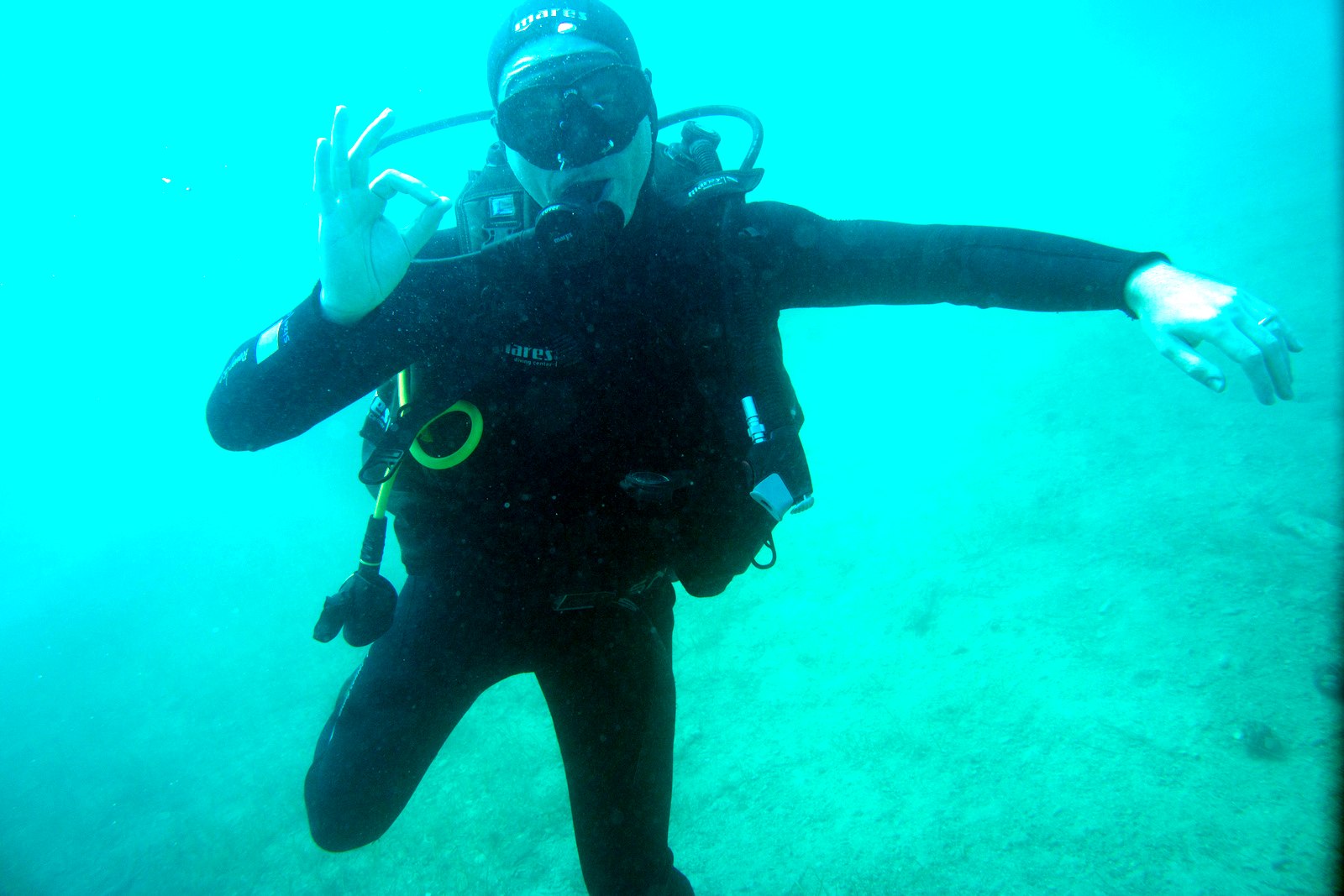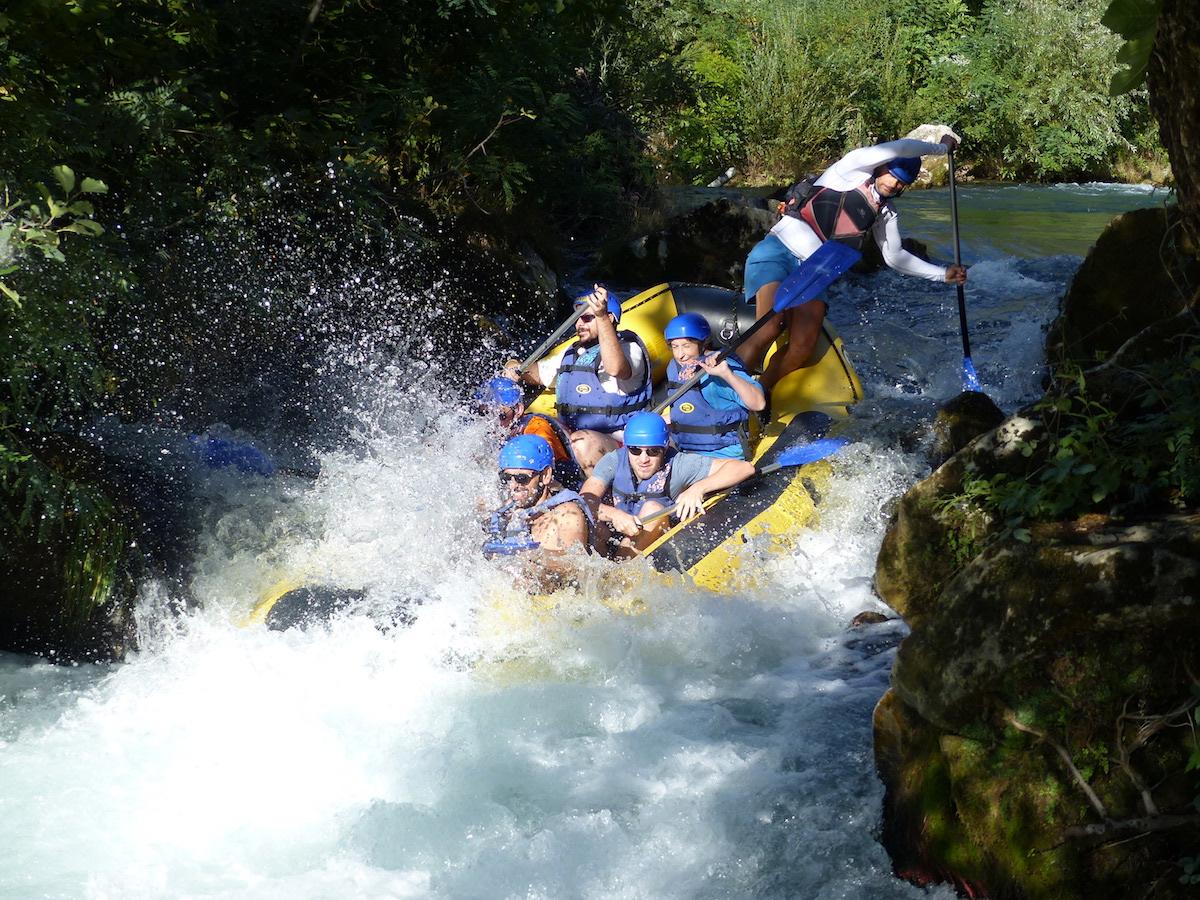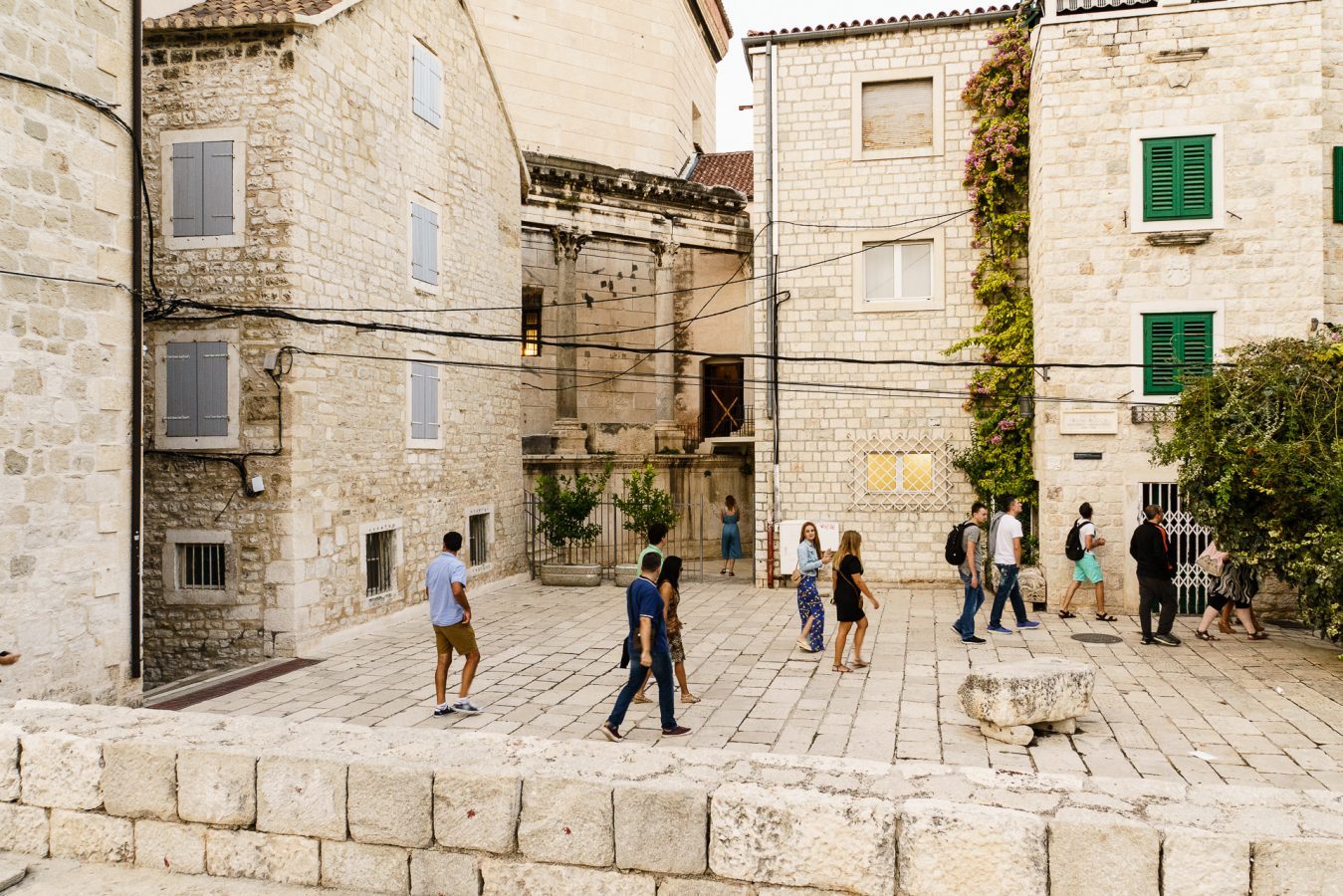 Our Last (But Not Least) Evening
For our last evening, we went to the "top of the world" to watch the sunset. The road was very winding and steep, we were wondering where we were being taken. When we arrived, we were speechless as there were six magnificent banquet tables waiting for us on a terrace on the brink of the mountain, overlooking the sea. Sipping delicious local wine, we watched the sun going down over the Mediterranean. Pictures speak louder than words: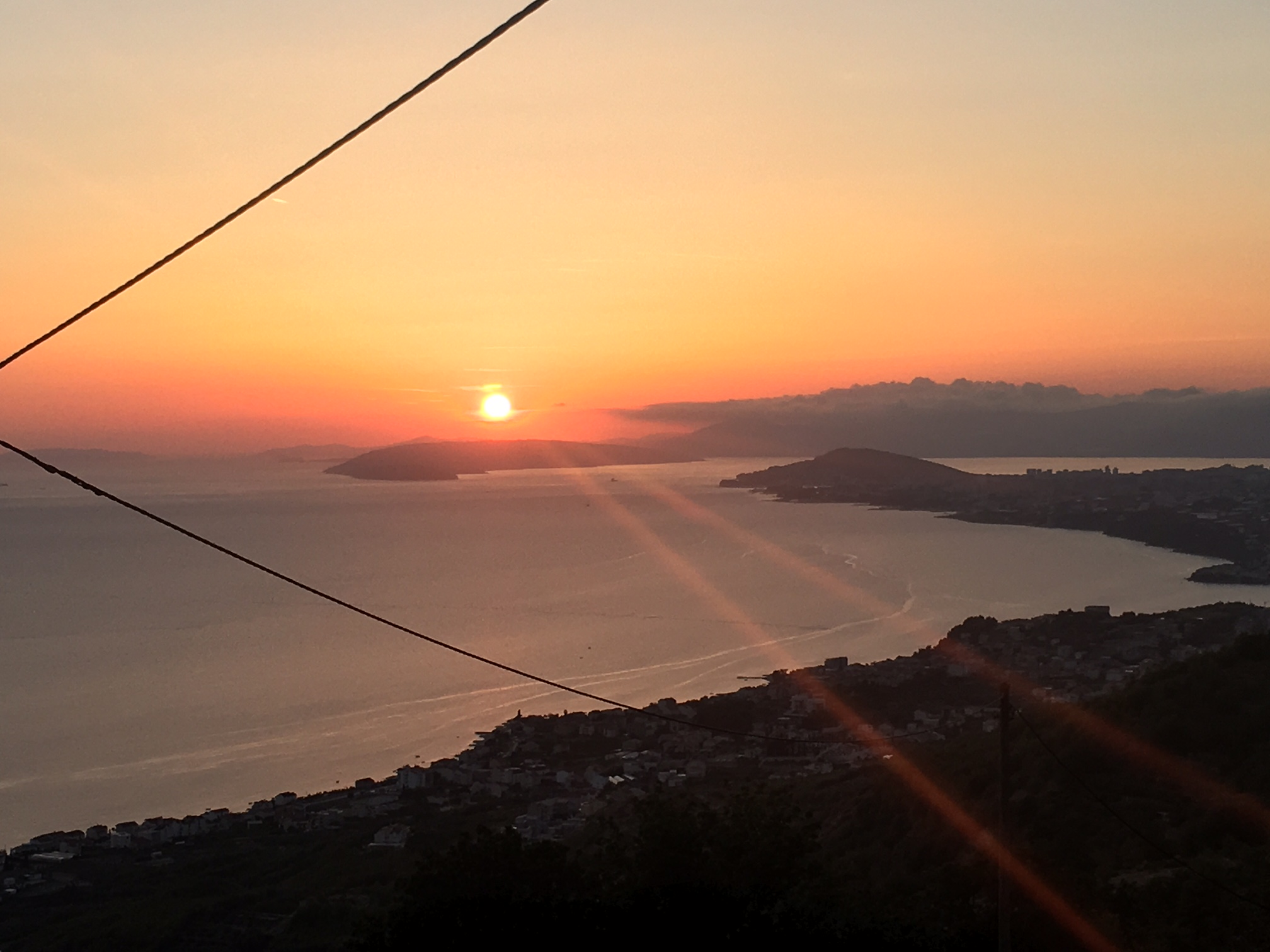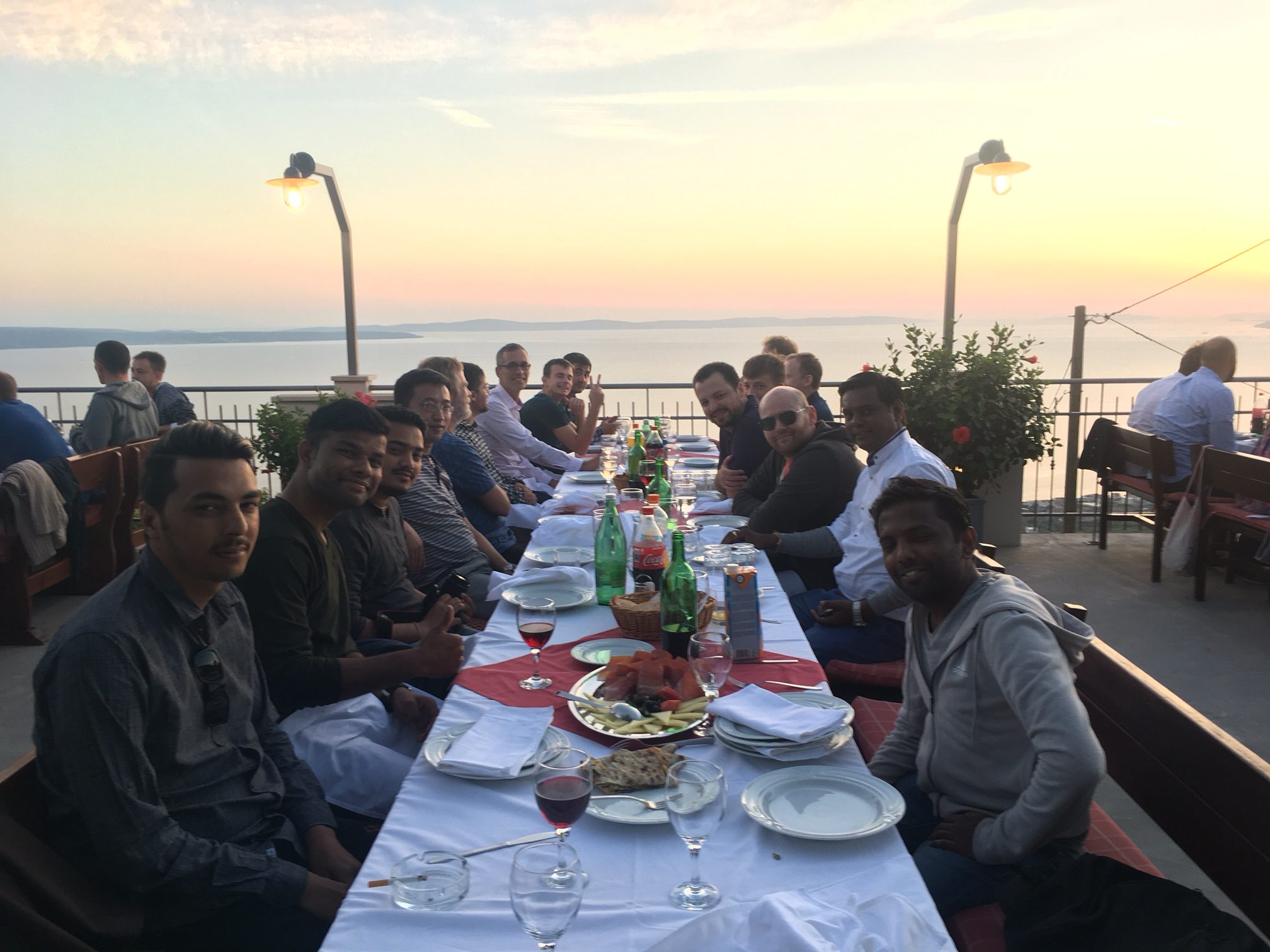 The Alarm Clock
When Amir chose to give us the alarm clock, Peter and I asked if it was to avoid being late for work… You know, a kind of subliminal message… Actually, Amir smiled and explained that many of us were using our mobile phones to wake up in the morning. By doing this, one of the first things we do is to check our emails or go on social media even before getting that first cup of coffee. So the idea is, that having a regular alarm clock will encourage us to try to change and/or improve our morning habits. Did you know this?
The Melting Pot
To conclude, I'd like to share an interesting story from the day we went rafting. We were about to climb into the boat on the river when Josef our guide told us: "Hey guys, Today I'll be your guide on the boat, I speak a few languages so tell me which country you are from and I'll switch to your language from time to time".
And now just picture us that minute…
From left to right, wearing our (kind of) fashionable blue helmets, come cries of: "Egypt!", "Italy", "America", "Israel", "Serbia", "Spain!", "France!", "India!" (Insert more countries here). Our guide could not believe his ears! It was the first time in his life that he was meeting so many people from different countries on one single trip. It sounded as if we were about to tell a joke starting with "An Italian, an American, and an Australian go into a bar…"
He was simply amazed!
I'm sharing this story with you because it's important to remind ourselves how unique and special our company is. We are from every corner of the planet and still manage to work together, share ideas, skills, and personal experiences while we all preserve our unique way of seeing the world. I think that every company event reminds us of the beauty of this singularity.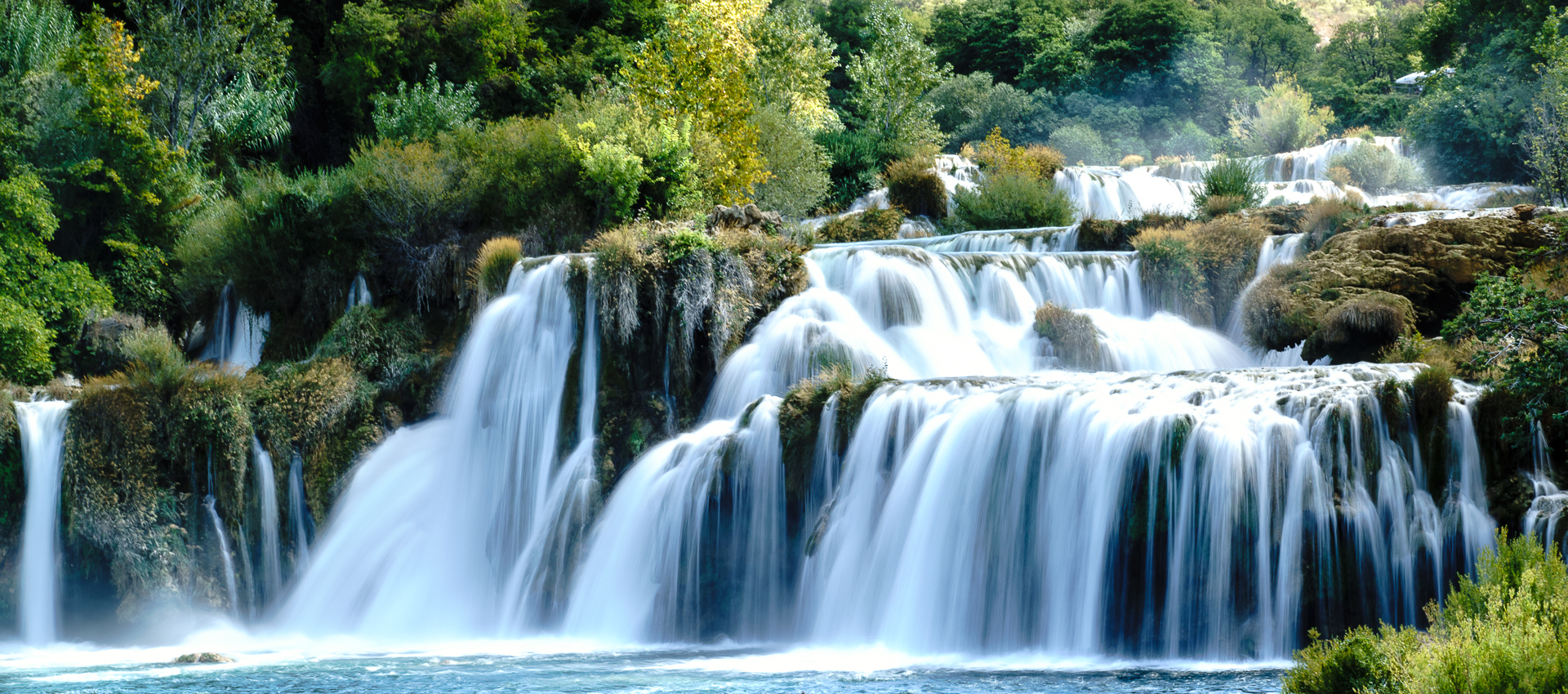 Where will we meet next? We don't know yet but I heard somewhere that Slovenia and Greece are two beautiful options…