The summer period is usually a slow one but it certainly wasn´t here at OnTheGoSystems! We have been busy with lots of improvements and additions to WPML, Toolset and ICanLocalize.
Rewards program
Remember our rewards program for WPML is now live and allows you to earn points every time you use our partner translations services to translate your content. Our guide to using professional translation via WPML will show you how to find your perfect partner service.
What's coming
Contractors' offers will be integrated with our support search, fully functional in both WPML and Toolset.
The contractors' offers feature will allow contractors to present their skills in detail on their profile page.
Each offer will have a title, description, and price. Now offers will also be displayed is the support forum search. When an offer ideally matches a support question, it will be displayed along with regular search results. Clients can review them and decide if they want to hire a contractor for their project. The contractors' offers are not intended to be a replacement for the support forum, but an additional option for our clients.
At the same time, we hope to provide contractors with more work opportunities related to custom development. We are starting with Toolset, and after running it for a few weeks, we will launch it on the WPML site.
What WPML 4.1.0 will bring
We are rewriting the Translation Management configuration wizard. It won't be a wizard anymore. The new configuration screen will be rewritten to be more user-friendly, getting rid of extra steps so users won't get stuck at any point.
In line with this plan, we've made several improvements to the basket user experience when sending jobs to local or remote translators.
Our work extending and improving compatibility with more page builders continues. We recently added Cornerstone to our list.
We are rewriting the overall translation job flow to improve the interaction between WPML and translation services
Also, we've already resolved 44 bugs which will be part of the 4.1.0 release
Toolset news
We have continued working both on compatibility, features extension and usability improvements.
Types already released its extended compatibility with Yoast SEO and the code snippets project. Now, we're improving the management of relationships and repeatable field groups based on user feedback. We are also currently working on a stable, easy-to-use API to register specific custom field types.
Views continues to increase compatibility with page builders. We are deepening our integration with Layouts and aim to work together with Avada. We also plan to extend our Views query filters to support data from related posts.
Forms made its first step toward becoming a better forms editor. It includes a better form auto-generator, and we are now finalizing the upcoming drag & drop editor. In addition, we are rectifying some usability challenges.
Layouts has undergone a bug-fix short development cycle. In the near future it will lead the shared Toolset effort to bring support for Bootstrap 4 to the relevant plugins.
Maps is releasing better feature parity between the Google Maps engine and Microsoft Azure.
Access is back after being on hold for some time with some great improvements in the pipeline.
Module Manager is getting a better user interface and extended features, such as the ability to import demo content together with modules.
Support & compatibility efforts
We have teamed up with major partners and are working closely with other teams.  One of the activities we have planned for this month is a shared meeting between the WPML, Toolset and Elementor support teams. We will share technical issues, workflows, and solutions to compatibility issues to jointly help our clients.
We are improving the UI of our support forum, making it easier for clients to ask for support and report issues, a change that will happen in a few days.
We are pleased to announce that going forward, we will offer live chat support for our clients as part of our policy aimed at making our clients happier.
Finally, we are placing renewed efforts into our YouTube channel, in order to make it the main video tutorial repository for our compatibility tutorials. Look for more details in the next blog release.
Enhancements to ICanLocalize
In September we had several important improvements in our software localization system and the page design of our Homepage and List of Translators webpage.
Our new homepage features the most recent websites and apps we translated as well as our clients' reviews about their experience with the translation process and the quality of work.
On the Professional Translators page, you will find the new ranking for translators based on their rating which will help you see the best translators in the language pairs that you need.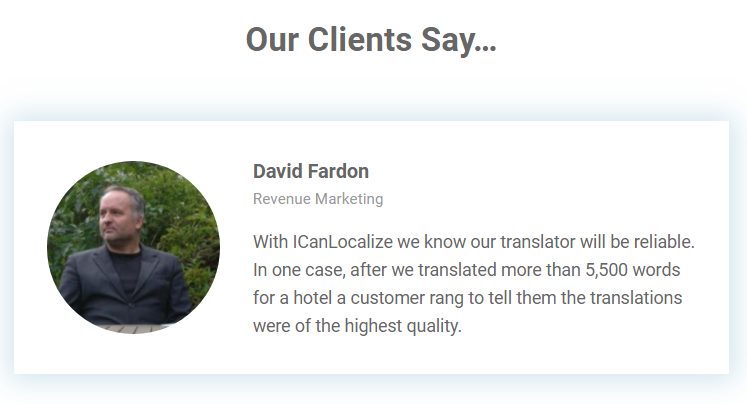 On the Professional Translators page, you will find the new ranking for translators based on their rating which will help you see the best translators in the language pairs that you need.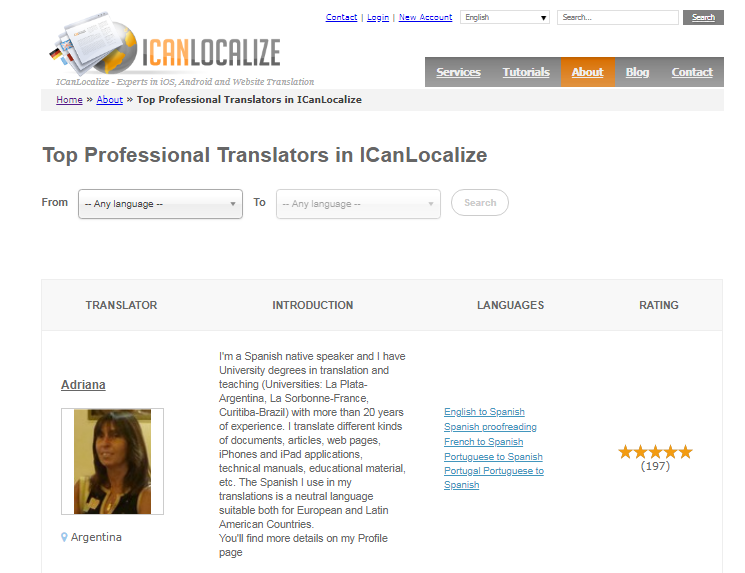 The star rating is also available for Google to index and display our best translators first.
JSON support for software projects
By popular demand, we are now supporting the JSON file format for Software Localization projects. This allows you to upload a file in .json format and send it to translation, just like any other software file format, considering Pluralization Rules and different platforms:
AngularJS Localization – supports the most popular module angular translate.
React Intl Localization – supports the most popular library react-intl.
jQuery.i18n – jQuery-based internationalization library
Multiple improvements to software projects
Other improvements include the default resource file type being auto-selected based on the previous file uploaded in software projects.  This feature allows you to upload files in any of the supported formats and will  automatically detect them. The translated files (output) are always generated in the same encoding as their corresponding uploaded (source) files. You can upload updated strings, and our system will recognize only the new strings; therefore, you won't be charged for existing translations.
Automatic translator assignment is enabled now for all language pairs by default
It is possible to switch both from automatic to manual and from manual to automatic at anytime.
The default feature ensures that the project is assigned promptly to the first available expert translator, and you don't need to assign translators yourself.
Translation memory export for website projects
Now it is possible to export your Translation Memory in the TMX format for website projects.
Thanks for reading…
Stay tuned for next month's updates!