We started the development cycle for WPML 4.3.0 which will bring an important new feature (we will share more soon). Toolset Blocks is also evolving at great speed and we just released a new stable beta for it.
Want to find out what else May had in store for you?
Toolset News
In May, we continued working very hard on supporting and extending our Toolset plugins and evolving our library of Toolset Blocks.
Our plugins got some important updates. Types 3.3 brought the first integration with the WordPress REST API and the Views 2.8.1 release features a massive performance improvement. There were also bugfix releases for Access and Forms.
We have some more big surprises coming out in the coming weeks:
Bootstrap 4 support for all Toolset plugins
Toolset Forms getting access to the WordPress media library in frontend forms
Toolset Maps users can now benefit from an important feature which we had developed for Toolset Blocks. Maps now includes our library to load data from dynamic sources,
Toolset Blocks has been evolving nicely. We just released a new beta release, including a number of improvements on the Fields and Text block. We also solved a long list of glitches and usability issues.
Besides this main development, we are also going to publish on GitHub our library to get data for blocks from dynamic sources. This way, others can benefit from it and include our library in their own blocks. We did include it on some known plugins that provide blocks for the WordPress editor, and it was both easy and powerful. We're working on it.
Toolset is moving ahead quite fast, it's time to come on board and discover new, more productive grounds with us.
Follow all the latest news on our Toolset Blog.
WPML Update
This week we resumed the development of WPML 4.3.0. We delayed starting it because we had to address a series of performance bottlenecks, some of which were reported by our customers.
The development of 4.3.0, as mentioned in our April update, will still include several users' requests, but it will also include a significant workflow improvement and a tighter integration with the new Advanced Translation Editor, preventing users from leaving their site.
In the past few months, we have moved some code into new "glue" plugins and created a few new ones. "Glue" plugins allow integration with some of the most popular plugins. This work is done by our compatibility team!
Also, we continue to improve the integration with WordPress Block Editor (Gutenberg) while new features are added.
As usual, every release will include several hotfixes, and since 4.3.0 became an extended release, we will include more than 100 fixes (mostly related to compatibility with third-party plugins).
You can follow all the latest news on our WPML Blog.

Our Customer Support
We have managed to improve significantly in all aspects of support.

We have made some small improvements in the support user interface.

We have had around 900 chat support tickets started in May and increased the number of supporters replying to chats and with better timezone coverage
We have also managed to cut the time of reply in email tickets in more than half during May compared to April.
For June we plan a big change in the way clients open support tickets, and some other performance enhancements.
Community

Partnerships, Compatibility and more…

Building genuine recommendation pages for our clients

We are building several pages on wpml.org where we genuinely recommend which plugins and themes our customers should use with WPML.

For example, we are building a list of "The best cache plugins you can use with WPML" with relevant content.
→ We are creating content that teaches our clients about different cache plugins and how to use them correctly. More recommendations will be added soon: best page builders, best themes for e-commerce sites etc.

We have already managed to add support to some high profile products as a result of this project. For example, in May we added support for Muffin Page Builder (BeTheme) which has more than 150,000 sales.

Gutenberg Block Editor + Toolset + WPML

We have more and more 3rd party blocks plugins on-board willing to become multilingual-ready as well as integrated with Toolset. Ultimate Add-ons for Gutenberg is a great example and we are actively adding compatibility.

Translation partners

In May, we successfully integrated with Tatutrad, a Spanish translation service. Tatutrad celebrated by announcing the integration also in Spanish.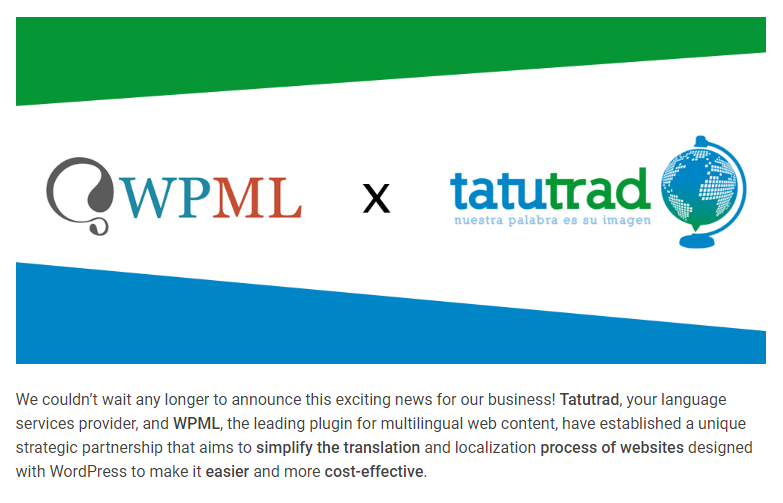 Our recently (end of April) integrated Canadian partner Versacom published a press release on the new integration. And our current translation partner Elite Asia published an interesting dedicated page about translating WordPress sites using WPML and Elite Asia.

On our side, we announced the integration with Translators Family, a Polish translation service.
There are many new integrations on the way.
Enhancements to ICanLocalize
In May, we focused mainly on Software project improvements:

Automatic detection of file formats for a quicker Software project creation process.
Shortened our list of formats by grouping them in order of popularity so clients don't have to scroll through the list to find their favourite file formats.
Merged the 2 PO formats into one to simplify the upload.
Improved file upload screen, with a suggestion to create a Document project if you need to translate only the app store description.
Want to join us?
We are a 100% remote working company and all our employees work from over 40 countries worldwide. We do not mind where you work, just that you have great internet access, you work well in a team but can also carry out tasks independently.
You can read more about our company and culture on Remote.co.