November has been a month of great news at OnTheGoSystems! In the last year, we've rewritten Toolset to run inside the WordPress Block Editor. This is live now!
Views 3.0 and Toolset Blocks 1.0 are now live!
Together with a round of major updates for Types and Maps and minor updates for Access, Layouts, and WooCommerce Views, Toolset finally released its biggest step forward ever.
Extensive design and styling options make Toolset the only tool that you will need to design beautiful templates and archives. And this is just the first step: we have a long list of features that we will be adding in future iterations. Also, Toolset is fully compatible with WPML so you can now visually create custom, advanced, multilingual sites.
This new experience for designing sites using the blocks editor comes with a number of extra goodies, like performance improvements and several compatibility fixes.
Read all about the new Toolset experience in the announcement post.
What's new in WPML
In November, we have released WPML 4.3.0 which introduces a significant performance boost to the whole suite and, in particular, to String Translation. WPML now runs faster and smoother than ever.
As the development of this version was longer than usual, we also managed to introduce several new features involving the translation process.
One of these is the integrated Advanced Translation Editor.
Following this release, we have published a few hotfix versions to cover some edge cases as well as to resolve some compatibility issues with page builders and the new version of Toolset (with Toolset Blocks). We also improved compatibility with PHP 7.4 which is the latest and fastest version.
You can follow all the latest news on our WPML Blog.
Our Customers' Support
We are very proud to officially introduce chat support for all WPML clients. We now have a dedicated team of supporters, providing live support from Asian morning until Western-US afternoon. When you reach chat support, you will get the most experienced and knowledgeable supporters, ready to help you live.
Partnerships, Compatibility and more…
WPML is now the fastest multilingual plugin! This has been announced by our partner WPML Rocket, one of the most popular cache plugins in the WordPress ecosystem. More tests are being made by other partners. We are looking forward to sharing the good news with clients.
We are working closely with authors to announce the compatibility with WPML. We want WordPress users to be able to use WPML smoothly with any themes so we cooperate with authors to create high-quality guides and in-depth documentation. Here are some examples from November: Theme-fusion, whiteboxstud.io, and Laborator.
The next step will be to create multilingual demo sites with authors, encourage more partners to join our affiliate program and much more.
We are putting together a list of Gutenberg-ready themes for our clients. The goal is to let them know which themes we recommend best with Toolset Blocks. We are in the middle of testing and will soon know which themes will work best for our clients. We'll explain to our clients how to make sure that a theme is actually Gutenberg-ready and which criteria we've been using to declare the compatibility.
Furthermore, Joe, our copywriter has been working hand-in-hand with several well-known blogs to promote Toolset. Our plugin is really like a swiss-knife and we are being mentioned in several articles: The ability to create testimonials has been reviewed by Isitwp while the ease in which you can create real estate websites has been mentioned by wpkube
Translation partners
November was full of new partners joining us from far away countries!
2M Language Services joins us from exotic Australia – our first Australian translation partner. From Vietnam, GTE Localize also joins to bring its vast expertise in Asian languages. And from Finland, Maris Multilingual comes with over 15 years of experience in all major European languages.
And, we haven't forgotten America, this is why we welcomed Traduality, with a presence in South, Central, and North America.
No matter your translation needs, in WPML we have got you covered.
Some recently joined translation partners have been working hard creating beautiful and explanatory pages featuring WPML. You should totally check Jublo to learn more about WordPress translations: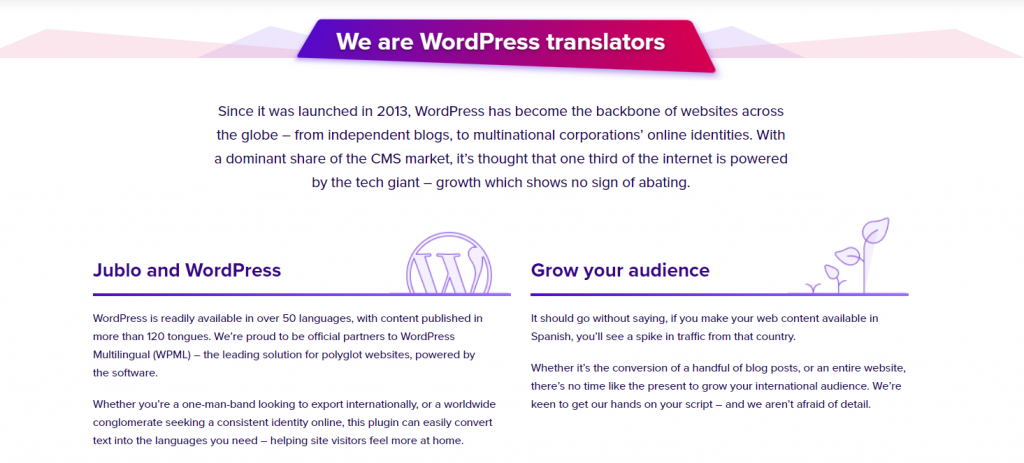 And also Commit Global:

As always, new Translation Partners are being integrated every day. So stay tuned to know when your preferred translation service gets integrated.
Want to join us?
We are a 100% remote working company and all our employees work from over 40 countries worldwide. We do not mind where you work, just that you have great internet access, you work well in a team but can also carry out tasks independently. So if you meet our requirements, please go ahead and apply.
You can read more about our company and culture on Remote.co.