September brought releases for both our flagship products. We released Toolset 1.3 and WPML 4.4.0 and are already fast at work on big features for the coming months. We also continued building strong partnerships, always one of our priorities.
Toolset News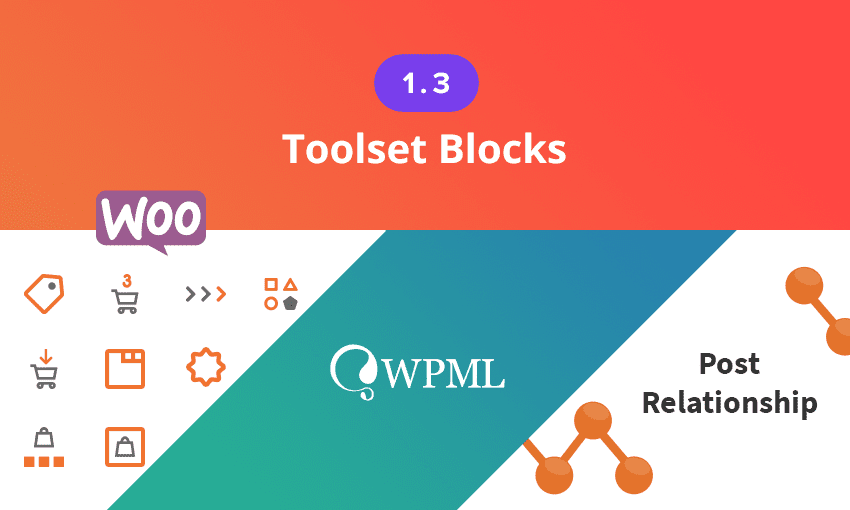 September was a fantastic month for Toolset. After weeks of development and a final deep testing stage, we released Blocks 1.3 together with updates for Types, Forms, WooCommerce Blocks, Access and Framework Installer.
The highlights for that release are:
Fully multilingual sites with WPML and Toolset that are also easy to maintain.
Full design of WooCommerce-powered sites with blocks.
Improved features for creating sites with complex relationships and display data from related items.
Following that milestone, we had a minor update to address some minor reported issues. Right after completing that, we started a new development cycle. In the next few weeks we will focus on stability, usability, and performance.
To get more news, visit our Toolset blog.
WPML News
We have released 4.4.0 with a series of new features such as:
New and more user-friendly String Translation interface
Improved experience when handling automatic translations
Improved handling of sites that change URLs
WPML now detects when you have one of the integrated plugins installed and will proactively suggest installing the "glue" plugin
A special mention goes to the joint effort between the WPML and Toolset teams that allows site owners to translate Toolset sites easily and to build advanced multilingual directory sites.
Of course, each release includes a series of bug fixes and this is not an exception with almost 100 (!) resolved bugs.
And as in any release we also included a ton of compatibility improvements with page builders and other plugins.
The next version WPML 4.5.0 is already under development.
We are working on two major changes:
The WPML setup wizard will ask fewer questions and will be more to the point
The translation workflow will provide options to reduce the steps required to send translation jobs, receive, and publish the translations
Visit our WPML blog to follow all the latest news.
Compatibility
We have added a batch of new themes and plugins to our compatibility list and announced it on social media. To mention a few: Geotargeting WP, Fetchify, Complianz | GDPR/CCPA Cookie Consent, and Woody Ad Snippets.
We released WPML All Import 2.2.0 with fixes for importing WooCommerce products.
Ultimate Addons for Gutenberg has published a page about how to translate ultimate Gutenberg content with WPML.
We published this blog post about comparing how Toolset and ACF work with Elementor Pro.
You can always check our compatibility list to see what plugins we're compatible with.
Affiliates and Partnerships
Building strong partnerships continued to be a priority for both WPML and Toolset teams throughout September.
As always, we worked closely with compatible plugin and theme partners on articles and videos that help our shared clients build reliable multilingual sites.
WPML highlights this month include working with various Gutenberg block plugin authors to teach clients how to translate block plugins (watch this space next month!), getting featured in WPMU Dev's guide to creating a multilingual online store, and making the top of Advanced Custom Field's list for translating custom fields.
Speaking of custom field and post type plugins, WPMayor published a great article on creating dynamic WordPress image galleries and sliders using Toolset, and our online courses for building dynamic websites using Toolset made it on the list of great resources to help learn WordPress.
With the latest release of WooCommerce Blocks for Toolset, we're looking forward to next month and some exciting new partnerships.
Translation partners
September was a month full of great news for our Translation Partners!
The release of WPML 4.4.2 came with an interesting new feature that allows you to first see local Translation Services from your own country. We hope this helps you feel closer and more connected to available Translation Services.
This is how your Translation Services tab should look like now, if you are connecting from the Netherlands: displaying local translation services that speak your own language!
List of translation services now show you the ones from your country first
We also released and welcomed a brand new Translation Partner from Germany: ACT Translations. They offer a broad portfolio of language services covering translations and much more!
Remember that if you are working with any of our Translation Partners, you can always request our Translation Readiness Service for free.
Our long-time partner OKODIA, from Spain published an interesting guide on how to translate WordPress sites using WPML and how to request the Translation Readiness Service when working with them. You should definitely check it out.
On the other hand, our Translation Partner from Spain, Berba, published a stunning page on the benefits of translating WordPress Sites with Berba and WPML.
There are many integrations on the way, so stay tuned to learn who they are next month ;)