The star of this October was definitely the release of WPML 4.5. It allows you to simply let WPML translate your site automatically in the background while you focus on the content in the default language.
WPML 4.5.0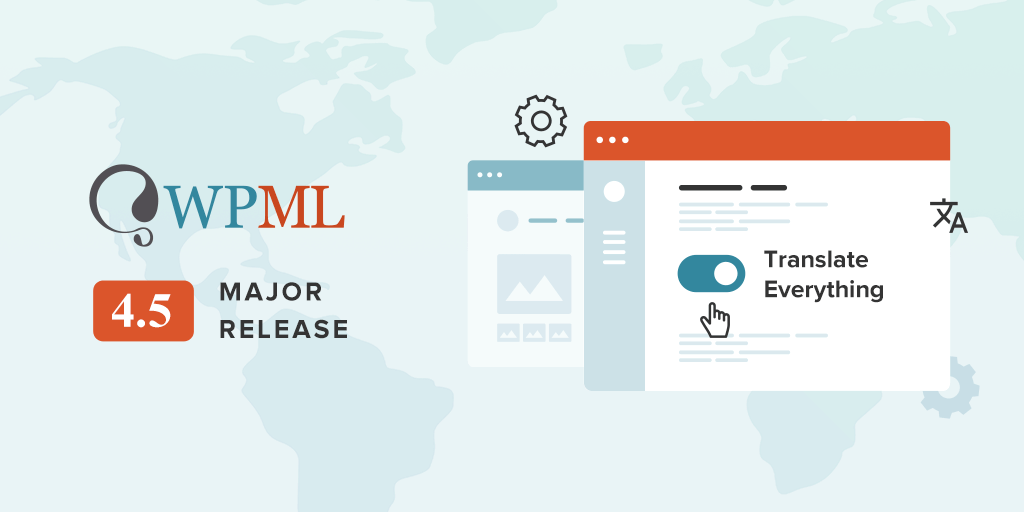 WPML 4.5 introduces the new big feature called "Translate Everything" which lets you translate your content automatically in seconds. It's a one-time setting and the translations appear automatically in the background while you can continue creating content. You still have full control by using the option to first review translations before publishing.
Of course, this release also brings other important changes:
A completely revamped WPML setup wizard
The WPML Translation Management add-on is now merged into our core plugin. This means one plugin less to install.
You can now create dedicated "Development" site registration keys while working on new sites. This gives you more flexibility in creating sites without "wasting" a key for development sites.
For automatic translation, we introduced prepaid credit packages without a subscription.
Check out all the details in the WPML 4.5 announcement post.
Thank you very much for all your feedback during the beta phase!
Compatibility News
Naturally, our work with partners in October also revolved very much around WPML 4.5. We've been busy working with other themes and plugins to ensure this mode continues to work seamlessly for our users. This included updating lots of WPML documentation, creating new YouTube video tutorials, and getting some great mentions of WPML 4.5 online.
Our friends at Avada published this guide to building a multilingual website in minutes using Avada and WPML; while Ultimate Elementor shared our great news in this blog post about automatic translation and what you can achieve with WPML. Over at WPMayor, they put together some highlights of how you can quickly build a multilingual WooCommerce store using WPML and WooCommerce Multilingual.
We welcomed a handful of new partners to our 'Recommended' program in October too – including SiteOrigin Page Builder, which is now fully integrated with WPML. We also welcomed the popular eCommerce theme, Woodmart.
Over at Toolset, we were happy to be nominated for Template Monster's Best Dynamic Plugin award and were added to Blocky's Recommended Plugins list!
Translation partners
October was a month full of news related to Translation Partners.
With the release of WPML 4.5, you can now find our Translation Partners under the Translator tab on the WPML Translation Management page in the admin.

We also welcomed Lingo Access, a new Translation Partner from Norway. Lingo Access has been providing the business community with professional language services for more than 15 years and now it's available in WPML.
On the other hand, Tatutrad, our Spanish Translation Partner is making it even easier for Spanish speakers to connect their sites and start translations with Tatutrad thanks to its new WPML page in Spanish.
Have you already checked our comprehensive and recently updated directory of Translation Partners? Check it out and see how easy it is to connect with your preferred service.
Thanks for reading…
And stay tuned for next month's updates!