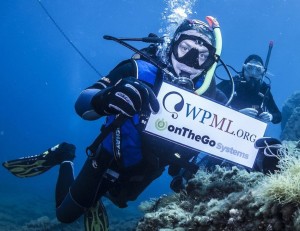 Back in May 2014, shortly after joining the company, Vuk posted this photo . At the time we simply thought that he was just good at photoshopping! He explained that the photo is real and he did indeed take the wpml.org logo under the water when scuba diving in Kalamitsi, Greece.
Now, after more than a year of having Vuk Vukovic with us in the company, we all have come to know that he has many talents!
Stay with us to find out how he moved up in his career from a WordPress freelancer to joining WPML Development Team recently.
How did you start working with the company?
After a very varied working experience, I eventually found myself working as a permanent freelancer, and my beginnings in the company are mostly related to my experience as a satisfied user of the bugless WPML plugin :P
One day, about year and half ago, while I was working for the Belgrade Philharmonic Orchestra, I noticed a WPML ad in the WordPress dashboard. That was the turning point. I met Eyal (then-CEO), Andrea (the WPML lead developer) and Amir (the founder) and, well, the story started to roll.
WPML has a number of subteams. Which team did you join?
I joined the WPML Compatibility Team. My job revolved around reviewing the source files of WordPress themes and plugins for meeting localization standards and adjusting all the custom options to be fully compatible with WPML.
Reviewing themes…. Wasn't it too boring for a guy like you? You look very athletic, not at all the accountant-type ……. I'm sure you must enjoy some dynamic hobbies.

I do indeed. I am really a sports kind of guy, and before my motorcycle accident, I was involved all the time in some kind of sport activity. I played basketball for 11 years, and almost reached the point of becoming a professional. Today I am fanatic about scuba diving; I love playing beach volleyball occasionally and exercise regularly. But, as I would say, " A vacation without diving is not a vacation. :)"
Beside sports, I am strongly passionate about music, film and photography, which I also did professionally at some point in my life. I play the guitar for over 15 years now, even doing some songwriting and a little producing. I would say that I am an art lover through and through…….
Reviewing themes sounds like a repetitive kind of job requiring a lot of focus. What helped you keep the right balance?
You got me here! This was one of the reasons I decided I wanted to move on to the development team.
Working online without physical interaction with other people, there are obvious tendencies for the job to become monotonous. As you noticed, reviewing themes again and again leave little space for new challenges.
I am trying hard to have and enjoy each day as being different. On the one side, through various virtual interactions, and on the other, through frequent changes of physical location. Greetings from Slovakia! :)
And today, as part of the WPML development team, I am on a quest for further progress and knowledge seeking.
Tell us more about yourself. Where do you come from – what is it like where you live?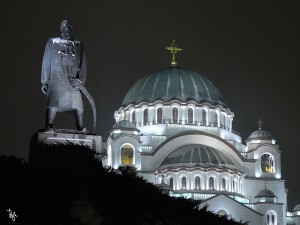 I come from Serbia. Serbia is a landlocked country lying between Central and Southern Europe. Stretching north into Hungary and westwards to Croatia is the vast fertile lowland plain, but to the south bordering Montenegro are the Dinaric Alps and to the east extending north into Romania are the Carpathian and Balkan mountains.
Where exactly do you live?
I am the 4th generation of my family born and living in Belgrade. I would say that Belgrade is my favorite town of all that I have seen till now, probably because of all the action it offers!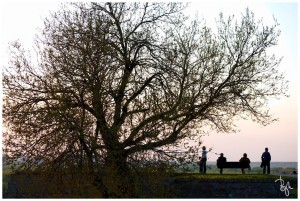 For me, Belgrade is one of the most stunning and exciting places I have ever been. Belgrade has had a very erratic history. In ancient times it was ruled by the Romans and the Byzantine Empire. It was besieged and conquered by the Ottomans, then by the Austrians, and after World War I it became the capital of what was later known as Yugoslavia. During World War II it was heavily bombed by both German and Allied forces. Finally, after the 1990 conflicts, Belgrade emerged as the capital of Serbia.
As a result, the Serbian people have a very long and rich culture so there are many interesting places to see in my home town. About this question I could write pages and pages, perhaps books :) but for now I would highlight two important places that must be seen if you are passing through: the huge Kalemegdan fortress built in 535 CE , outstanding because it originally dates from 3rd century BCE, and the Church of St.Sava, one of the largest Orthodox churches in the world.
Would you like to share something about your family?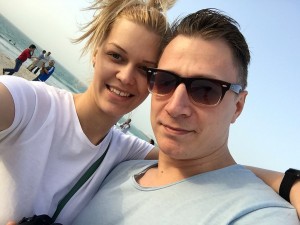 My family consists of my Father, my fiancée, our dog and our fishes :) I know it probably sounds cliché, but my father is my mentor. One of the most important persons in my life, giving love, knowledge, providing support and understanding in the way as only he can do. For some time, more than a year now I am living with my fiancée Jovana. She is a developer too, junior one :) and represents the other part of me, making me one balanced whole. There is one more member of our small but powerful family and her name is Lara, she is a golden retriever and my life companion for 13 years now. The fishes in the aquarium are also saying hi! with the 'noise' of their bubbles!
What really annoys you?
What really annoys me? I really try hard in everyday life to overcome the feeling that something is annoying me and I try to narrow the possibility of being thrown off balance.
What about the future?
For the future.. ah.. who knows..… I have started learning Spanish….. so we'll see! Nos vemos! :)