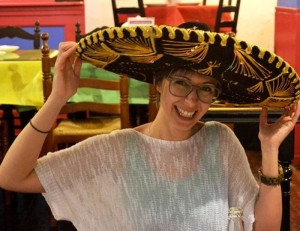 Selena Salustri is a vivacious Italian girl with a charming accent. She joined OTGS in December 2014 as an in-dev tester. Today she tells us something about her new life at OTGS.
Where do you live?
I live in Avezzano, a city with a population 40,000 built at the crossroads of routes from Pescara on the Adriatic coast in the east to Rome 100 km to the west. My city is located north-west of the reclaimed floodplain of the Fucino basin, part of a rift valley in the Apennine mountains which form the "backbone" of central Italy. Waters from the surrounding mountains used to pour into this landlocked area causing much flooding as there was no natural outflow. As early as Roman times plans were laid to drain Lake Fucino, but it was not until the late 1800s that this area of over 14,000 hectares was successfully drained. The resulting plain is one of Italy's most fertile regions, ideal for market gardening.
Avezzano is prone to earthquakes. A century ago, in January 1915, a massive earthquake of magnitude 7.0 devastated the region, resulting in over 30,000 deaths. In Avezzano alone 10,000 residents died – more than 80% of the population of Avezzano. Only half of the castle and a few houses survived to the disaster, so the city looks pretty new and has little to attract visitors. However, not far away are the Roman ruins of Alba Fucens where the forum and amphitheater still survive. For those of you who are interested, here is a google search about the ruins in Alba fucens.
Would you like to tell us something about your family?
I am very excited because my older brother will be getting married soon and I am busy handcrafting placeholders for the celebrations! Actually now I am living again back home with my family. I lived alone for ten years, three and a half years of which I lived in Holland where I also learnt English. I really appreciate Mama's delicious home cooked meals. I can take a short break for lunch and it's already on the table ready to eat!
Here you can see a couple of pictures of my dog helping me out at work!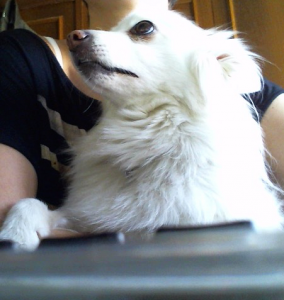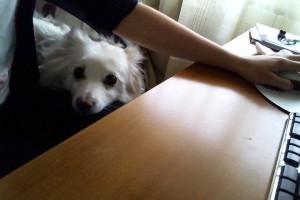 How do you like to relax?
My boyfriend lives 100km away so we get together at weekends. We love to chillout watching movies. But I also love running, walking in the evenings with my dog Luna ( a Volpino Italiano), drawing, painting and learning new things all the time to keep my mind occupied.
What were you doing before joining OTGS? How did you hear about the company?
I was doing some work for a client and my boyfriend suggested using WPML for translations. I was very new to WordPress and so I decided to buy WPML. Everyone said it was the best. At the time I was searching for a real job, so I decided to try for the positions of supporter and tester. Laura told me they were not looking for supporters but they did need testers. I then met Andrea Sciamanna. I was inexperienced and although I found the interview challenging, it was not difficult. I must admit though that I was extremely anxious especially for the theory and practical aspects of testing.
I began working on Dec 8th 2014 a religious holiday in Italy. I remember Mama coming back from the market and asking me, "How was your first day?" I had sat at my computer from 9 am – 10 am just waiting for my 1st training session with Sarah!
What is involved in your role?
I'm an in-dev tested for the Dream Team (System Development and Management Team).
Basically our Systems team maintains, updates and adds new features to our systems, like wpml.org, wp-types.com, onthegosystems.com, discover-wp.com, etc…; My daily tasks are mainly focused on checking that everything is working correctly after the developers complete their work and before the changes go live.
For my tasks I don't think any special knowledge is needed. Of course I need to know WordPress, understand our plugins (at least the expected behavior), a bit of coding when required and some basic debug steps. What I do keep in mind though, especially when I'm testing our demo sites and Framework Installer, is that we are human and we don't always follow the steps the same as a machine or even the way experienced users do.
What are some of the challenges and advantages in your work? What do you like most about your work?
The main advantages is that I'm never late for work! I used to leave from home the same time I should have been at my desk……! Working from home prevents this little issue! :P
What do I like most in my job? The different type of tasks that come to my desk everyday but this has a side effect – the most challenging for me – I can't stop working at 5 pm! I like to clear my queue and finish the jobs I started during the day. If there is a particularly difficult task, I always leave it for the next day to tackle it with a clear head.
And what about the future?
Simply put, I enjoy my work so much I would like to always work with OTGS!