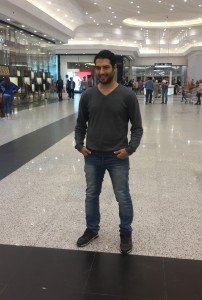 I am standing on the Corniche (Al-Kurnīsh), the promenade running along the Eastern harbor. Tangy, iodine laden breezes blow inland from the southern Mediterranean. Long waves gently roll in, splashing against the eastern promenade, while above and all around the seagulls cry plaintively. But where am I?
I'm living in Alexandria, Egypt, the city that I love so much because of its nature. Just being here makes me feel so happy. However, I was born in Desouk, nicknamed "Bride of the Nile", a town 80km east of Alexandria, belonging to the Kafr El Sheikh state. It is located on the eastern banks of the Rosetta branch of the Nile and at this point only two bridges span the great river. Desouk is famous for its historical sites such as the Ibrahim El Desouki mosque.
What fascinating places! So I expect you spend your weekends being out and about and travelling.
I have to laugh at this idea, because actually, I like doing nothing – just relaxing. Don't get me wrong, though, when I have time I really like playing football and basketball, and I also enjoy video games.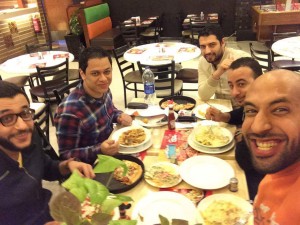 You began working with OTGS less than a year ago. How did you hear about the company?
Well, I was working as a PHP and Java developer for more than 3 years. My Friend Ahmed Mohammed joined the company and we were continuously talking about it and about working from home in general. My interest grew. I was impressed by OTGS products and the growth achieved day after day. I was always wondering: How do more than 70 employees work together successfully from their own homes and yes, they do so well!!!
Then, 8 months ago, Ahmed told me that there were some job vacancies at OTGS. I applied and went through the interviews with Denise, Sarah and Laura.
From the very beginning, in the interviews, I could see that it was a well-organized company. I knew that working here would be a challenge especially since I expected to work with high profile employees. Yes, I love this kind of stimulation :) it pushes me to be better.
Can you explain to me what it is you do exactly? What knowledge do you need to have?
In the beginning, I tried to become familiar with WPML as quickly as possible and I found myself working many hours to get there! Then, just as I had, at last, began working an 8 hour day, I was invited to work as a 2nd tier supporter in the Toolset team. Back to the beginning! Once again I devoted myself to learning this new role as soon as possible.
I act as an intermediate asset between the development team and the support team.
I always try to save time for the developers by investigating deep into the issues. Debugging the code and testing the plugin's features helps to put their hands on the problem. This role requires high debugging skills. Especially when dealing with a set of plugins, I need to have at my fingertips several different ways to debug and test.
I feel it's important to keep in touch with almost of the team members, 1st, 2nd tier supporters and also the developers to be able to quickly understand and proceed with the issues.
How do you feel about these challenges and what are the rewards?
Working as 2nd tier and handling more than 16 plugins is a challenge out of the box! And moving from WPML first tier to 2nd tier in another team (Toolset) was scary in the beginning. But, how about being a member of one of the best teams ever? Every time I get stuck, I find a helping hand from one of my teammates and so there is nothing scary after all :) My position encourages me to interact with almost of the members of my team, which is good because it makes me aware about most of the things going on in the team. A good relationship with my teammates, a good spirit and environment and exchanging experiences motivates me to do better.
On a typical day, you turn on your computer to start work and then what?
I start by reading new emails as is our usual routine here :) After that, I prepare to attend the Toolset daily meeting around 10.00 am which can last from half an hour to one hour. After that, I start responding to our clients in the forum and then handle the new internal issues. Adriano and I usually share the workload, checking new issues reported. I usually finish my day with reviewing thread summaries.
What are you thinking of for the future?
My short term plans, I need to be 100% ready and aware of any Toolset work in general, because I really enjoy this. In addition, I want to cement my relationship with my teammates because I like this team so very much!
I always feel that I can do better and there is something missing or something I should do better.
Although this sometimes put me under pressure, I like this because it pushes me forward. I always want to be ready for a higher position in OTGS and accept new challenges, but only when I feel that I'm stable in my current work.
For the future for my family, this is literally, what I'm living for. I plan to move again to my hometown (Desouk) to be amongst them all the time.