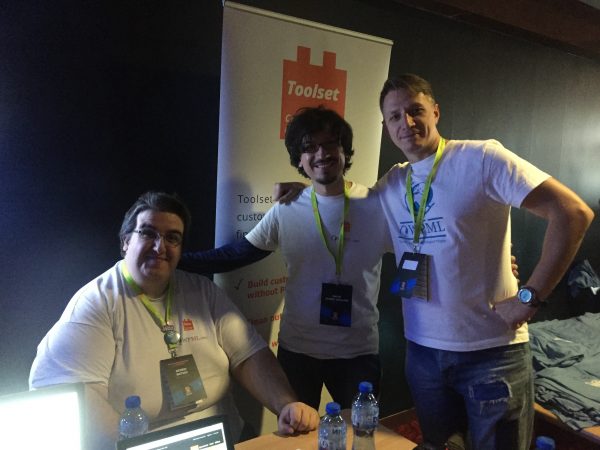 Close friends like to share their stories and memories and George Botsev is no exception. People he works with say he has an enviable deep knowledge of WPML, he is very dedicated and is always there to help with challenging questions.  But what is the man behind the screen really like and what influenced his life? First, I asked him about his childhood and youth.
George, what did you want to be when growing up?
I remember that the first thing that I wanted to become was something that my parents were not at all happy about. Remember those big metal round bins and all the trash collectors had to carry them on their shoulders to the trans truck, but instead they rolled them along?  I wanted to be a trash collector.
What is the worst thing you did as a kid?
One day a rat showed in our yard and I killed it with a stick. Everybody praised me as a hero, but I felt bad for the little guy after I'd done it.
What is your favorite childhood memory?
Being held by my father and mother and doing big jumps as we walked.
What do you always want to try and never did?
Bungee jumps, Skydiving, swimming and not sinking.
We first met George when he began working at OTGS in the autumn of 2014
What were you doing before joining OTGS?   How did you hear about the company?
I was a system administrator for a payment/credit card company. My fiancée, Silvina, told me OTGS had sent a bulletin about needing more people.  As an owner of an agency creating sites with WordPress, she already had WPML.
Before working at OTGS what was the most unusual or interesting job you've ever had?
Working in assembling electronics with big machines and programming the machine workflow. There is a chance if you drive a BMW or a Mercedes that you have an electronic circuit that I produced inside your car.
What drew you to OTGS originally? Has OTGS  changed since?
The WordPress community drew me to OTGS. Over the years we lost some nice people that I miss interacting with daily, but we gained others. OTGS is constantly changing and improving.
How has OTGS helped you in your career development?
I am constantly learning new things and I feel good because of this. I think I am a better professional with PHP now.
Tell us about the teams you work closely with – do you get along well? Are there occasions when there are misunderstandings or personality clashes? How do you handle such situations?
I work with the Support and Development teams. I think we get along well. It is normal when people are overloaded that there may be some sparks, but I like to shift the focus from the problem to finding a solution and stepping in with the client view – as an advocate of his position – so that we find a better way of helping him.
How do you communicate with them – e-mails, skype/slack, hangouts etc? What happens if there is a power cut or hangouts crashes?
I communicate via Mattermost (Slack replacement) and funny thing – I just had the power company come to change my power meter and I did not have power for over an hour. But I am equipped for that – I have backup UPS, laptop battery that holds 1+ hour and 3g/4g connection – so I did not had any interruptions.
What has been your favorite project?
The performance improvements in String Translation by Jakub Bis
What advice do you have for prospective candidates?
Work smart :)
What is your proudest moment at OTGS?
My proudest moment is when I receive a feedback from a client that he is happy with my assistance to him and that he managed to fix his problem.
What about other opportunities eg your involvement with WordCamps
I am one of the organizers for WordCamp Sofia this year. The previous year I was a speaker, and the year before that, I was a volunteer. I have very fond memories of this year's WordCamp Europe in Paris where I attended a lot of talks with Jakub Bis and had a wonderful time.
So this is George's professional side, but what else is he willing to reveal?
Do you recall any embarrassing moment at work?
At our recent Company event in Croatia, we played that game where we had to get a towel from the other person. I am a bit slow, but Mohammed Khafaja was near me and I tried to grab his towel. However, instead of that, my hand found its way to his pocket and tore it out!
If you could change one thing about working here, what would it be?
Nothing.
If you could do another job for just one day, what would it be?
Be a dictator of a tropical island.
What is an ability you wish you had?
Being a developer -but I am trying at least :)
You're happiest when?
As it is obvious by this picture:

I am happiest when surrounded by beautiful women.
George, the person we see on our screens is more than a great professional.  He has given us a glimpse of the sensitive, humorous and most importantly, the appreciative side of his personality.  Have you had the opportunity to work with George yet?