For most of us, summer is winding down and we had another busy month. Toolset is focusing on usability improvements and the release of Toolset Blocks is just around the corner. Also, we released WPML beta that focuses on performance and we're getting great feedback. Find out more below.
This month we focused on usability improvements and user experience for our upcoming Toolset Blocks release. We also had a couple of hotfix releases early in the month, to address some compatibility issues.
In the last months, we have been busy working on a major update for Toolset. It will enable you to use Toolset inside the built-in WordPress Block Editor (also known as Gutenberg). This means creating advanced custom sites in a completely visual way. All the major features are being completed and we plan to release the next big public beta soon. Over the last few weeks, we have gone over several usability reviews and feedback rounds, and we are close to completing this major milestone to be released in the coming weeks.
Toolset lets you build powerful sites. It is not enough: we want Toolset to let you build beautiful sites and easily too.
You can get all the latest news on our Toolset Blog.
WPML Update
WPML 4.2.8
We've been busy completing and testing the WPML 4.2.8 hotfix release which resolves more than 70 hotfixes covering a wide range of projects:
WPML Core
WPML String Translation
WPML Translation Management
WPML Media
WPML Gravity Forms Multilingual
WooCommerce Multilingual
Yoast SEO Multilingual
ACF Multilingual
Contact Form 7 Multilingual
WPML 4.3.0 – We have released the public beta of this version and received a lot of positive feedback.
One of the major fixes in the next beta is the compatibility with WordPress multisite. Users also reported some issues which we addressed and will be resolved in the upcoming betas.
The WPML team is busy polishing and handling some usability issues that will complete the user's experience.
This release will also include more bug fixes which we couldn't include in 4.2.8.
You can follow all the latest news on our WPML Blog.

Our Customer Support
During July we have launched a new workflow for support which has a "chat first" approach. When there's availability (most of the time) we attend clients' reports through our chat, resolving issues on the spot.
We're continuing to improve the chat's user interface and functionality and soon we'll release another set of major improvements to make the process even smoother. As a result of these changes, we have significantly reduced the resolution time.
But it's not only about time and statistics. We have also launched a campaign to improve the quality of our tickets. We want to increase client satisfaction with our support, making some needed changes in the way we communicate with clients and the approach when more complex issues are reported. By the end of September, we should see a real change in the quality of tickets.
Our Founder, Amir Helzer, was interviewed by wpcrib at WordCamp Europe in Berlin.
Partnerships, Compatibility and more…
We are nurturing our existing relations with partners but also gaining new ones. We have been re-organizing the compatibility department quite a lot, to allow Marketing to be the center of our evolution. We are expecting more results in September, as summer is always quiet. Here is an overview of what we are doing and where we want to go.
Some major blogs, like WPbeginner, Colorlib and Minttwist are talking about WPML. And bloggers are starting to cover WPML and its performance improvements: visit Kagg's Blog.
Another page builder called GoodLayers is joining our compatibility list. Stay tuned because Brizy Page Builder is coming next.
Toolset Search has been mentioned on a famous blog: quicksprout. Quick Sprout was originally started in early 2008 by Neil Patel, the world's leading online marketer. In August, they published an article explaining how to create an e-commerce site in 9 steps. Toolset Search feature and training course, appear there! Toolset Directory has also been included in a list of the best WordPress directory plugins.
Many plugin authors are making a huge contribution to Gutenberg expansion, and we are happy to say that WPML is compatible with most of the Gutenberg Blocks Plugins. As an example, you can read the article from JoomUnited, creator of Advanced Gutenberg plugin where they explain how to translate your site built with the Block Editor using WPML:
Translation partners
August was a month full of news and activities for our Translation Partners.
We integrated with DataSource International, a translation and media company providing a full range of services across 80+ languages. Find out more about this integration on DataSource's integration announcement.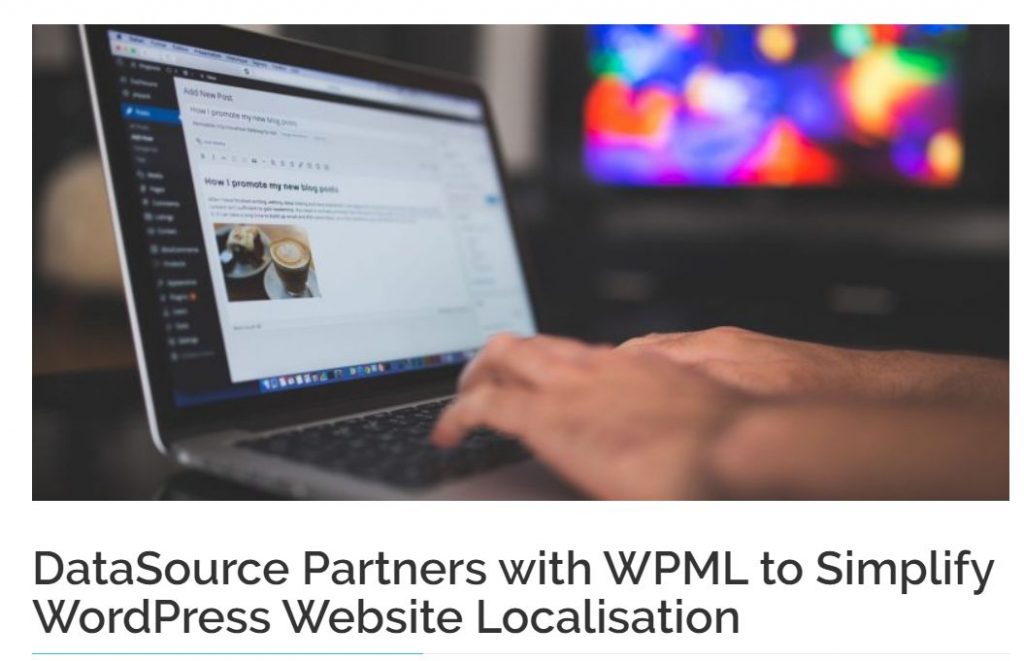 We have Translation Partners from all over the world, even from the Netherlands! Translabel, a Dutch Translation Service specialized in European languages was the next one to get integrated.
Translation Management Systems are also part of WPML and this month we welcomed Smartcat, a cloud-based platform connecting businesses and translators into one streamlined translation process. Learn more about this integration on Smartcat's announcement and also on their Facebook posts.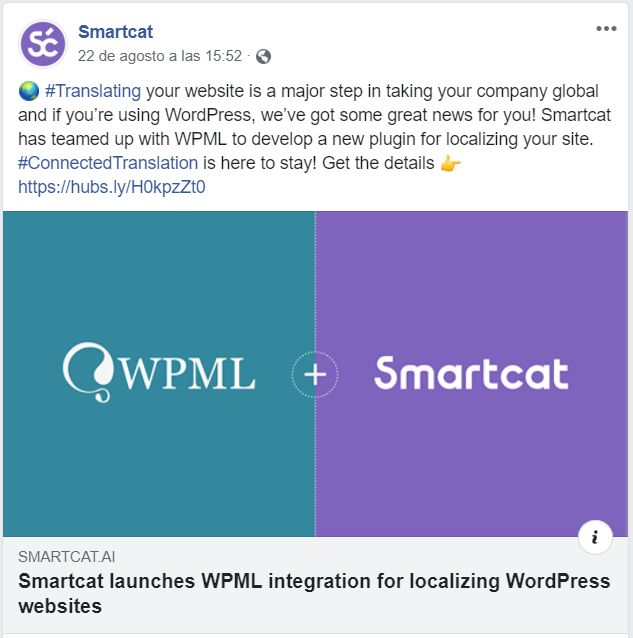 DataSource, Translabel, and Smarcat integrations are already available in WPML. Feel free to try them out!
Our Spanish Translation Partner Okodia has also published a stylish and very helpful page on How to work with WPML and Okodia. If you are a Spanish speaker, this is a service you should definitely try. It's in both English and Spanish!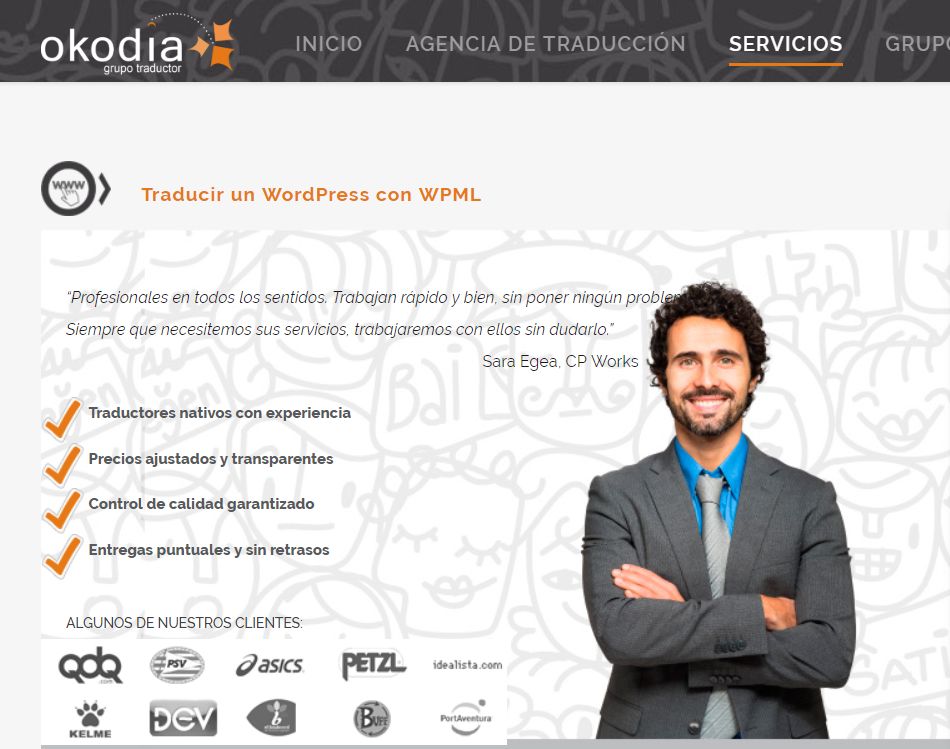 Another partner very involved and committed to WPML users is Avanti, who recently revamped its WPML page into a modern guide where you can find everything you need to translate WordPress sites with Avanti and WPML.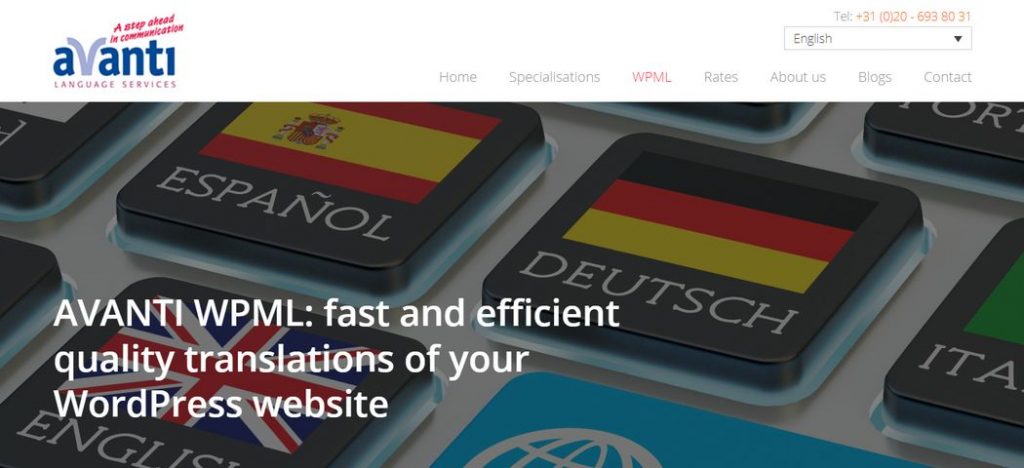 We are also constantly helping WPML users decide which Translation Partner is the most suitable to translate their WordPress site and this month we interviewed our long-time partner TextMaster. Want to know if TextMaster is the right service for you? Check out what they told us in this revealing interview.

New integrations are on the way, so stay tuned for more!
Want to join us?
We are a 100% remote working company and all our employees work from over 40 countries worldwide. We do not mind where you work, just that you have great internet access, you work well in a team but can also carry out tasks independently. 
You can read more about our company and culture on Remote.co.