We celebrate virtual birthdays, we share our Star of the Month and summaries of our company events, among others, but this is the first time we have someone retiring at OnTheGoSystems.
Helena has been our Administrative Assistant for several years, and we all highlight her kindness to everyone, her professionalism and lovely attitude in her day to day.
OnTheGoSystems is a completely remote company from the very start but this didn't prevent us from honoring our Dear Helena Petridou on her retirement.
We threw an online gathering in her honor, where we shared nice anecdotes as well as memories of times we met in person during some of our company events.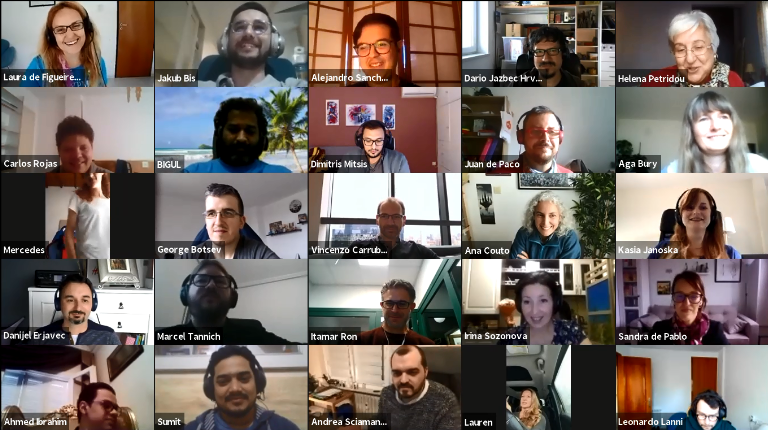 Alejandro (WPML Support Team) "I'm proud and it's been an honor to have met you, even if only virtually. You have taught me that age is never an obstacle and if you really want something you can achieve it as long as you have the right attitude (which you so humbly have!). To me you're a role model because you adventured yourself into a totally different world and overcame your own obstacles. you will be deeply missed but never forgotten!"
Dario (Documentation Team) "I will never forget how Helena was always the first one I would see at our yearly company events. Her big smile and a warm hug felt like meeting a dear relative after a long time. It is rare to find such a combination of sheer warmth and brilliance in a person."
Agnes (Marketing Team) "Helena is such a great listener! Doesn't matter if you talk with her about technical work-related stuff or casual matters, she will always listen actively, with full attention asking you some clever questions where needed. I'm so impressed with her incredible understanding of our technical jargon. I will miss her calm and warm voice and that beautiful accent."
Bigul (WPML support) "Helena is like a close relative to me. We met for the first time in Tenerife. During our excursion we shared the seat in the bus and discussed a lot about a number of topics. In between, she shared some tips to improve my writing skills. Then onwards, I always felt the motherly feeling in our communication. Especially when I was in Paphos, just after the demise of my father. As per her suggestion, I went to Troodos Mountains and that was one of the best travelling experiences I have ever had. Wish you all the best. You are a great person. You will be in our hearts forever."
Kasia (UX Designer) "It's not only about you being a super lovely person, super accurate, and you understand everything on the fly, there's one other thing – you being super patient!"

Vincenzo (Systems Team) "I would like to thank Helena because, through one of her blog posts: From Special Forces to OTGS, a fellow comrade-in-arms was able to find me after 25 years and we met this summer."
Carlos (WPML support) "I used to connect to clients a lot via text chat and I always felt kindness in Helena's emails."
Mercedes (Admin Team): "Helena joined the company as my back-up when I was taking my maternity leave. I remember we had a lot of training sessions scheduled weekly. I had to pass on so much info to her that I wondered if she would cope with it all. I was always surprised that she would grasp all the tiny details and follow all the steps we had for the different processes. It was both for WPML's GoGlobal program and to help with the employees admin work. I was impressed by her dedication, attention to detail and care. From then on, I always knew that if Helena was behind something, it was in very good hands."

Sumit (WPML Support Team): "Helena is a humble person. I am thankful for all her help and guidance throughout the years in OTGS especially for my first Visa for the company event. She is an inspiration to me."
Itamar (WPML Support) "I remember meeting you in Cyprus at the 2016 OTGS Annual Conference. Since Cyprus is your home, it was wonderful to have you as our host.
Hearing from you about Cyrpus's history and political situation, or just talking with you on any other subject was fascinating. I wish you all the best!"
Helena also reminded us of all the nice things we shared with each other, how she lived through different life events, as company members getting married, sharing photos of their kids as they were born, saw children growing up, but also the sad personal moments when we lose someone dear.
"Something that really impressed me with OnTheGoSystems is that we're so united although we come from so many parts of the world and different cultures. And this happened not only because of the Management :) but also because of people belonging to OnTheGosystems, each one of us, and we are all connected." Helena further shared.
Thanks to Helena for making a difference and putting a smile on our faces on many different occasions.
We loved working with her and we truly appreciate her constant assistance and care as well as for assisting us with many company events. She has also given us the joy of reading her engaging interviews, and taught us important tips.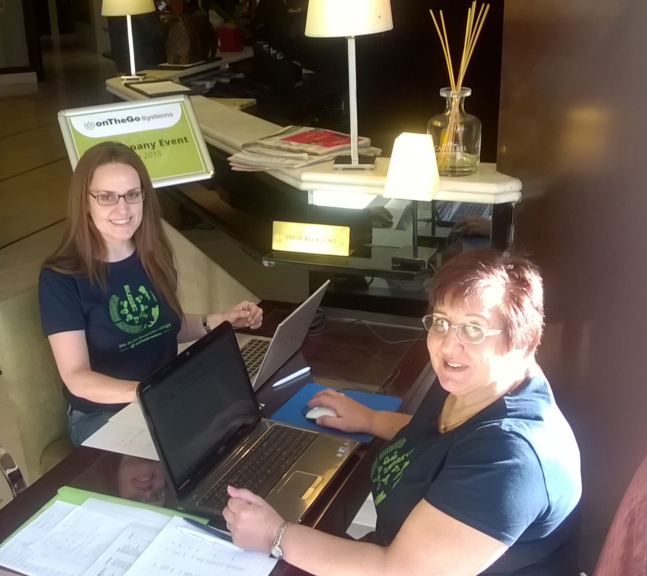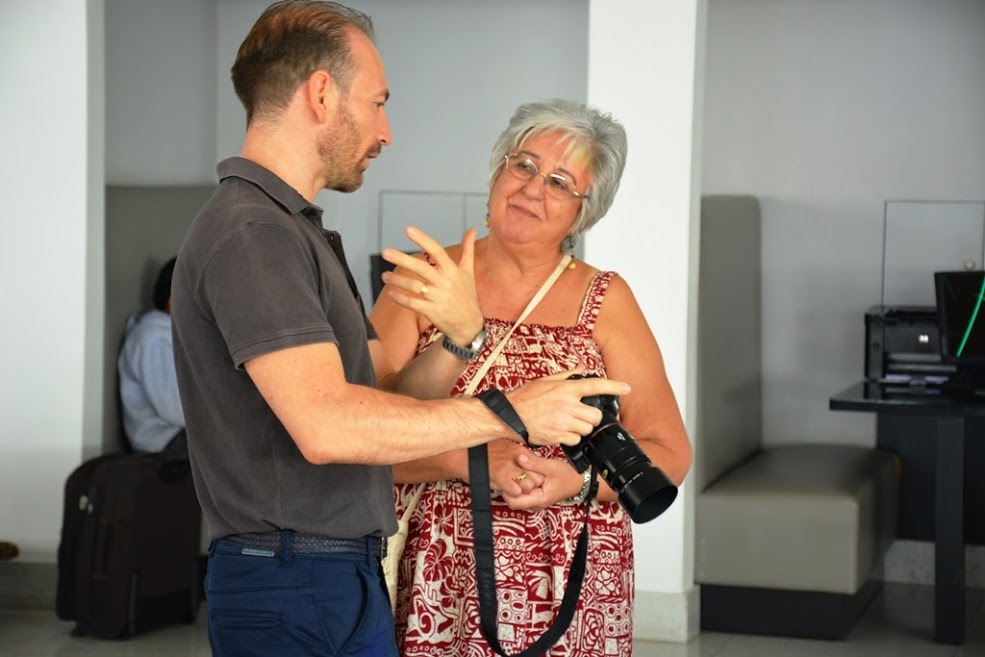 In deep conversation with Vincenzo in our Cyprus Company Event 2016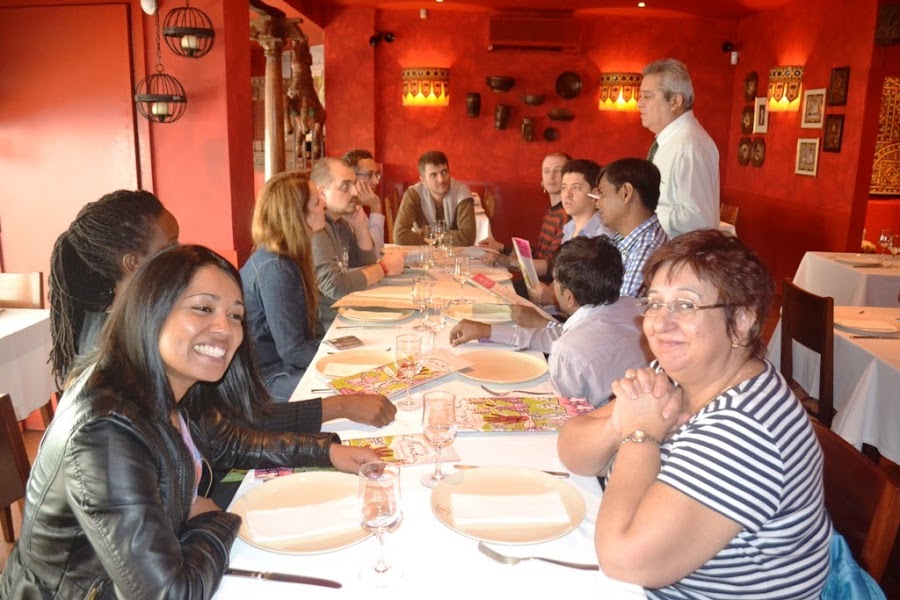 Helena Petridou is retiring from work but she will surely never retire from being an awesome lady.