Bruno Kos has been involved with WordPress since 2009 and a member of the OntheGoSystems support team since 2018. The husband and father of three is a firm believer in remote work – since he was a former freelancer before joining the OTGS, he has only ever worked remotely! We caught up with him to find out what he likes most about it.
What kinds of hobbies are you able to pursue in the time you save commuting?
I'm very active and do sports training 2 and often 3 times a day. I compete in middle-distance races in athletics track on a national level and sometimes local races.
I'm also a big fan of travel, mountain bike rides and learning foreign languages. I am probably among very few people in the world who learn German for fun! I am also actively learning AWS right now and a few other related things.

As a family, we have over 2 hectares of land and grow almost every fruit/vegetable you can think of. That's why among my team members I quickly became known as the "Tractor Man", as I own a tractor and do a solid amount of work with it during the year.
What do you like the most about working remotely?
Not wasting time on the commute is a benefit that beats all the cons of remote work, if there even are any. If you commute something like 2 hours a day, in my case this is more than it takes me to do all my workouts.
Some people like crowds and a dynamic way of life, but I don't. I like going from my bedroom to my workroom and starting work, then doing the same when the shift ends.
I've been freelancing long before OTGS, and I actually never had commuting work! I started freelancing during my college days sometime in 2009 and never looked back.
Where have you worked remotely?
I've traveled quite a lot, but never as a digital nomad. I generally don't work when on trips, as I like road trips where work would only be the obstacle and not a benefit. I will try working while I travel next January as I will spend about 15 days in Dubai (unless COVID steps in my way).
Remote work is great if you want to visit and really enjoy big cities – you do your 8 hours and then have at least 5-6 hours of that day to immerse yourself. That's why I plan to use remote working benefits to see cities such as Dubai, Paris, Singapore and others without spending my vacation days, wherever and whenever possible.
Funny enough, I only just worked as a digital nomad for the first time about 3 weeks ago in a family resort in Croatia, and it worked great. Since my kids typically sleep in shifts between e.g. 10 and 3 and somebody needs to be in the apartment during their sleep, there is already 5 hours of time to work in that slot alone without missing any vacation activities.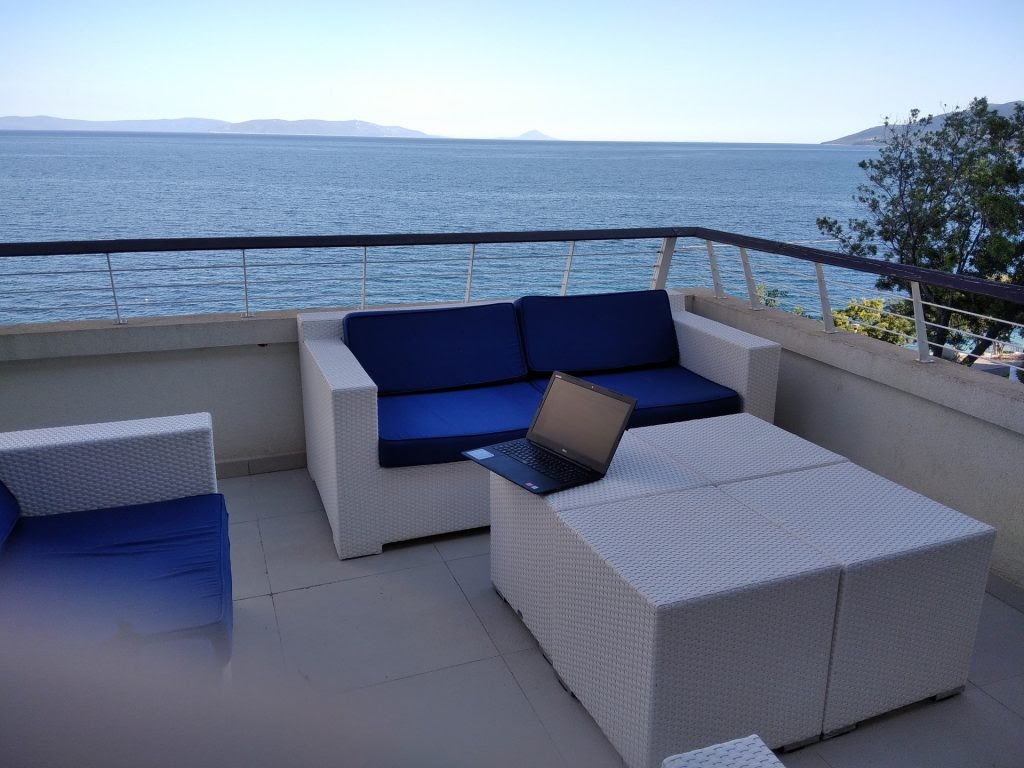 Have you ever considered living anywhere different?
I was born here [in northern Croatia] and never moved elsewhere – I see no reason. This is my home, my language, my culture, and I like it here.
I even stayed in my family home and renovated it heavily to fit my family demands. I know some may find this odd, however, in many countries, it is not that rare that kids stay with their parents and renovate houses to accommodate new families.
The thing is that pensions in many countries are still very low and will probably go down due to demographic problems. My mother lives with us, and even though she worked as a high school teacher, during the winter months her pension is barely enough to cover the gas heating costs of this house. It is quite common in many especially poorer countries that pensions are not enough to accommodate living costs, so many old people basically live on the verge of poverty or even below that line.
Another thing is that real estate is very expensive these days and will only go higher. There is very little chance that you will be able to pay off a new house or flat during your lifetime.
Instead of spending a huge amount of my life earnings on a new house or a big flat that would accommodate my growing family, I decided to spend that money on travels and stuff. I see no benefit in moving anywhere else, as this place offers everything I need.
What are your plans for working remotely and traveling in the future?
I will try with Dubai first. If I like it, I plan to visit other cities, too. There are more cities and great things to see you can cover in your lifetime.
I wanted to go to Asia and already had tickets for Nepal when COVID came, so all these plans failed. This year I had plans to go to Vietnam, but this also failed because of heavy restrictions, lengthy quarantines, and entry requirements. I see no movement in these being removed anytime soon.
There are many places where I would really like to visit, just as any other person in the world who has at least a bit of adventurous spirit.
I would recommend traveling to anyone, anywhere, anytime, even to a nearby village if no other options are available at a given time, if for no other reason than because of that famous quote by Mark Twain: "Travel is fatal to prejudice, bigotry, and narrow-mindedness."