Covid has changed our lives in lots of ways, but it hasn't changed our wish to get together once in a while as a company. Here's the story of how we organized a nice in-person meeting in Madrid at the end of October.
As a fully remote company, one of the things OnTheGoSystems employees really look forward to is meeting in person at our company-wide events. Thanks to Covid, it was quite some time since we were able to have one of these events. We decided it was finally time to find a way to make it happen – just a bit differently than usual.
Safety First
With our regular company events, we get the entire company together in one place to get to know each other. But these days, how do you safely get together with 100 people that come from literally all around the world? Short answer – you don't.
When organizing any kind of event for us, safety is the most important thing. So, the first thing to realize is that currently, it's impossible to get 100 people from 40 countries together in one place. Because of Covid, different countries have different protocols, and the situation with outbreaks changes all the time.
Our Approach – Smaller, Localized Meetings By Teams
Since company-wide events were out of the question, we came up with a solution that would be safe and satisfying at the same time:
Multiple Smaller Events Instead of a Big One
First, we decided to organize smaller events that are focused on separate teams in our company. So, for our first meeting, we invited people from the Development, Design, and Content teams.
This allows people working in the same team to meet in person and enjoy some time together.
Localized Events
The second important decision was to organize our events closest to people that are coming. For our first event, Madrid was an obvious choice as we have many people in the vicinity and others have great connections from the nearby countries.
Everything Is Optional
We want our in-person meetings to be enjoyable so our policy is – everything is optional, including the event itself. It's perfectly understandable that some people didn't feel comfortable coming due to all the restrictions and the situation. We missed them, but we're very hopeful we'll get to see them soon under better circumstances.
Every day, we organized some sort of activity to do together, and again, it was all optional.
Team-Building Fun in Madrid
So, what did we actually do in Madrid to have fun and spend some quality time together?
We were there for 5 full days and each day could be broken down into this simple plan:
Work together from a conference room until early afternoon
Have lunch together and rest a bit
Do a fun activity together in the evening
Here are some of the highlights:
Fun at our Social Dance Club
Madrid is the launch location of our newest service called Adelance. The idea is to meet new people through relaxed tango evenings. And of course, we jumped at the opportunity to experience this for ourselves. Especially as many of us are involved with the project.
First, we had a presentation by our teachers. Then, for those that wanted, during the week we got private lessons with only you and the teachers. Imagine doing your first tango steps with a professional dancer – it's pretty awesome!
Sightseeing and Exploring Madrid
Of course, when you're in a city as beautiful and as interesting as Madrid, you simply have to explore it as much as possible. Here are some snapshots.
Enjoying Local Cuisine
Madrid is a huge city filled with people coming from different cultures, and we all know what that means – the food is awesome! :)
Naturally, we tried lots of great, different things from many different countries (sounds just like our company, right?).
Working Together
Last, but definitely not least is working together. Here's our team working from the hotel's conference room (notice the in-person meeting going on in the background to the left).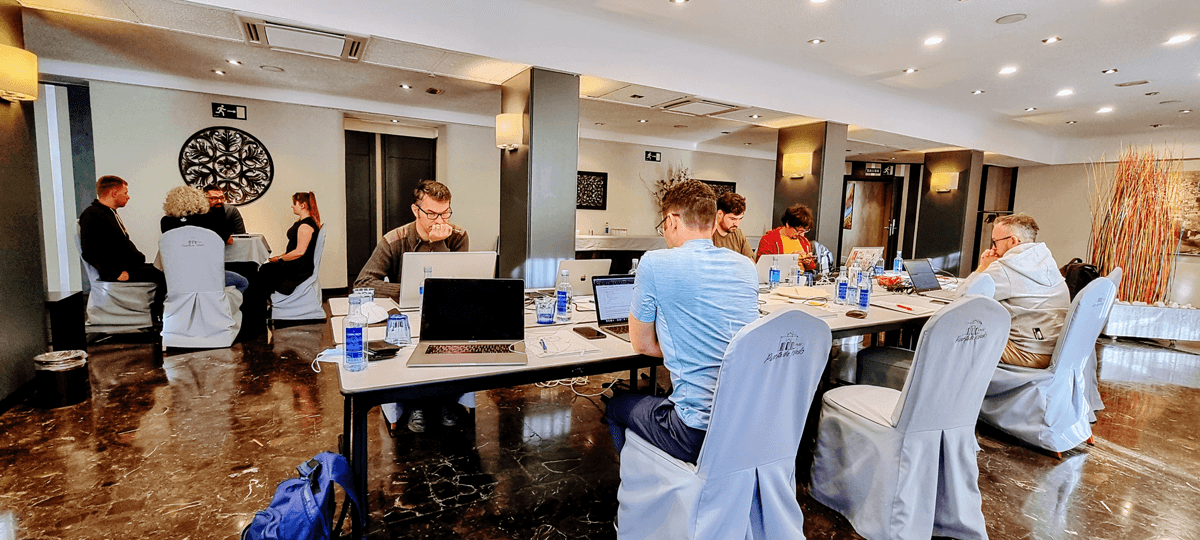 It's really interesting to work side-by-side with people you usually only see online. Here are some of the impressions from our team:
Vincenzo Carrubba: For me, one of the greatest things was to have my team leader and my colleagues working beside me and then having the chance to share quality time with them outside of the working hours to reinforce the friendship. Experiences like having breakfast and lunch together, visiting Madrid, "beta" testing Adelance, went a long way to improve the already good working environment we enjoy here at OTGS.
Eduard Martini: For me everything was extraordinary. Having the chance to travel again after almost 2 years and meet the people that I work with, was really, really nice. It was my first company event, never met anyone else from the company in person and it was fantastic. Basically, we are a bunch of geeks. :)
Iván Guillén: It was a great experience and I was surprised by how good a connection I personally had, with team members whom I only knew from working online together.
Konrad Karpieszuk: It was of course a great event :) After meeting some of you in Berlin two years ago, I couldn't wait for the next opportunity and finally, it did happen! I met some of the folks for the first time in my life and found they are cool. Actually, now I am sorry I don't work with them on a daily basis in the same teams.
Kasia Janoska: It was great to meet my colleagues in person. I really missed "gossiping" and laughing live. We always have cameras on during our company-wide calls, but it still is not the same as seeing someone's body language and little gestures. I believe that during those loose talks we managed to put some important work-related matters in order. I very much enjoyed non-official meetings without strict time frames that allowed noticing some super inspiring ideas that our teammates have.
What's Next?
As you can see, we had an awesome time together. Everybody had fun and made it safely back home.
We can't wait to do more of these smaller events. And when the time comes, we'll do a big event for the whole company again.
In the meantime, our next smaller event is being planned for Egypt. This time, it will be our support team that enjoys some quality time together.
Farewell and see you soon!
All photos by Vincenzo Carrubba (our System Administrator and also an awesome photographer)