As the northern hemisphere slipped into the summer mood, June saw us busy as ever. In WPML, we had a great announcement for our clients, and our team attended WordCamp Europe in Porto.
WPML News
In June, our development for WPML 4.6 continued with new milestones. We finished one of the major features for 4.6 which brings a fully redesigned translation jobs table. It will provide a better overview and more options and filters for the translators when viewing their queue of assigned jobs.
The team also worked on refactoring and enhancing the automated test that help us build and maintain a reliable product. We also improved the way WPML communicates with our Advanced Translation Editor to fix some edge cases where translations got stuck and weren't sent back to the site.
Next, we continue working with the WPML 4.6 goals. This includes a completely new Language Switcher block for Gutenberg and big improvements to the process of bulk auto-translating content.
Using DeepL with WPML
To help our clients get the best possible automatic translation at the lowest possible cost, we managed to reduce the price of the DeepL engine by 33%.
In our extensive testing of several engines, we concluded that DeepL is by far the best automatic translation solution today. Based on that, besides reducing its price, we made it the default engine for all new sites and added the functionality to set the formality.
For all the details about this, check out our announcement post about DeepL.
Toolset News
The biggest news in June was our announcement about what's next for Toolset. In short, with the WordPress ecosystem changing rapidly, we decided to pause the development of big new features for the next 18 months.
This decision was necessary after WordPress started taking big steps towards its Full Site Editing, but without a clear roadmap of how far it plans to take it. In other words, we concluded that it doesn't make sense to continue building features that might soon be made redundant by the very platform we are working on.
This is why we decided to take some time and see where WordPress takes Full Site Editing and what opportunities will then be left available for plugins like Toolset.
In the meantime, we are committed to actively maintaining Toolset. Our support team will work as before and we will release updates with bug fixes and compatibility improvements to make sure Toolset works with all upcoming WordPress releases.
Compatibility and Partnerships News
June was a busy month for our marketing and compatibility efforts, fueled mainly by the 2022 edition of WordCamp Europe. A few members of our team attended the conference in Porto which provided a great opportunity to connect in-person with clients and various partners.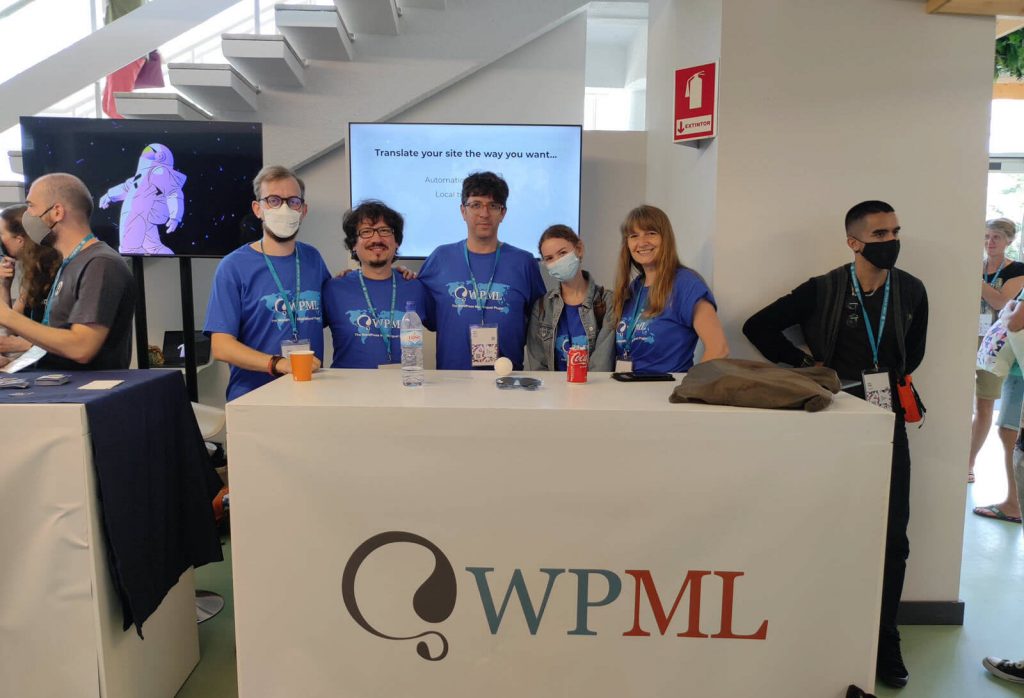 We managed to meet some of our friends from WP Rocket, Elementor, Hubspot, Visual Composer, Liquid Web, Thrive Themes, and many more! This resulted in some great initiatives which we will be pushing forward in the coming months.
Integrations
In June, we started encouraging our caching plugin partners to improve compatibility with our updated WCML multi-currency features. WP Rocket already did some great work on this, and we are pleased to say that Powered Cache followed suit. You can read more about their integration here. You can also see that Powered Cache has been added to our table of recommended caching plugins.
The team at ElementsKit has been working hard to ensure that their page builder is fully compatible with WPML. You can read more about the results of their efforts here.
Divi has also published some new dedicated pages for their existing integrations with WPML and Tooslet.
Partner Recommendations
This month we also had many partners recommend WPML to their clients in different blog post round-ups:
Thanks for reading…
And stay tuned for next month's updates!