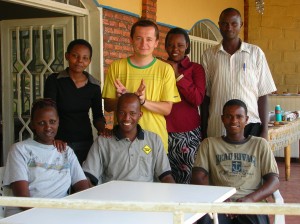 Konrad is a quiet spoken man from Poland. You would be surprised how rich in experiences his life is. He was working as a WordPress freelancer, was a WordCamp speaker twice, he even went to Rwanda, Africa to give computer lessons to the local students and to finally end up as a WordPress developer in OnTheGoSystems.
Today he tells us more about his private life and his work in the WPML compatibility project.
Where exactly do you live Konrad?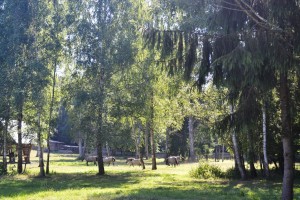 I live in a middle sized city with 270,000 inhabitants called Bialystok. Although my family and I live in an apartment building I like it very much as it is right on the outskirts of Bialystok. People come to visit this region, not because of the city so much, but to explore the natural surroundings.
The beautiful Bialowieza Forest is one of the last remaining parts of an immense primeval forest that once stretched across the European Plain.
This forest is home to roaming herds of the European bison. This impressive animal almost became extinct but due to careful conservation and breeding we have been able to "export" the bison to other forests. Some of the other species that call the forest home include elk, wolves, red and roe deer, lynx, and the wild boar. Rare birds also have their home here – the peregrine falcon, the white stork and the white-tailed eagle.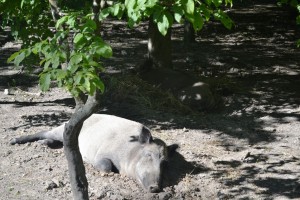 Our region is also famous for the largest wetlands in Europe – 150km long and 15-50 km wide in places. The untamed, meandering Biebrza River is a living river which floods in spring, turning large meadows into lakes. The exceptional beauty of the area remains largely undisturbed so is therefore an amazing gateway for nature lovers who are looking for new experiences.
Family life is very important to you…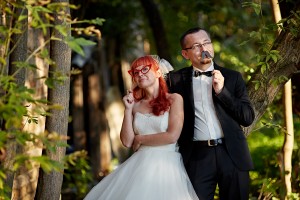 It certainly is. My wife Monika and I are enjoying every day with our daughter Laura . It is like she was born yesterday and already she is 6 months old. Laura has really filled our lives – and changed it too! I used to cycle a lot but not so much since our baby was born. We also have a dog – part German Shepherd, part wolf. She retains some of the natural nervousness of the wild and is very cautious when she sees something new, for example on the pavement outside when she will refuse to leave the building. She feels at home in the forest where I walk with her 3 times a day and she can run free without the leash.
You must enjoy those natural surroundings very much. What else do you enjoy doing?
Would you believe I actually enjoy reading technical documentation and learning new technical language? Of course I also enjoy watching documentary movies especially if they are historical or about the cosmos.
What were you doing before joining the company and how did you hear about OTGS?
I was freelancer, mostly working on sites for customers, but I was also creating plugins when asked. I knew Agnes Bury for years. She was organizing WordCamps and she was in contact with Eyal. Eyal asked her if she could recommend a developer and she recommended me. Then Eyal contacted me and that was how it all began.
So what does your job involve?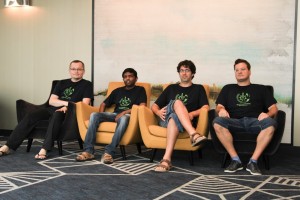 To put it simply, I am testing if other plugins (especially Woocommerce) extensions are working well when WPML is active and vice versa and also making sure that WPML is not broken by those extensions.
If there is a problem in compatibility, I contact the author and we try to solve it together. I provide information about our APIs, he/she provides information about his/her plugin internals. Then we try to rewrite this plugin. We may need to add compatibility class to Woocommerce Multilingual and sometimes even to WPML as well.
Sometimes we find that a problem is bigger and needs a more generic solution, like new API for wp_mail. I handle this by creating a new code for WPML, documenting it and then I contact the authors to see if they are willing to introduce it.
What is needed for this? Knowledge of WP, WPML and Woocommerce of course. Also having quite good skills in code reviewing, debugging is necessary. Being nice when contacting authors is a big plus :)
What are some of the challenges and advantages in your work? What do you like most about your work?
I like it best when an issue is not trivial. I then download this extension to my disc, create a Netbeans project for it and run the debugger to discover what is going on. And what I like even more is when I do find what is going on and I can get on to solve it. :)
I also like it when a simple compatibility test triggers something bigger like this new wp_mail api. I've been working on an extension which was sending emails incorrectly and then in fact I found that every email could be sent in the wrong language. It looked like WP/WPML/WordPress really had to be reorganized. While working on this I found plenty of cases where I had to change my mind about the solution and write everything (or almost everything) again from scratch: sending email by an English administrator to a Spanish recipient, sending bulk mails, sending emails with tokenized strings….. This is not a small project, but I like it :)
Now I am preparing to add WPML support to WordPress export tool and I am already happy about this :)
So if someone is interested in doing what you do – what do they need to know?
He really needs to know WPML well and understand how it works. He should be able to read the code of other plugins in order to be able to debug when needed. It's best to know enough php language to feel comfortable with other codes.
On a typical day what do you do?
Every day is routine – I get up and walk the dog, then drive to the office – it's about 5km away. I work mainly with our partners – plugin and theme authors rather than with clients. During my break I go home to grab a bite to eat, if Monika has prepared something! I spend some time with baby Laura and walk the dog again – it's good exercise for me. On Tuesdays and Thursday evenings I take English lessons.
What thoughts do you have for the future?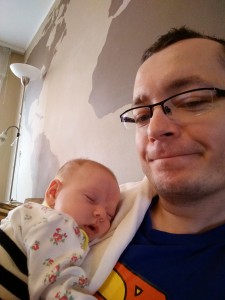 We'd like to have another child. My wife tends to worry about the kind of world our daughter will live in, but I don't think about the state of the world.
I love working with OTGS and wouldn't ever want to leave. I love my colleagues and I hope the company will get bigger and bigger and create more plugins in the future!