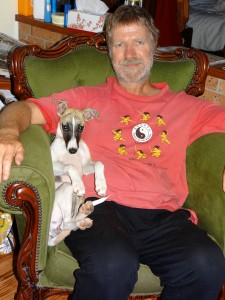 Mention "down under" and what comes to mind?
Try again, mention kangaroos, wallabies, dingoes and koalas?
Rugged in appearance but softly spoken with a distinct Australian drawl – who in the OTGS family immediately comes to mind?
Could it be Bruce Pearson from "down under" Geraldton in Western Australia?
Looking at a map of Australia, Geraldton looks very close to Perth on the western coast. In actual fact Geraldton is 250 miles (400km) north of Perth. Does this give you an idea of the vastness of this island continent?
Bruce tells us " It's a dry, arid climate and usually doesn't rain much at all for 6 months of the year during the warmer months. It gets a little cold during the winter but nothing like what people experience in Europe. During the summer it's usually windy which attracts wind surfers and kite surfers from around the world. That's the reason I ended up in Geraldton. I also like snorkelling and scuba diving when I can."
Apart from practicing Tai Chi whenever he can, Bruce can also be seen riding his bike along the coast every day. A real outdoor man! Sounds like paradise, doesn't it?

But as Bruce will be the first to say, he has to make a living too.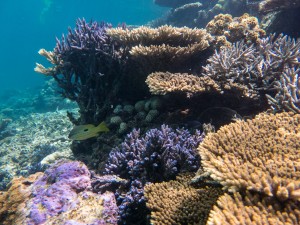 "I qualified as an Electrical Engineer and spent several years working in the manufacturing industry designing and working on Computer Numerical Controlled machine tools. I then started working in the software industry and developed graphic design software for the sign writing industry. I also started doing contract programming work. That's how I started with OTGS. I began with a few contract jobs that eventually turned into full time work. I started sometime in 2008 I think.
"At present I'm working with the WPML development team. This role involves fixing bugs, improving the code and developing new features. There's always something interesting to work on. The main challenge is working with the complexity of WPML. It has many features and systems. It's always a challenge to make sure that fixing one thing doesn't break something else in another area. The challenge is to improve the code and to make it more robust to change.'
You live the other side of the world. How do you plan your working day co-ordinate your work with the rest of your team?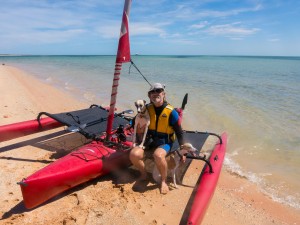 "I like to work a split shift. My typical day is to wake at 6am and water the garden during summer. Then we take the dogs for a walk down to our local beach. After that it's breakfast and I then go for an hour bike ride. Then I start work. I work through to 1pm and take a break. During the break I take the dogs for another walk down to the beach and then go for a second bike ride for another hour. I ride about 36km every day. I start my second shift at 3pm. This is usually when my colleagues in Europe start their work. I work through to 6pm. Then I have my second break and have dinner and relax with my partner Gwyn. I then return to work at about 9:30 pm for another couple of hours."
I'm not sure I have any specific hopes or plans for the future. I'm pretty content mostly. I enjoy learning and doing new things and going to interesting places.
Thinking of visiting Australia, anyone?