When you're working remotely, you're separated from some of your team members by hundreds and thousands of miles. On a daily basis, you rely on technology to bring you together. So when the opportunity to meet in person arises, it's bound to be a memorable experience.
The Evolution of OTGS Team Meetings
For globally distributed teams, organizing a company-wide meeting is far from easy. But here at OnTheGoSystems, we've always found a way to make it happen. Pre-pandemic, our entire team would meet once a year, each time in a different country.
Although the COVID pandemic is showing signs of slowing down, the health and safety of our team members remains a top-most priority. Not to mention, pandemic-related travel restrictions are still in place in some countries.
But we haven't given up on in-person meetings – we're just organizing them in smaller groups for now! A while ago, we organized a small team meeting in Madrid. Not long after, a few of our teammates gathered in El Gouna, Egypt. Now, it was time for our fellow team members based in Asia to meet.
Picking the Right Location
With 7 of our Asia-based team members able to attend the in-person gathering, it was time to start planning the trip! At first, our group was supposed to meet in Phuket, Thailand. Known for its beautiful beaches and world-class food, Phuket seemed like a great place to spend some time together.
But things rarely go as planned. Anyone who has ever tried to buy last-minute tickets to a popular destination like Phuket knows they can cost a pretty penny. Not to mention the long flights our team members would need to endure to get to Phuket. When you don't have the opportunity to meet often, the last thing you want is to spend half of your time on airplanes or spend most of the budget on airfare. You want to spend as much time as possible at the target destination, enjoying different activities together with your teammates.
With this in mind, it was clear that there was no better place to meet than Nepal. From scenic views to exceptionally welcoming people, Nepal has it all.
To make things even more special, for the first time in OTGS history, the week-long team retreat would take place across two different locations.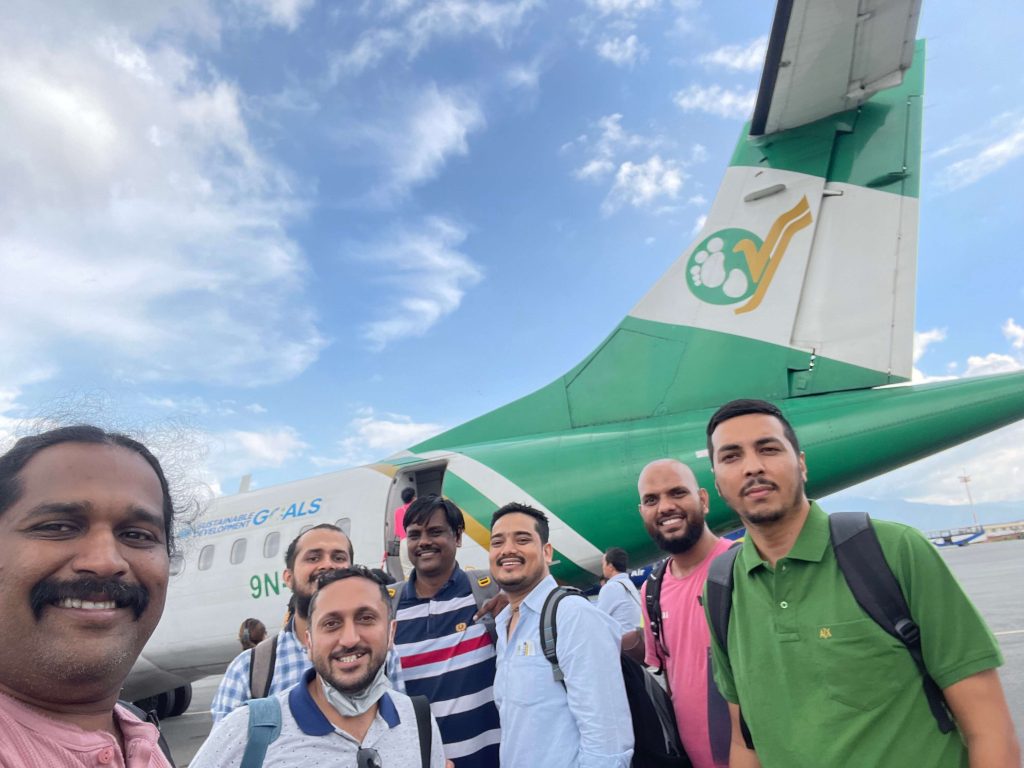 The Recap: An Unforgettable Week in Pokhara and Rupakot
For this trip, our attendees had a big advantage – the opportunity to see Nepal through the eyes of locals. Our Support team members (and Nepal event attendees) Shekhar Bhandari and Subash Chandra Poudel both currently live in Kathmandu, Nepal.
For Shekhar, organizing the meeting in Pokhara, Nepal was an obvious choice. Compared to the dusty and busy Kathmandu, Pokhara is an oasis of serenity – the perfect place to bond with teammates and take a break from everyday work settings. Before the event, Shekhar sent everyone a detailed document titled "Read before traveling to Nepal". We can officially say OTGS has a professional travel agent on the team :).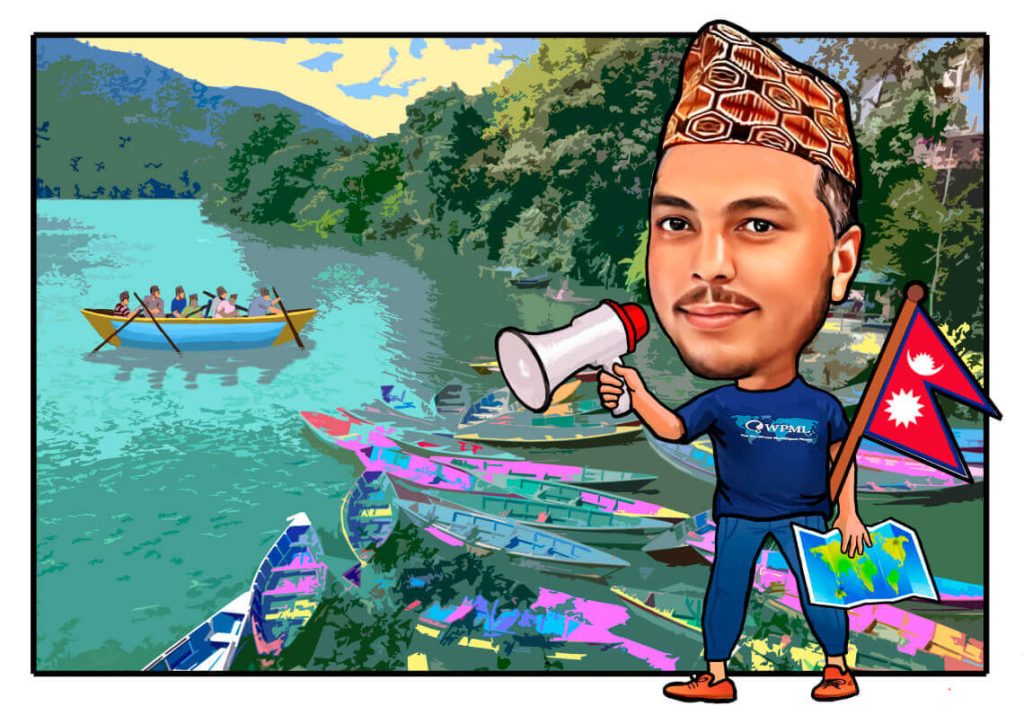 Upon landing in Pokhara, our team had a wonderful surprise waiting for them – an official and heart-warming welcome from some members of the WordPress community in Nepal, who were in Pokhara to attend the local WordPress meetup. As a welcome gift, our teammates received beautiful scarves, which they all wore proudly throughout the trip.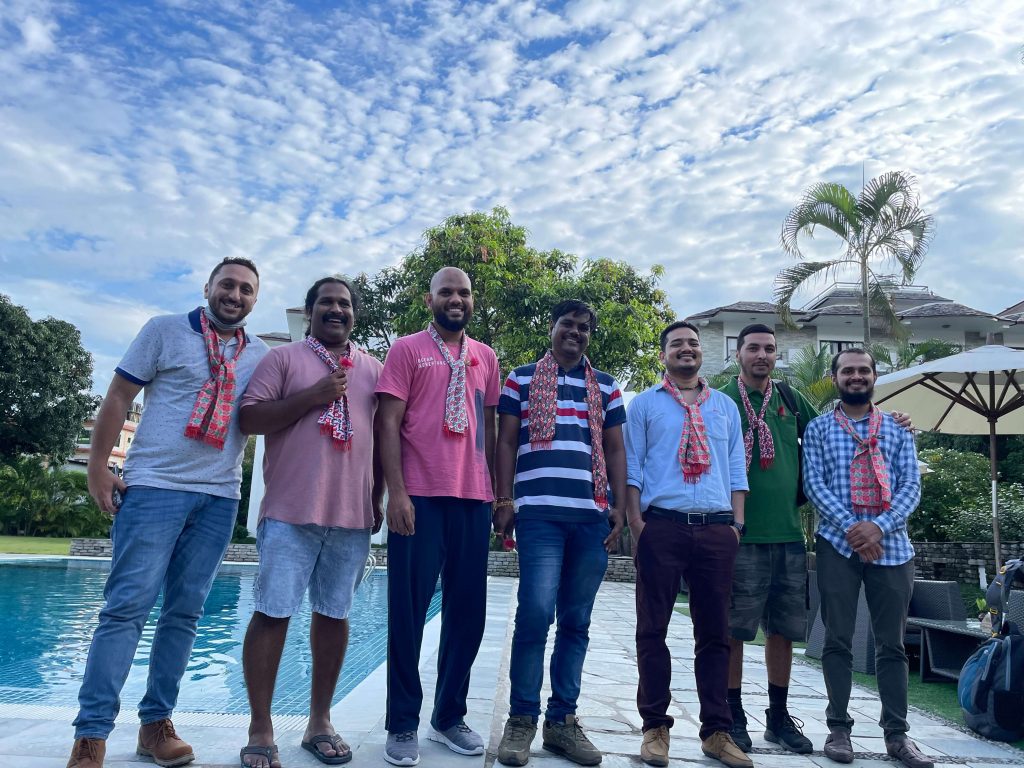 When you work remotely and haven't seen each other in years, you really want to cement the bonds you form over chats and video calls. With four days to spend in Pokhara before heading to their next destination, our group was eager to make the most of their time together. From morning until late at night, their schedules were packed with support work, sightseeing, and sharing laughs together.
Although the guys had only four days to spend in Pokhara, they managed to check everything off their list, including the holy caves, the Statue of Lord Shiva, and a lakeside night view of Pokhara from the Annapurna Garden Cafe & Lounge.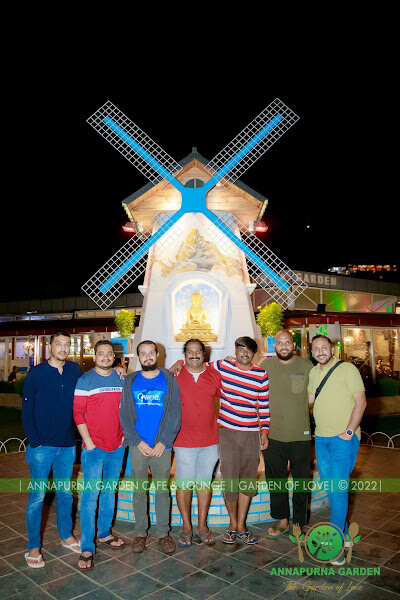 Of course, it is impossible to leave Pokhara without having great conversations and dinners with authentic and mouth-watering local dishes. Our teammates even met for dinner with 20 members from the local WordPress community, where they had interesting discussions about the latest trends and the upcoming WordCamp Nepal event.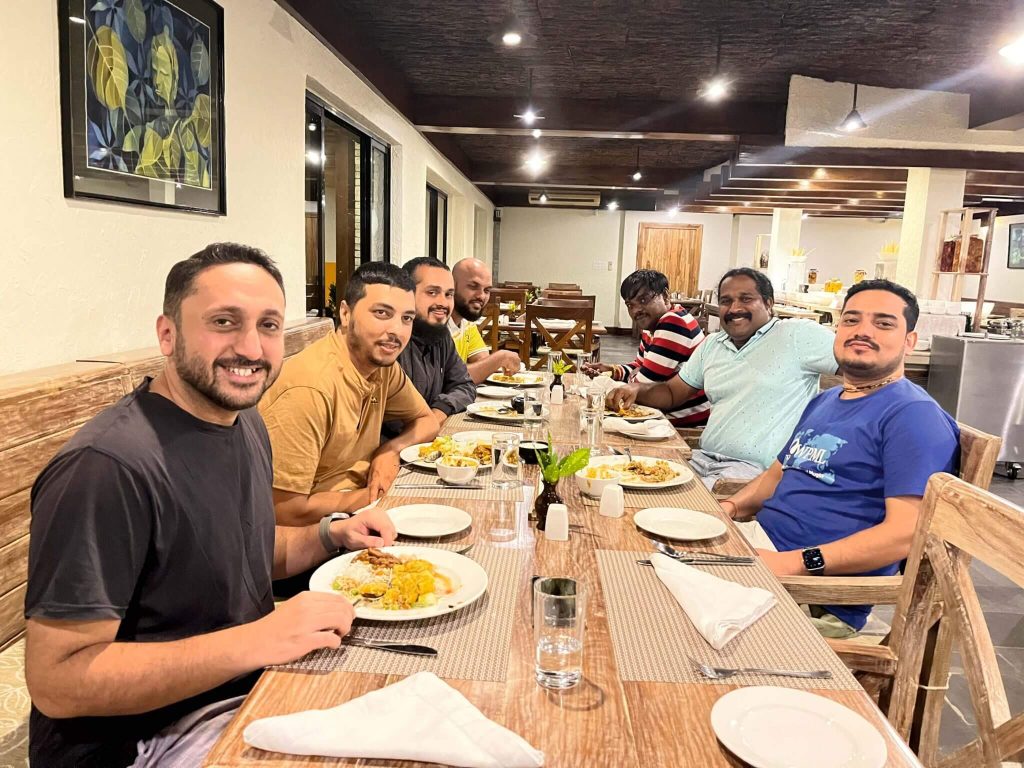 After a few fun-filled days in Pokhara, our team members embarked on a two hour drive to their next destination – Rupakot, Nepal. Here, they were able to get a taste of the rural, Nepali life.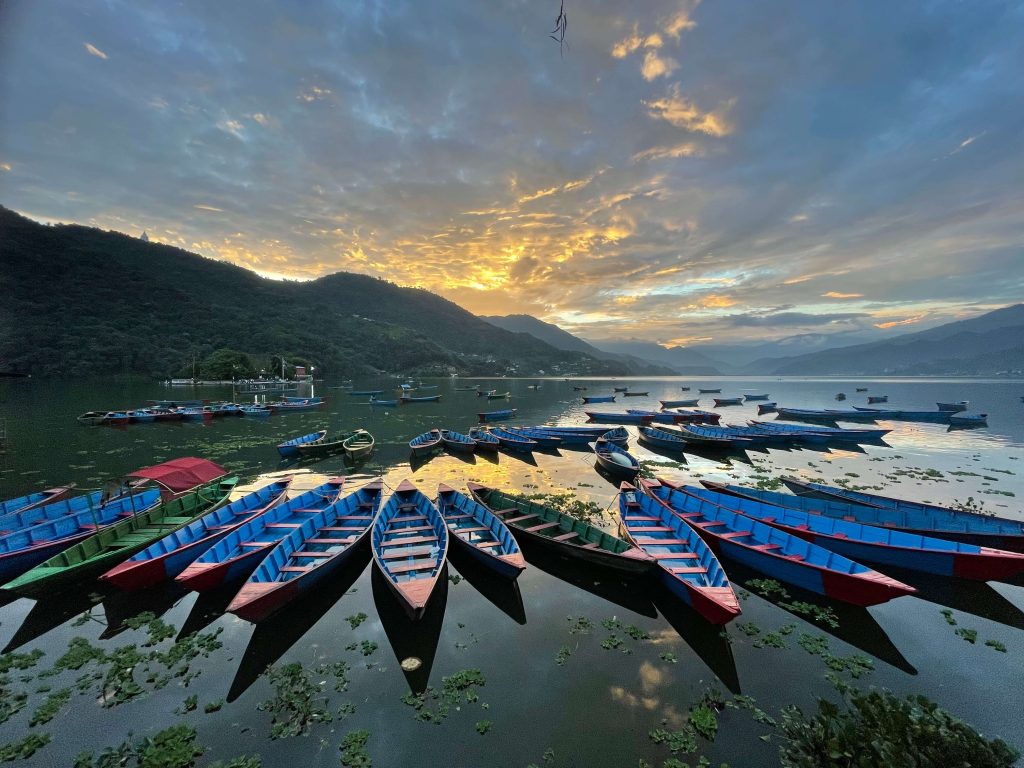 If you travel to Rupakot, experiencing the majestic views is a must. From this small town, you can enjoy a scenic panorama of Begnas, Rupa, and Fewa lake and see the Annapurna mountain range. The guys even went paragliding and were able to see the beauty of Nepal from high up in the clouds.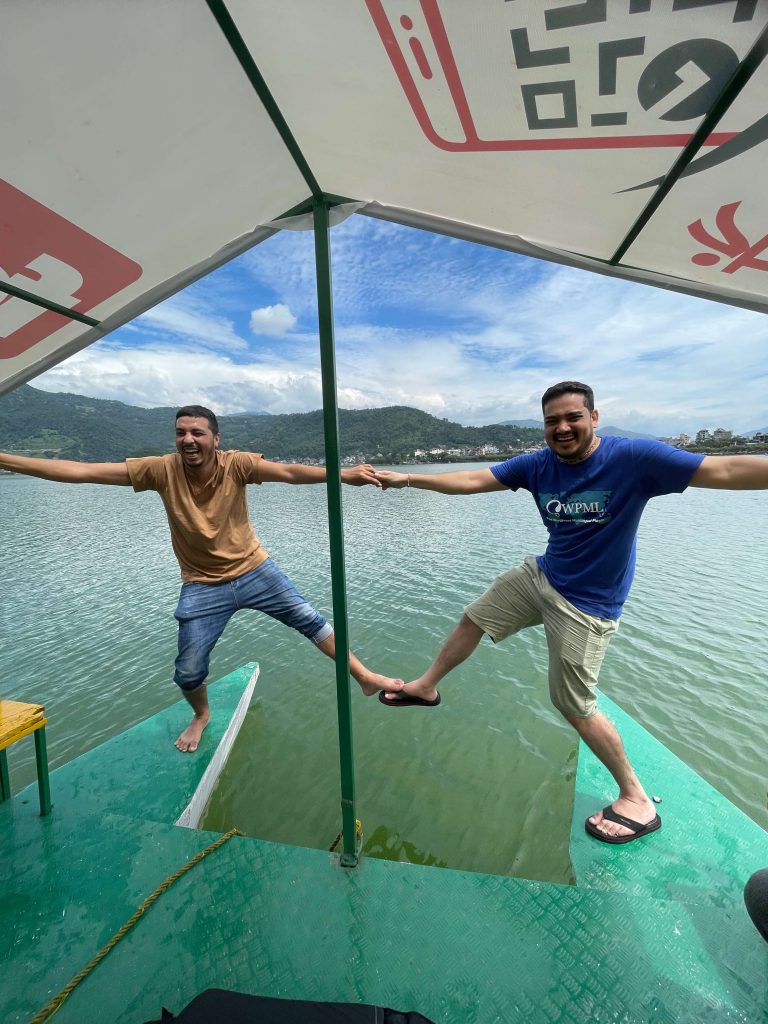 By the end of the week, our event participants had seen many beautiful landscapes, admired the highest mountain peaks, and taken part in adventurous activities. But most importantly, they were able to experience all this together as a team.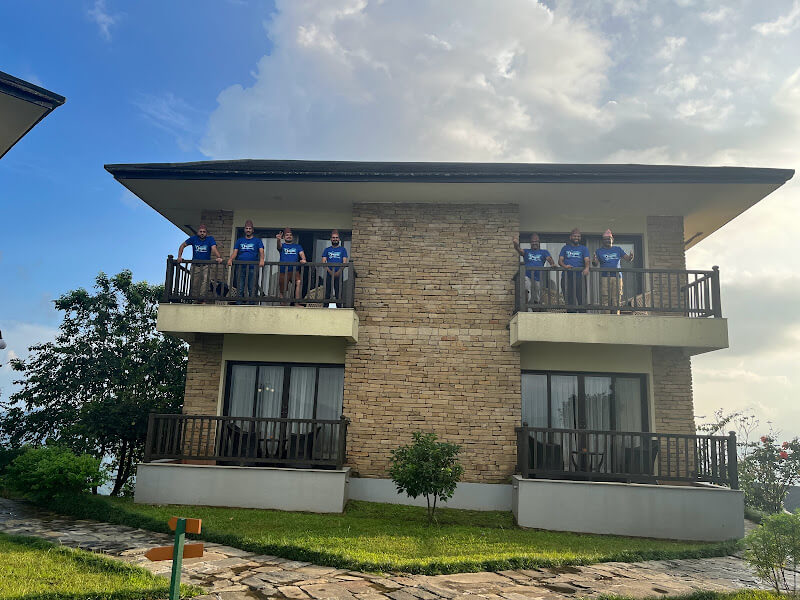 One Last Roundup Meeting
When you work remotely, it's easy to forget how much fun it is to spend time with your coworkers! And although time flies by quicker than usual during long overdue meetups, the bonding and experiences have a lasting impact.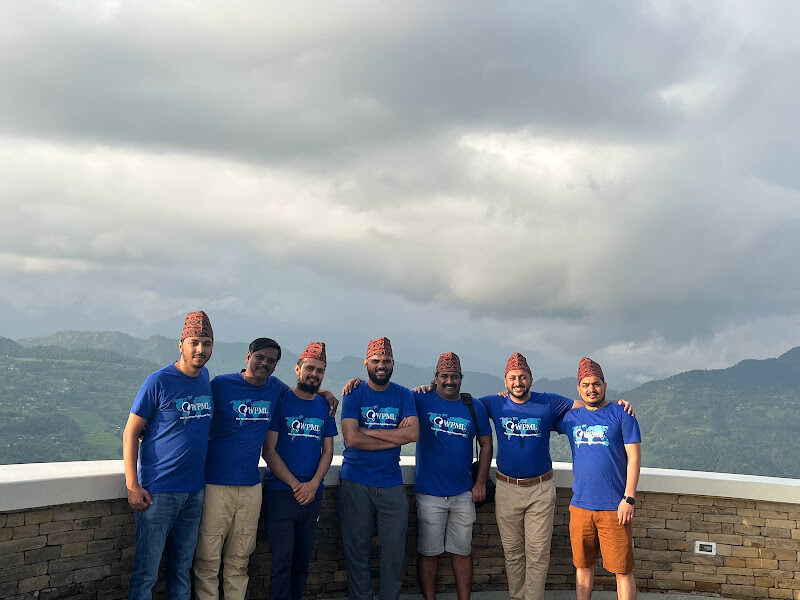 Before heading home, we asked our attendees to join us for a quick call and to share some final thoughts about the trip. Here's what they had to say:
This was my first international trip. Nepal is amazing. I'm gonna miss this place and working with these guys. I believe customer service is the face of the company. When we speak to customers we have to keep those values in mind. When we are traveling we are not only representing our families or nations, we are representing the company. I can say for all of us that we did the best we could. We tried our best to be respectful of the local communities, local culture and places we visited. This was a great experience. We carried the values, each and every one of us.

Waqar Ali
My peers are very open-minded and supportive, even outside of work. During the trip, I was sick for a few days, and they always checked how I was doing and gave me medicine.

Subash Chandra Poudel
This was my first time in Nepal, and the level of hospitality was so high. The visitor is key, and you feel respected everywhere you go. And, the surrounding nature is awesome! This was a great experience after not seeing each other in the last 5 years.

Bigul Malayi
Nepal was an amazing experience. During this trip, we really showed our company values. As soon as we got the message that the support queue was loaded we united all together, and helped as much as we could, and made our people proud. After experiencing this, I can say that if you think the world is sinking, you can call any of us, and we'll fix it.

Minesh Shah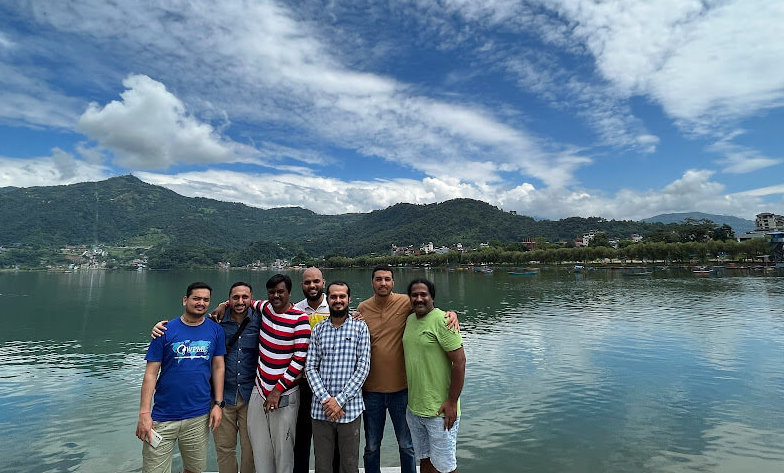 Being able to meet a few of my colleagues after a long time was an amazing experience. I met Raja, Subash, and Waqar for the first time in Nepal and found them to be very nice, both professionally and personally. Throughout the trip, we worked together and shared ideas and methods with each other, which is not very common when you're working from home. I believe it was a worthwhile event in every way possible – from the venue we stayed at to the opportunity to meet our goals.

Sumit Singh
Pokhara is a very well-known tourist area in Nepal, but the mountains and beautiful nature make it a really unique and great experience. The plan for this trip was to spend time working together, but we ended up offering support to each other. We did everything together.

Shekhar Bhandari
This was my first expedition out of my country and away from my family. Meeting my remote colleagues in person was a nice experience, as it helped us break the ice and develop a better relationship with each other. We stayed in nice hotels, we were able to work without any interruptions, and relaxed during our free time. The entire trip was well managed and we were able to allocate a good amount of time for exploring the city and for some fun activities.

We even went paragliding, I never thought I would reach the clouds, it was the most memorable experience. The entire trip felt like we were just friends working together!

Raja Mohammed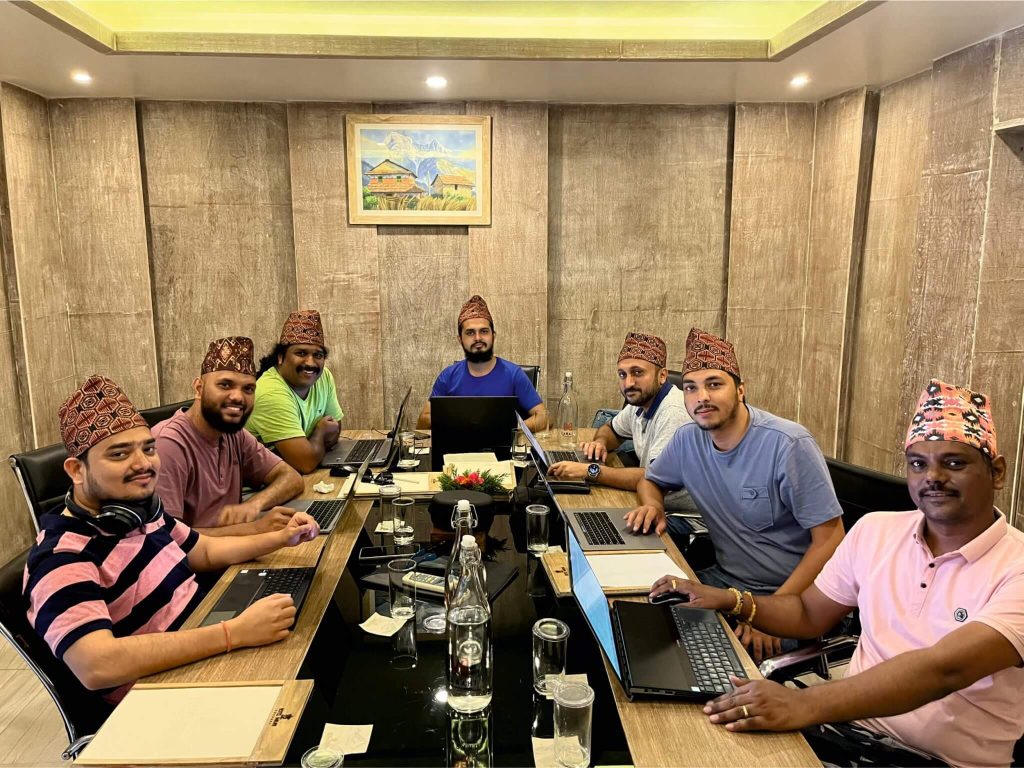 Where to Next?
We'll definitely organize another meeting in the near future, but in the meantime, keep an eye out for WPML team members at local WordPress events around the world!