There are a lot of online activities that remote teams can do together, and a live cooking session is one of them.
Working remotely is great but requires extra effort to build connections within the team. At OnTheGoSystems, we're always eager to try new ways of connecting with each other.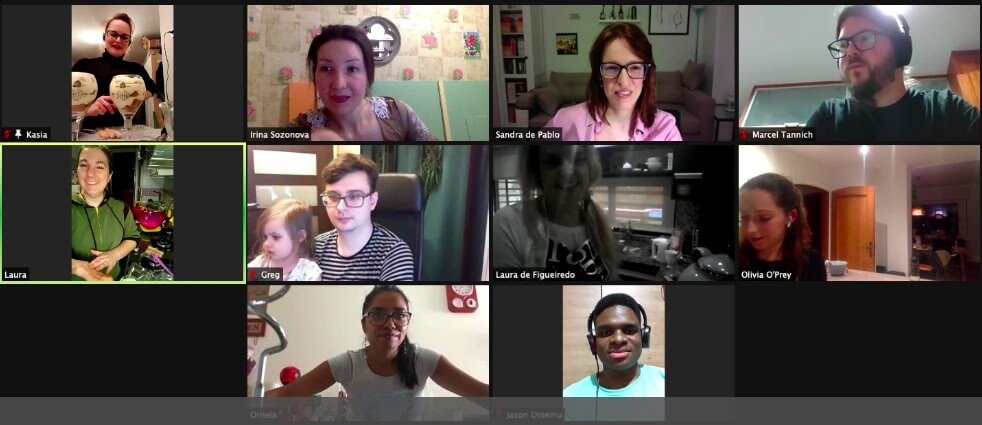 Coming from different parts of the world and with such a diverse background, we wanted to seize the opportunity and explore what our team members had to offer.
We thought cooking would be a very nice way to do this because it is the reflection of a culture. It is also a very nice way of showing care for others and nurturing a nice bond.
How To Organize Your Online Cooking Sessions
Organizing online cooking sessions is actually very straightforward.
In our case, our HR Lead posted the idea in our internal company community and asked who was willing to take part and cook something for us all. Nobody was expected to be a pro, just to prepare something typical of your country and share it with the team.

After some people volunteer, you only need to select the best time and date for such events. This can be tricky for a team that spans practically all time zones but it's doable.
You can even have a poll asking what people want to cook:

Here are some of the answers to the poll we received:
"Whatever you like man! you are helping me decide what to eat for dinner that day, my GF and I are pretty open-minded about food so we're cool with any suggestion, plant, meat, "fake" meat, whatever you like will be awesome :) I'd even cook those tuna cookies you made for your dog, LOL" Alejandro Sanchez
"Everything is an option?? Maybe salads or dips – I'd also love to learn to make pita bread but probably it has long "levado" (raising) time?" Laura de Figueiredo
How Our Cooking Sessions Went
The outcome and the responses were great! We have had several cooking sessions so far with exquisite dishes. You can find the recipes at the end of this post.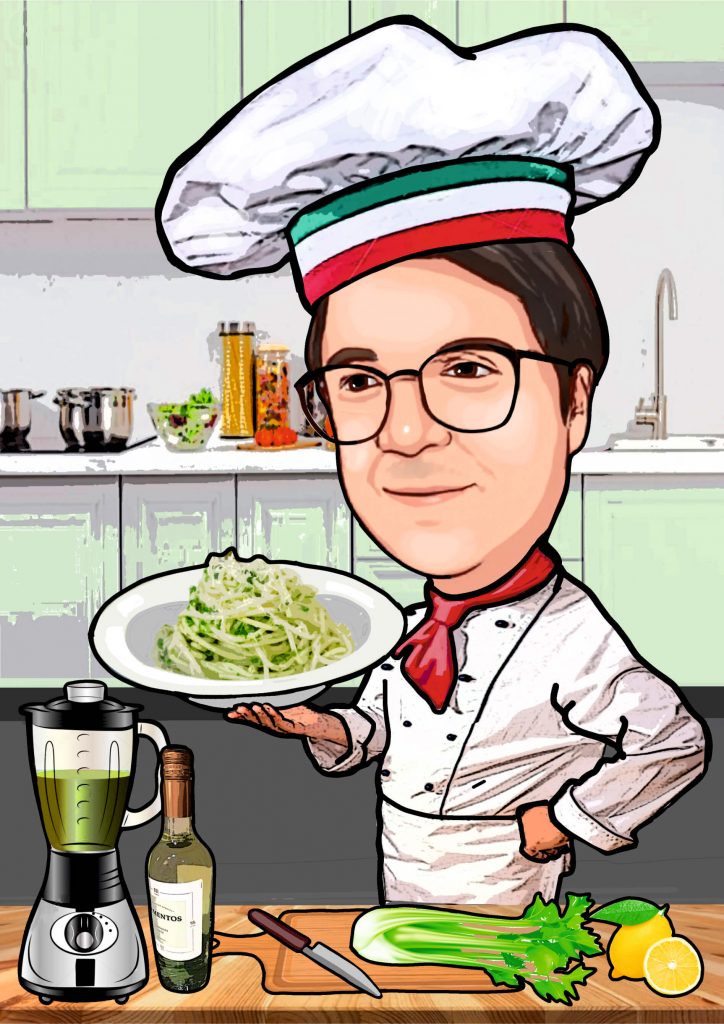 Alejandro Sanchez from Italy made Italian Pesto – Tagliatelle al pesto di pistacchio.
He used boiled pistachios (cooked in the shell) celery, sausages from minced meat, and wine. He mixed everything in a blender and grated lemon – then put this sauce over spaghetti.
"Italian pesto is quite popular in my country, so I was familiar with the recipe. It was great to see a person from Italy preparing the dish "di prima mano". I know that Italians have been adding spicy herbs to their dishes since ancient times. There's often a small vegetable garden in which thyme, basil, sage, and parsley are grown. They not only change the taste and aroma of dishes but also have a beneficial effect on the health." Irina Sozonova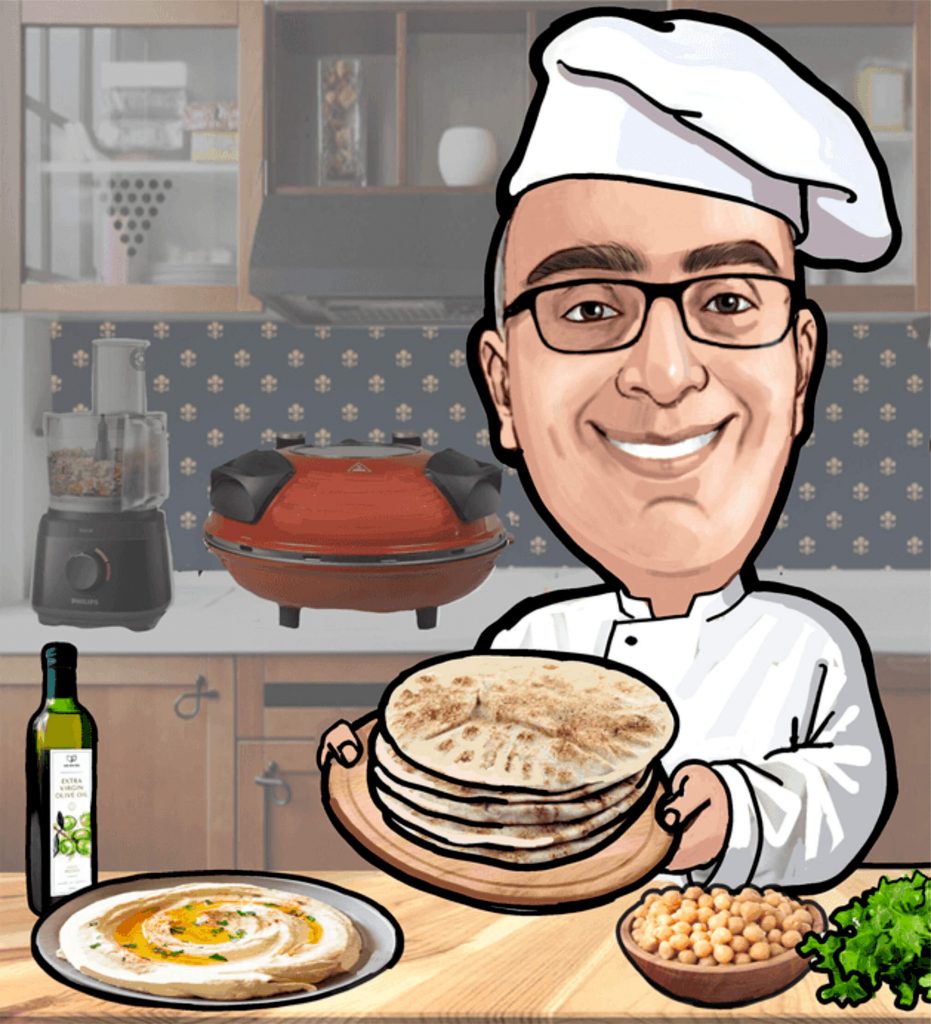 Abdallah Deeb from Lebanon cooked Tabbouleh with hummus, Balila Baba Ghanouj, Raheb Salad, Pita bread, and vegetables. He used lots of olive oil, a large eggplant, fresh parsley, and lettuce. He also cooked hummus made of round peas. Abdallah showed everyone his cooking roaster – he has their own red electric oven for tortillas.
"One of the great things about OTGS is how many countries we have, so before exploring other cuisines I'd stick with Lebanese (which is stunning so I'm more than happy :)" Laura Carletti
"Yesterday we had guests and I made tabbouleh, balila, pitas, and hummus in three flavors: natural, with beetroot, and with wild garlic. Our friends were truly amazed and told me that this was the best version of those they have ever eaten. AND there IS a Lebanese restaurant here in the city ? I am super proud and grateful to Abdallah for the great recipes," Katarzyna Janoska
"Abdallah, I wanted to take pics and… The plates were empty already haha. my mother in law came for dinner too and darn if it was gooooooodddd, she loved it too. We all did." Alejandro Sanchez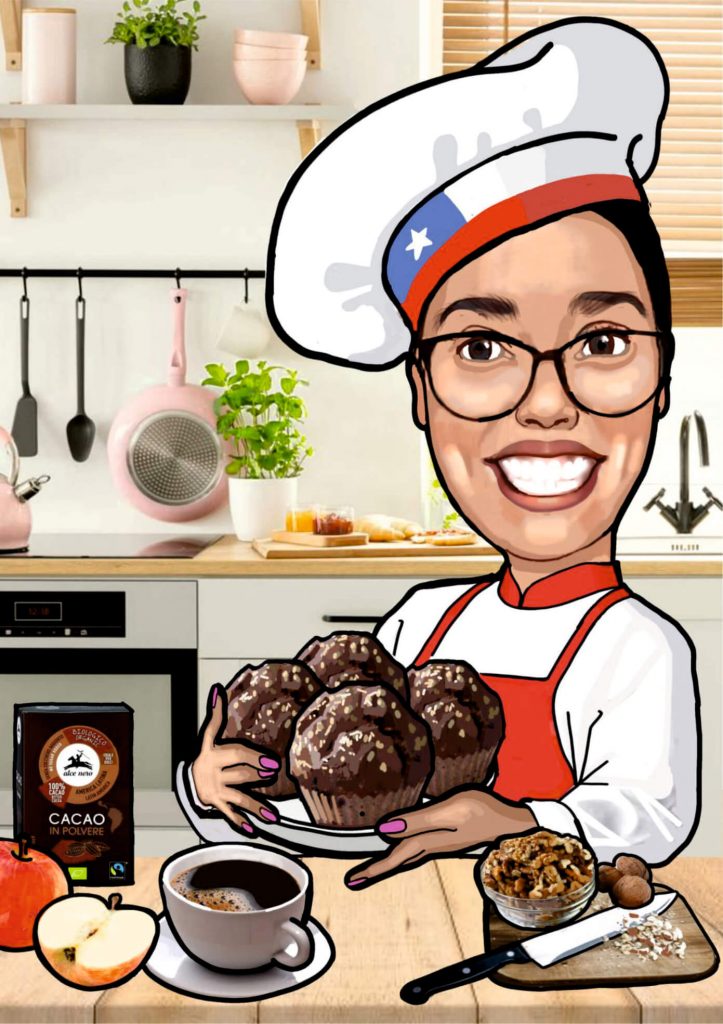 Ornela Flores from Chile cooked healthy apple cakes with cocoa to be served with a cup of coffee. She cut nuts with a knife and added spices.
Ornela said: "These are super healthy snacks I have during my day. I would be happy to show you, if you want :)"
You can choose between apple, banana, carrot, and blueberries:
Use your preferred flour (almond flour, rice flour, white flour, integral flour or you can repeat oatmeal flour).
Any kind of nuts (almonds, chestnuts, peanuts, etc), chocolate chips, ground coconut, raisins, berries, etc. Up to you! ;)
Irina Sozonova shared personal tips: "Did you know that if you microwave a cup of cold water with 1-2 teaspoons of grounded coffee for 1,5 min you can get almost the same taste as from the coffee machine?"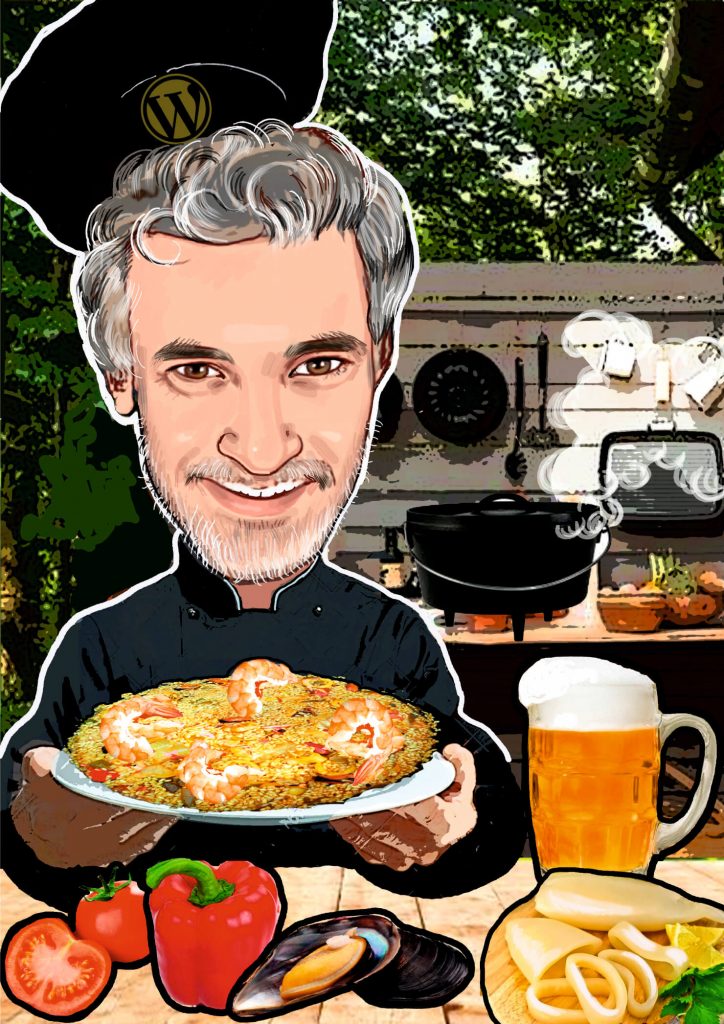 David Garcia Watkins from Spain cooked Spanish Paella from the kitchen garden outside of his house.
David suggested: "Small glass or white wine (or half a can of beer, the other half can be drunk while cooking :)"
The ingredients: 250 gr mussels, 12 king prawns, 500 gr short round rice, olive oil, and 5 garlic cloves.
You will need a small pot and a large shallow pan, preferably thin.
Here are some of the comments about this tasty dish:
"We have ali-oli with garlic, that is exactly like Toum, it is yummy, although you can blond-dye the person you are speaking with. It is not a problem now, due to social distance and a covid, although 2 meters is not enough for some people that really like garlic.:D" Luis Sacristán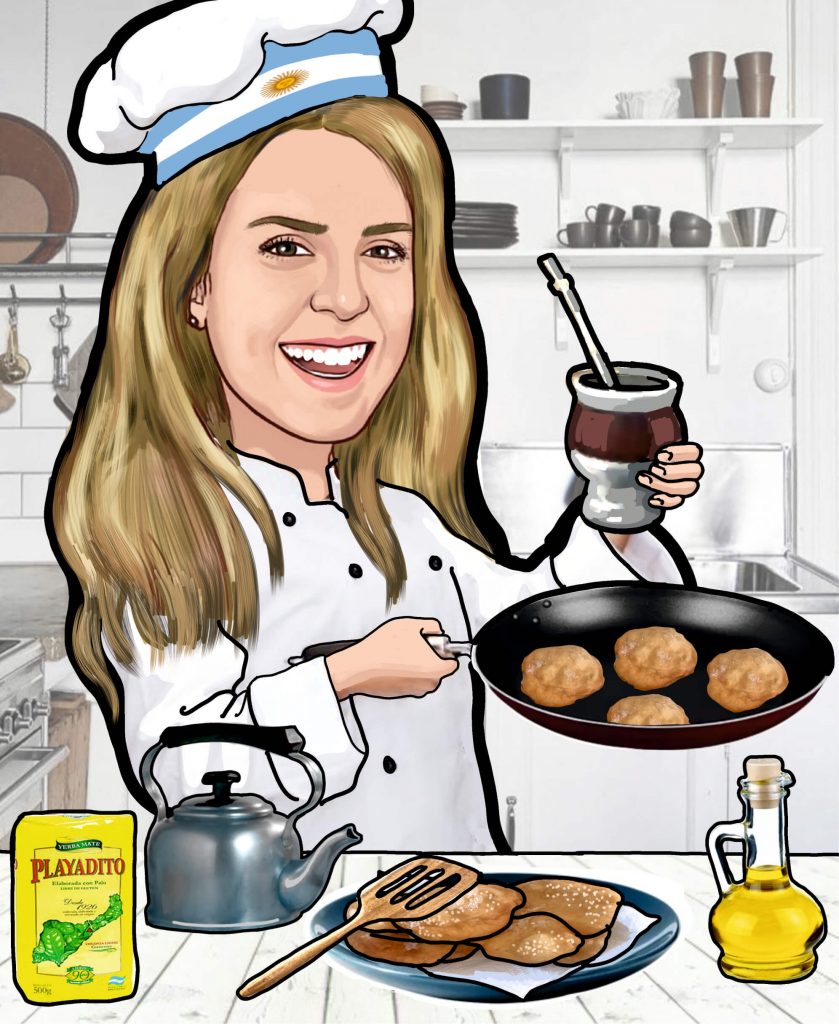 We had Argentinian Tortas fritas and a Maté tea drink by Laura de Figueiredo.
"It's a popular Argentinian Fried Dough, and I will also show you steps to do an Argentinian mate while we cook. If you have a "maté", a straw, and yerba in your country, bring it to the session for some nice time together! :) This is not for lunch or dinner, it's intended to be something you eat and have with maté in between lunch and dinner. Anyway, they are quite heavy and you will end up really full, so I don't think you will feel like having dinner after this."
Laura rolled out the tortillas and fried them in a pan with boiling oil. She showed everyone her special wooden cup of maté and a curved tube of metal inside the cup in one hand and a plate of tortas fritas – sprinkled with powdered sugar – in the other.
While Mercedes Barreda, from Argentina, prepared her mate right away, George Christidis replied: "I need to go to buy my mate straw now :P"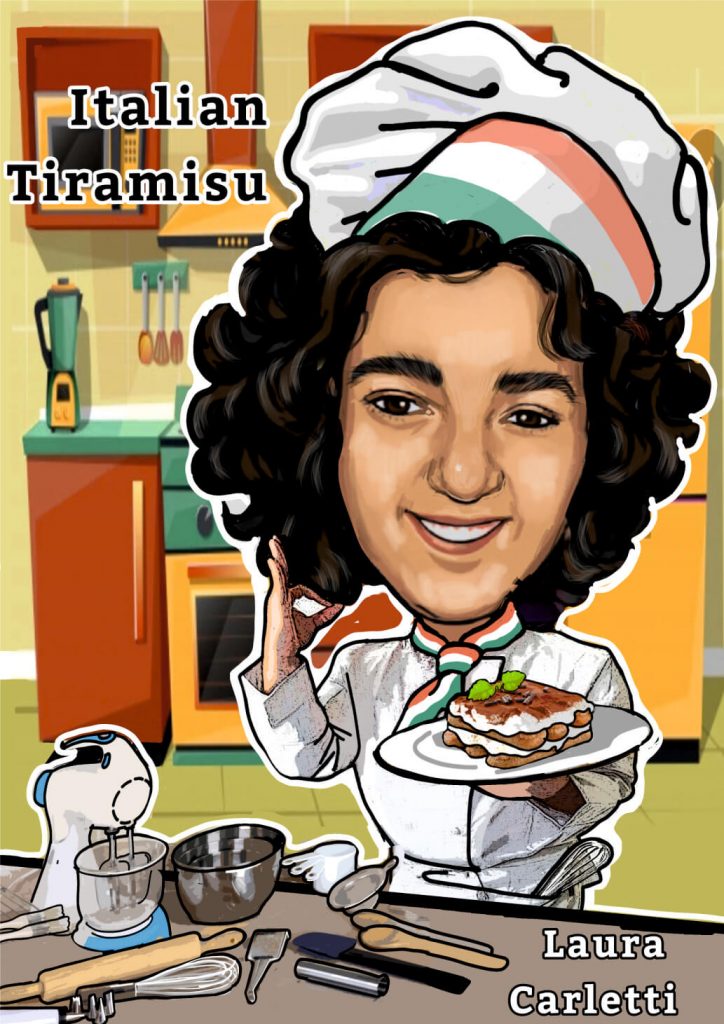 Laura Carletti demonstrated her skills in cooking an original Italian dessert Tiramisu made with coffee powder.
Ingredients: 4 eggs, sugar, 500 gr mascarpone cheese, savoiardi biscuits, and coffee (preferably espresso and it needs to be cold so you can make it in advance).
"Note, the original recipe uses raw eggs. I'll give some alternatives if you can't/don't want to use raw eggs but then consider you might not be able to cook it along with me." Laura added.
Cooking Sessions are an Awesome Way to Get Together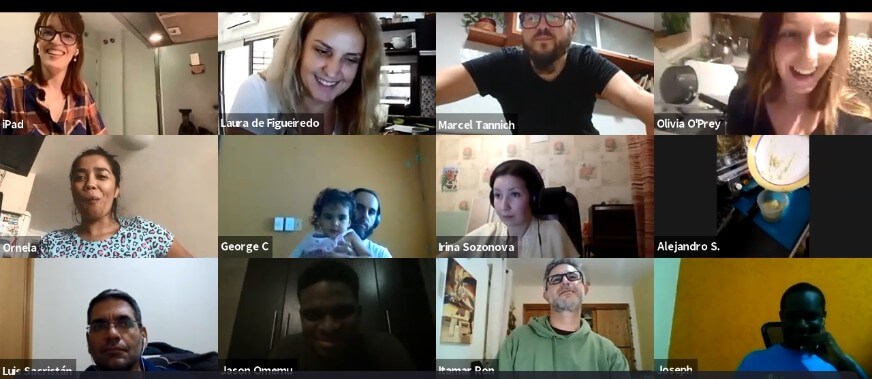 As you can see, we always have a blast on our cooking sessions.
If you are a part of a remote team and want to connect with your colleagues, cooking is a great idea! You will have fun and learn something new, which you can then enjoy at home. :)
After all was said and done we thought "Wait, why don't we make it public for everyone"? So, below you can find the delicious dishes we have had the joy of trying so far. Bon appetite!
Want Some Recipes?